NEWS

22/03/2012


Applications close April 2. Advertising the coach position each year is a requirement of our Bylaws. [more]

20/03/2012


Mark the date in your diary: At the North Suburban Sports Club - watch the website for more details as they come to hand. [more]

19/03/2012


MVCC fun day - Ace Karts, 2.45pm Sunday, March 25. [more]

08/03/2012


Brett Curran - experienced finals campaigner in charge of the Fourths [more]
Farewell to our two Internationals -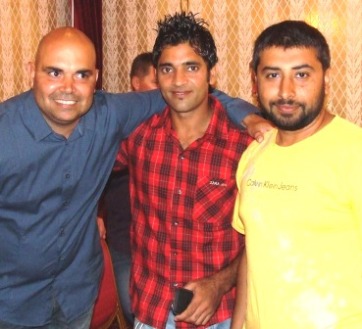 but just for now!
Moonee Valley's two 2011/12 internationals, Pakistani first-class players Ihtisham Uddin and Nasir Ahmed, have headed back home - but we're already in negotiations to get them back next season.

Ihtsi and Nasir had a delayed start to this season due to visa hold-ups, but they turned around the fortune of our First Eleven when they started playing after the Christmas break, and played a major role in our making the finals.

Nasir is a gun 140kmh left-arm opening bowler and punishing middle order bat, while Ihtisham - who was also at Moonee Valley in 2010/11 - is a No. 3 or No. 4 batsman and wily offspinner.

Moonee Valley is also in discussions with another Pakistani first-class player recommended to us by Ihtisham. He's an opening batsman and a legspinner who has been compared as a bowler to leggie Fawad Ahmed, who played a couple of Twenty20 games with Moonee Valley and took the VTCA Senior Division by storm this season, taking an incredible 58 wickets @ 10.97 - 26 more than the next-best bowler.

Moonee Valley president Charlie Walker said Ihtisham and Nasir had fitted in well with the club and their teammates, and we are keen and hopeful to have them back. They flew out on March 18.

****Pictured above are Nasir Ahmed (middle) and Ihtisham Uddin (right) with First Eleven MVP Amit Chaudhary.

---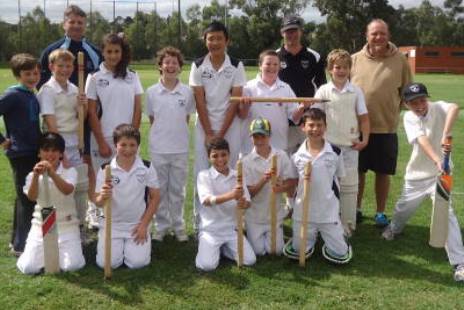 WE WON!!!!!!!

Our Under 12s are in the Grand Final!

Moonee Valley's Under 12s are now in the Grand Final, after a close win over Airport West/St Christophers to follow on from the hard-fought and thrilling win over nemesis club Brunswick in the quarter finals.

The team will now take on Keilor in the Grand Final, which will be held at Fairbairn Park on Saturday, March 24.

Our Under 12s are the only Moonee Valley team still in the finals, after six senior sides bowed out, along with our Under 14 Black team. We're on Fairbairn Oval No. 8, off Woods St, Ascot Vale. No. 8 is to the north-west of the narrow centre carpark, alongside the Maribyrnong. The match runs from 8.20-11.45am.

Above: The Under 12s: L-R: Back - Assistant coaches Bill Blair and Mick Cumbo and coach Paul Baks.
Centre - Reuben Hill, William Blair, Julia Spagna, Noah Gordon, William Agius, Riley Boxshall, Leon
Hill. Front - Jackson Baks, Sebastian Pozzebon, Benson Pisanelli, Isaac Coleman, William D'Amico
and Lawson Pegler.



***

For more pictures of our Under 12 team, click HERE

.
---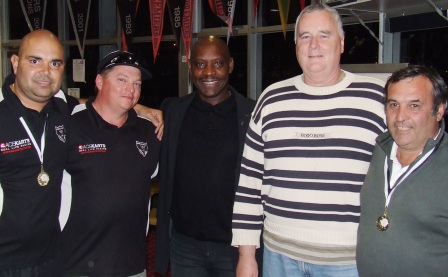 Our MVP night - and our Fieldlows

A merry band of Moonee Valley players gathered in the clubrooms on the night of Saturday, March 10 for our Most Valuable Player awards night.

And our Fieldlow fielding award vote count was held on Thursday, March 15.


The MVP night occasion also saw the presentation of many of our milestone trophies - games milestones, wickets, runs (by the thousand), centuries and five-wicket hauls.


Many thanks to life member Joe Ansaldo for his tremendous job at catering the finger food for the night.

Pictured here above are L-R: Firsts MVP Amit Chaudhary and captain Mark Gauci; MVCC coach Vic Hodge, and Sevenths captain Richard Cooney and MVP Bob Sciacchitano.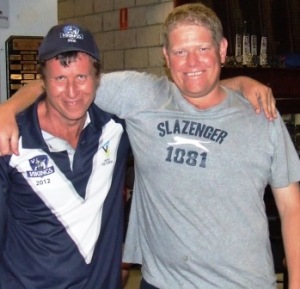 Pictured at left are Fieldlow fielding award winners: Shaun Rayment (left) from the Sevenths, and Darren Nagle from the Fourths.


The voting was close and tense for the Fieldlows, due to the new 3-2-1 system introduced for this season.

The winners were: Firsts Craig Pridham; Seconds Sam O'Brien; Thirds Michael Klomp; Fourths Darren Nagle (pictured here); Sixths Jackson Clarke and Ashley Krollig; Sevenths Shaun Rayment (also pictured); and Eighths Matthew Esmore.
*>>>>>>>>>>>>>>>>>>>>>****

For more pictures, click
HERE
---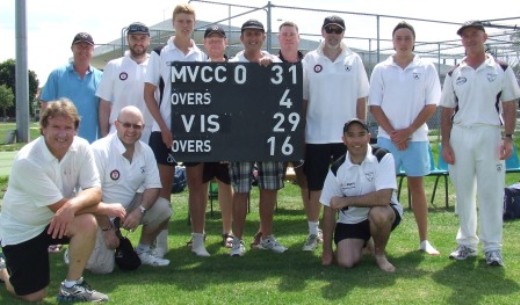 The highs and lows of the Mighty Fighting Fourths


Four players from our Mighty Fighting Fourths jointly hold a unique piece of Moonee Valley history - they were part of the team which in 2008 made the Club's highest-ever score, and this year they held the opposition to the lowest-ever senior score against us.

Paul Hobbs, Dean Lawson, Steven Ball and skipper Brett Curran have seen the highs and lows - the 3/475 we clubbed against Buckley Park on November 1, 2008 when the squad was playing as the Sixths, and now the 29 all-out that Craigieburn made against us at Ormond Park on February 19 this year.

The all-conquering Mighty Fighting Fourths (above): The scoreboard tells the story. L-R: Back -
Dean Lawson, Steve Herbert, Peter Wright, Darren Nagle, Brett Curran, Norm Wright, Kevin
Gardiner, Liam Curran and Glenn Perussich. Front - Steven Ball, Paul Hobbs and John Talone.

And on hand from the 2008 record-breaking team were Norm Wright, who was 12th man against Craigieburn so that son Peter could get a game in, and Tony Sherer and Mark Madden. That proves this team sticks together!

The hapless Craigieburn was rolled in 16 overs, with Steve Herbert, Peter Wright, Kevin Gardiner and Liam Curran each taking two wickets. Then Dean Lawson - who made 157 in the Buckley Park record - and Glenn Perussich knocked off 31 runs in four overs to wrap up the match before the first drinks break.

The previous lowest-ever score was the 34 which West Essendon made against our Firsts way back in 1974/75. The previous lowest against our Fourths was 39 by Airport West in 1991/92, when our victorious team included current players Bob Sciacchitano and Joe Ansaldo.

The Fourths' trouncing of Craigieburn at the weekend was in contrast to some of our other games, with the Firsts moving into the Top Four courtesy of a nailbiting 6-run win over Werribee Centrals, and a magnificent Derby at home on the Sunday. The Thirds finished the Derby with a 16-run first innings win but then lost outright to the Fifths off the second ball of the final over, with Peter Smith taking 6/46.

---
Main Club contact details

:
Peter Golding - Club Secretary 0419 009 721
Simon Thornton - Vice President 0417 570 779
Charlie Walker - President 0409 237 543; 9370 1802

************************************************************************************************


For more contacts, see "

Office bearers & Officials

" under "Club News & Info" at the top of the page

.
(email: -
mooneev@club.cricketvictoria.com.au
)


Our website:
http://archive.mooneevalleycricket.com.au

Moonee Valley's Facebook Page: Click
HERE

or on the Facebook logo, or go to
http://www.facebook.com/MVCC.Cricket

Our Twitter Account: To see all posts click
HERE
or on the Twitter bird at left,

or
go to
www.twitter.com
.



For our Twitter #mvcricket link, click
HERE
or on the Twitter "T" on the

right.
You can either search for #mvcricket to get the latest posts, or type in mv_cricket to see all the communications.
---
You are visitor #
97417
to this site
March 27, 2012

charlie's firewood