Premiership 2009/10 Under 12 D
by
U12 GOLD 2009/10 SEASON
The boys began the season by winning three of the four grading games and were placed in to D grade. We believed we would be more than competitive in this grade but lost three of the first four games. We weren't disgraced but it was obvious we had some work to do over the remainder of the season.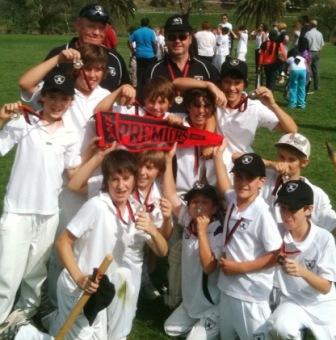 Like most of our opposition, we had games where we bowled many wides and no-balls and were lazy in the field, which just gave the opposition too many easy runs. Then we had games where the bowling and fielding were great and our batting would let us down.

There were six games remaining and we told the boys if they kept things simple and worked hard to be more consistent throughout their matches, then some better results were just around the corner.

To the boys credit they stuck with it and really started to play some great cricket. Every one of the boys was showing improvement in all facets of their game and we started to string a few wins together.

The Premiership winners: The team is pictured here with their medals and flag, and with coach Darren Nagle (left) and assistant Ross Aitken.

Before we knew it we had won the final six games and had jumped from fifth on the ladder to finish as the top team at the end of the home and away season, a fantastic effort.

The quarter final saw us have an easy victory against the bottom team, East Keilor. We were then up against fourth placed Taylors Lakes in the semi final and after winning the toss, we batted first.

We began poorly and were 3-14 off 6 overs including 2 run outs. Liam Sampieri retired after a patient 8no and this brought Charles Aitken and Luke Rotunno together in what proved to be a crucial partnership.

These two boys pushed the score up to 60 before they both retired. Luke made a controlled 13n.o. and Charles a terrific effort making 26n.o. and compulsory retiring .The boys then tried to hit some quick runs and we managed to get the score up to a credible 6-100 with Jack Newman making an important 18 n.o. towards the end of our innings.

The boys then hit the field and Ross Aitken and myself asked the boys to bowl at the stumps and work hard in the field and hopefully it would be enough to get us through to the Grand Final. Well the boys did everything that was asked and Taylors Lakes never looked a threat. We bowled and fielded so well with Anthony Cafari and Liam taking two wickets each. Taylors Lakes were all out 52 and we only conceded 11 extras. The Grand Final beckoned and we were up against Greenvale who were on top of the ladder for most of the season.

The following Saturday we ventured to Fairbairn Park for the big one. Our skipper for the match, Lachlan Grant, won the toss and decided we would bat first and get the runs on the board. Ross and I told the boys that for the Grand Final, it was all or nothing. If a batsman was doing well then we would let them bat on a little longer instead of rotating every 4 or 5 overs at the crease, as we had all season. This was to ensure that we didn't break any momentum that we may have and to ensure we had plenty of wickets in hand in case we needed them. This approach proved to work very well.

We started our innings with our reliable openers in Tanner Hewitt and Liam Sampieri and they again got us off to a solid start. Tanner retired 5 n.o. after the 5th over with the score on 0-22. Our skipper came to the crease and got to 3 runs before he was bowled by a cracker and we were 1-32 after 10 overs.

This brought Charles Aitken to the crease and he continued his great form. He and Liam had the scoreboard ticking over before Liam retired after a faultless 16n.o. and the score on 1-47 off 12 overs. Luke Rotunno joined his partner from the semi final and they again proved to be unstoppable with a wonderful partnership that took the score into the 90s .Both boys retiring soon after with Luke making a terrific 19n.o. and Charles again dominating by making a compulsory retired 25n.o. for the second game running.

With not many overs remaining and 9 wickets in hand, the boys were encouraged to bat aggressively and try to push the total as much past 100 as possible. The boys did their best and Anthony Cafari was our 2nd wicket to fall when he was bowled for a solid 10 runs, attempting to hit the ball to Tasmania. The score was 2-114 with 9 balls remaining. Jack Newman and Fraser Considine saw the innings out with Jack finishing with 4n.o.and Fraser 5n.o. We knew our score of 2-122 off our 28 overs was a competitive one. The message to the boys was go and do what you do best and it just might be your day.

We began our defence with our usual opening bowlers Anthony Cafari and Liam Sampieri. They got us off to a great start by bowling at the stumps and not conceding many runs. Liam picked up an important wicket when he clean bowled Podhajski in his first over.

After 4 overs we had them 1-10. Our next two bowlers were Luke Rotunno and Lachlan Grant and they kept the pressure on the batsmen. Only 5 runs came from their 4 overs and Lachlan also had a wicket in his first over when he picked up the dangerous Aridas via a nice catch by Anthony Cafari. 2-15 off 8 overs compared to our 0-31 at the same stage and we were off to a positive start.

Will Hutchison and Fraser Considine were the next to get their chance with the ball and they didn't let us down.

The boys bowled without luck and just when Greenvale were looking a little settled, they decided to attempt a 2nd run as Will Hutchison fielded the ball and he coolly threw the stumps down from the boundary, a remarkable run out which really inspired the boys. 12 overs down and Greenvale were in trouble at 3-36 but their best batsman, Boundy, had just arrived at the crease.

Jack Newman and Tanner Hewitt were our next bowling pair and all the boys knew they had to keep the pressure on and not let Greenvale form the partnership that they so desperately needed. Well, the entire team really stood up when it counted and the next four overs saw our boys take control of the match. After Jack bowled a tight over, the much improved Buddha Hewitt clean bowled the talented Boundy with his first delivery, sending everyone in to rapture.

4-45 after 14 overs compared to our 1-58 and Greenvale decided the best thing to do was to attack. Greenvale's Fernando attempted to hit Jack out of the park but didn't count on Josh Esposito making up a lot of ground to take a terrific catch at mid off.5-50 off 15 overs and the boys were coming in for the kill.

Greenvale were desperate and after hitting Tanner to the boundary, Scifo from Greenvale decided to test Josh Esposito out again at mid off and came off second best when Josh again took an important catch.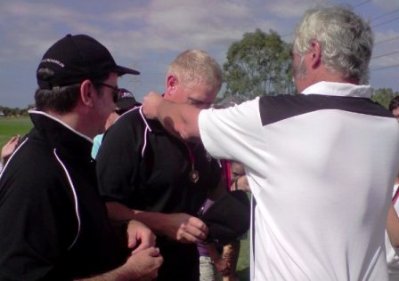 The next 2 batsmen thought tippety runs was the only solution but unfortunately for them, Charles Aitken and Fraser Considine were ready and waiting. Their sharp returns to wicket keeper Luke Rotunno saw both batsmen run out without scoring. An eventful over from Tanner saw our boys get 3 Greenvale wickets for no runs, the score now 8-50 and we had broken their backs.

Greenvale now brought 2 of their retired batsmen back in and they lasted a few overs against the accurate bowling of Josh Esposito and Lachlan Hutchison. Then Mendis also tried to steal a run and was duly run out when Lachie Hutchison again whipped the ball in to the sure handed Luke Rotunno. 9-60 and the fat coach was about to sing.

Charles Aitken came on to bowl over number 22 and Greenvale scored a couple of consolation runs before Josh came on to bowl his 3rd over and what proved to be the final over of the match. We thought Greenvale would have learnt their lesson but they again attempted to pinch a run and you guessed it, Liam whipped the ball in to Luke and we had run out number 5.

Above right: Coach Darren Nagle receives his Premiership medal from MVCC President Charlie Walker, who
is also an NWCA junior official, while assistant coach Ross Aitken looks on.

A wonderful team effort and the premiership was ours. The boys really played some excellent cricket and deserved the medals they so proudly wore around their necks. None of this would have been possible without the tireless efforts of Ross Aitken or without the support of the wonderful group of parents we had with U12 Gold.

Darren 'Spud' Nagle - coach


March 27, 2012

charlie's firewood