The highs and lows of the Mighty Fighting Fourths
by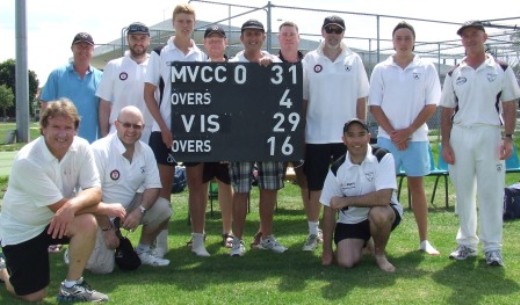 The highs and lows of the Mighty Fighting Fourths

Four players from our Mighty Fighting Fourths jointly hold a unique piece of Moonee Valley history - they were part of the team which in 2008 made the Club's highest-ever score, and this year they held the opposition to the lowest-ever senior score against us.

Paul Hobbs, Dean Lawson, Steven Ball and skipper Brett Curran have seen the highs and lows - the 3/475 we clubbed against Buckley Park on November 1, 2008 when the squad was playing as the Sixths, and now the 29 all-out that Craigieburn made against us at Ormond Park on February 19 this year.

The all-conquering Mighty Fighting Fourths (above): The scoreboard tells the story. L-R: Back -
Dean Lawson, Steve Herbert, Peter Wright, Darren Nagle, Brett Curran, Norm Wright, Kevin
Gardiner, Liam Curran and Glenn Perussich. Front - Steven Ball, Paul Hobbs and John Talone.

And on hand from the 2008 record-breaking team were Norm Wright, who was 12th man against Craigieburn so that son Peter could get a game in, and Tony Sherer and Mark Madden. That proves this team sticks together!

The hapless Craigieburn was rolled in 16 overs, with Steve Herbert, Peter Wright, Kevin Gardiner and Liam Curran each taking two wickets. Then Dean Lawson - who made 157 in the Buckley Park record - and Glenn Perussich knocked off 31 runs in four overs to wrap up the match before the first drinks break.

The previous lowest-ever score was the 34 which West Essendon made against our Firsts way back in 1974/75. The previous lowest against our Fourths was 39 by Airport West in 1991/92, when our victorious team included current players Bob Sciacchitano and Joe Ansaldo.

The Fourths' trouncing of Craigieburn at the weekend was in contrast to some of our other games, with the Firsts moving into the Top Four courtesy of a nailbiting 6-run win over Werribee Centrals, and a magnificent Derby at home on the Sunday. The Thirds finished the Derby with a 16-run first innings win but then lost outright to the Fifths off the second ball of the final over, with Peter Smith taking 6/46.

---
March 27, 2012

charlie's firewood