NEWS

23/02/2012


Allan Cumming - our Eighths skipper playing his 100th game [more]

22/02/2012


Shaun Rayment - made the State team [more]

21/02/2012


What you need to know and where you need to ring [more]

16/02/2012


John O'Brien - 5/33 last Sunday in the Thirds [more]
The highs and lows of the Mighty Fighting Fourths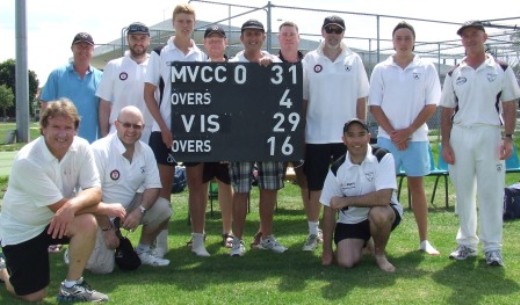 Four players from our Mighty Fighting Fourths jointly hold a unique piece of Moonee Valley history - they were part of the team which in 2008 made the Club's highest-ever score, and this year they held the opposition to the lowest-ever senior score against us.

Paul Hobbs, Dean Lawson, Steven Ball and skipper Brett Curran have seen the highs and lows - the 3/475 we clubbed against Buckley Park on November 1, 2008 when the squad was playing as the Sixths, and now the 29 all-out that Craigieburn made against us at Ormond Park on February 19 this year.

The all-conquering Mighty Fighting Fourths (above): The scoreboard tells the story. L-R: Back -
Dean Lawson, Steve Herbert, Peter Wright, Darren Nagle, Brett Curran, Norm Wright, Kevin
Gardiner, Liam Curran and Glenn Perussich. Front - Steven Ball, Paul Hobbs and John Talone.

And on hand from the 2008 record-breaking team were Norm Wright, who was 12th man against Craigieburn so that son Peter could get a game in, and Tony Sherer and Mark Madden. That proves this team sticks together!

The hapless Craigieburn was rolled in 16 overs, with Steve Herbert, Peter Wright, Kevin Gardiner and Liam Curran each taking two wickets. Then Dean Lawson - who made 157 in the Buckley Park record - and Glenn Perussich knocked off 31 runs in four overs to wrap up the match before the first drinks break.

The previous lowest-ever score was the 34 which West Essendon made against our Firsts way back in 1974/75. The previous lowest against our Fourths was 39 by Airport West in 1991/92, when our victorious team included current players Bob Sciacchitano and Joe Ansaldo.

The Fourths' trouncing of Craigieburn at the weekend was in contrast to some of our other games, with the Firsts moving into the Top Four courtesy of a nailbiting 6-run win over Werribee Centrals, and a magnificent Derby at home on the Sunday. The Thirds finished the Derby with a 16-run first innings win but then lost outright to the Fifths off the second ball of the final over, with Peter Smith taking 6/46.

---
Moonee Valley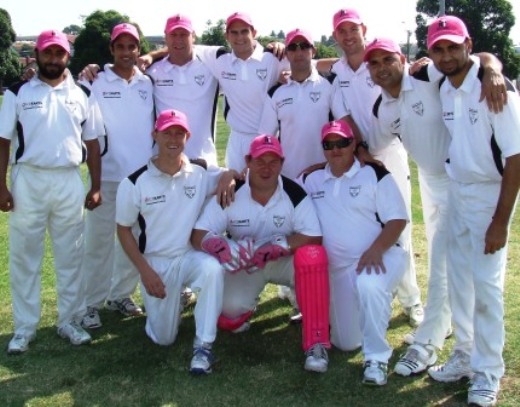 boys strike a pink patch in their match
Moonee Valley Cricket Club was decked out in pink for the February 18/19 weekend, and our players ditched their traditional black and white caps.

But it was all in a good cause - Pink Stumps Day was marked around Australia to highlight breast cancer awareness and to encourage testing and research.

We used pink stumps on the turf ground at Ormond Park for both the Saturday and Sunday games, marked the boundaries with pink cones and had the keepers - Trent Milne on the Saturday and Geoff McKeown on the Sunday - wearing pink pads and gloves. The First Eleven players on the Saturday took to their fielding innings all wearing pink caps.

Coach Vic Hodge was the driving force behind our participation in Pink Stumps Day, and it's expected that we will have raised more than $500 for the cause.

Vic turned up to watch the game wearing a lurid pink cardigan and a pink wide-brimmed hat - and he had no chance of hiding. With his hot pink garb, he could be instantly spotted from any corner of the ground. Well done Vic!

People can still donate to the cause by putting cash in the tin in the clubrooms, or donating direct via our Club through the email address http://pinkstumpsday.gofundraise.com.au/page/VicHodge.

Showing their support (above) are the Firsts, playing against (and beating) Werribee Centrals. L-R: Back - Ihtisham Uddin, Nasir Ahmed, Ian Denny, Steve Nickelson, Jim Polonidis, Matt Thomas, Amit Chaudhary and Shafi Hassan. Front - Craig Pridham, Trent Milne and Mark Gauci.

---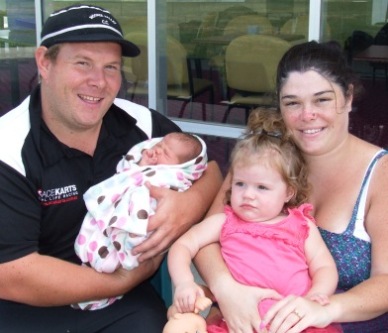 Congratulations from the Valleys!
Congratulations to Amiee and Trent Milne on the birth of their second daughter, Addasyn.

And she's sure to be a dedicated Moonee Valley fan, as Trent and Amiee brought Addasyn and older sister Amberleigh down to Ormond Park for the crunch game against Werribee Centrals on February 18 - less than a week after she was born.

Trent is a past Centrals player, and enjoyed mixing with - and beating - his former teammates as they helped him welcome the new arrival.

Congratulations from all of us at Moonee Valley.


---
Our 40th anniversary night takes the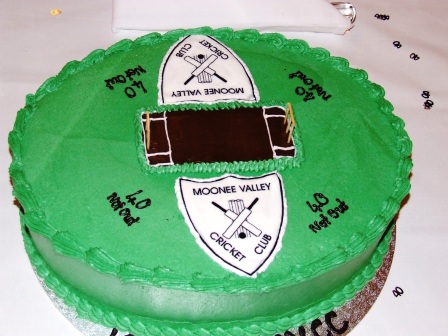 cake

Some 85 past and present players and supporters attended the 40th anniversary dinner for the Moonee Valley Cricket Club on Saturday, January 28, and a great night was had by all.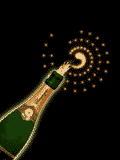 A highlight of the night were speeches both humorous and sincere from past greats Greg Peters, Laurie Mayne and Club founder Ray Storey, and equally compelling presentations by greats who are still pulling on the whites in Darren Nagle, John Talone, Ian Denny and Sandro Capocchi.

Highlights of the night were the cutting of the 40th anniversary cake, designed and donated by past women's captain and current committee member Tien Polonidis, a loop of old and not-so-old photos organised by secretary Peter Golding, and a display of memorabilia curated by Kevin Gardiner.

***For more pictures and reports on the night, watch this space. Click HERE .
---
MOONEE VALLEY IS IN THE NEWS!

Launch shows we're in a healthy State

Moonee Valley Cricket Club was in the news on January 29 when the Victorian Government chose to launch its Population Health Survey report at Ormond Park.

Club Vice President Simon Thornton (far left) joined State Health Minister David Davis to front the media and discuss healthy lifestyles.

Minister Davis was then joined by senior players and our Under 12s to share platters of fresh fruit - which is standard fare for the afternoon teas for our senior teams every weekend.

Mr Davis said the Moonee Valley Cricket Club was an excellent model for a healthy and active lifestyle.

"Just 52% of the people surveyed for the current report met the recommended minimum daily intake of two or more serves of fruit," Mr Davis said.

"And less than one in 10 met the target of five or more serves of vegetables each day.

"The Victorian Government is using the Prevention Community Model, which is a joint Federal and Victorian program, to encourage people to take steps to improve their health and wellbeing."

Footage of the launch ran on the Channel 9 and 7 news bulletins on the night of the launch.



****

For more pictures of the launch, words from Minister Davis and for links to the TV news items and media conference audio, click on the link HERE

---
CRICKET TRAINING SCHEDULE
Moonee Valley Cricket Club teams train at our main home ground, Ormond Park, in Pattison St, Moonee Ponds - beside the freeway.
Training details are:

Seniors - Tuesdays and Thursdays from 5.30pm.
Under 16s - Tuesdays 4.30-6pm
Under 14s - Thursdays 4.30-6pm
Under 12s - Wednesdays 4.30-6pm
Under 10s - Mondays 4.30-6pm
Milo In2Cricket - Fridays - 5.30pm

For more details, ring Charlie Walker on 0409 237 543
---
******

Membership fees and payment options for 2011/12 - Seniors and juniors. FINAL PAYMENTS NOW DUE. To find out amounts and how to pay, click here
---
Main Club contact details

:
Peter Golding - Club Secretary 0419 009 721
Simon Thornton - Vice President 0417 570 779
Charlie Walker - President 0409 237 543; 9370 1802
Tanya McDonald - Junior Co-ordinator 0432 165 672

************************************************************************************************


For more contacts, see "

Office bearers & Officials

" under "Club News & Info" at the top of the page

.
(email: -
mooneev@club.cricketvictoria.com.au
)


Our website:
http://archive.mooneevalleycricket.com.au

Moonee Valley's Facebook Page: Click
HERE

or on the Facebook logo, or go to
http://www.facebook.com/MVCC.Cricket

Our Twitter Account: To see all posts click
HERE
or on the Twitter bird at left,

or
go to
www.twitter.com
.



For our Twitter #mvcricket link, click
HERE
or on the Twitter "T" on the

right.
You can either search for #mvcricket to get the latest posts, or type in mv_cricket to see all the communications.
---
The Moonee Valley Cricket Club Inc is a section of the Moonee Valley Sporting Club .

Last updated: February 20, 2012

For more history on our Cricket Club, including Premiership match reports, click here

You are visitor #
95704
to this site

February 27, 2012

charlie's firewood