40th anniversary MVCC - Page 2
by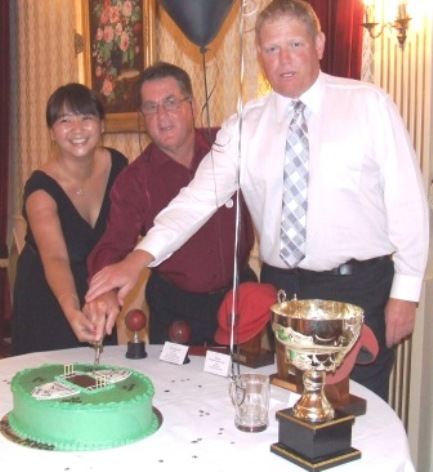 Club legends come together for Valley's night of nights

Club legends past and present - and some from both the past and the present - were part of the gathering when Moonee Valley Cricket Club celebrated its 40th anniversay with a function at Happy Receptions in Ascot Vale on January 28.

Fifteen Life Members, seven presidents and four past Coaches were part of the gathering of about 85, as we all celebrated a rich and varied history.

The biggest applause for the night was reserved for Club founder Ray Storey when he arrived about 9.30pm with wife Heather, having driven down to the function after playing lawn bowls in Moama, NSW.

Right - Cutting the 40th celebration cake are L-R function organiser and past women's captain Tien Polonidis, Club founder Ray Storey and Past President and 300-gamer Darren Nagle.

The night was expertly h osted and MCeed by Life Members Darren Nagle, John Talone and Sandro Capocchi, who between them shared an aggregate 31 years as Club President and Club Secretary.

The three had an aggregate of more than 830 MVCC games between them, and the crowd was enthralled to hear Darren, John and Sandro individually detail what was important to them about Moonee Valley, what were their prime inspirations and what led them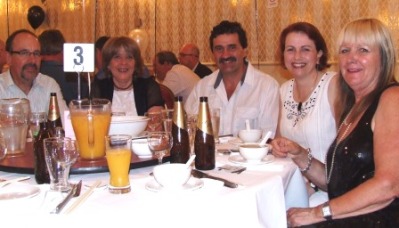 to spend a significant part of their life at the Club.

The gathering was also hushed as we heard presentations from Greg Peters, Ian Denny, Ray Storey and Laurie Mayne on Moonee Valley's rich past, while current president Charlie Walker detailed the last 10 years of growth and development, starting from the formation of our juniors in 1996.

Left: Enjoying the night were L-R Alan and Sandra Thomas, past Premiership coach Tony Gleeson, Nicole McLachlan and Adele Walker. Sandro is the odd one out - the only member of the table not to have played cricket for Moonee Valley.

The Club also acknowledged our future, welcoming our international first class players, Ihtisham Uddin and Nasir Ahmed from Pakistan, and First Eleven stalwart Amit Chaudhary, with his strong links to India.

The gathering also heard about our foray into the new frontier of Twenty20 cricket, and how it's a part of our future in that up-and-coming leaders of our Club in Matt Thomas and Stephen Ward are captaining our current sides.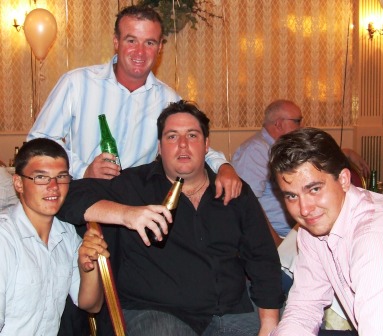 We also heard the definitive story from Ray Storey on how and why our mighty Moonee Valley Cricket Club was formed.

Ray told us that he, Rod McLeod and others had been playing for the Moonee Ponds Salvation Army team at Ormond Park, but the Salvos started to become insistent that its players were required to attend church at least once a month.

That didn't suit Ray and some of the others. The option was to buckle under and get down and pray once a month, or stand up for religious freedom and split.

Thankfully for Moonee Valley Cricket Club and our history, that's what they did - and so the origins of the Moonee Valley Cricket Club were born and we took to the field for the first time in the 1971/72 season. The Club played as Moonee Ponds Cricket Club until we assumed our current name in 1977/78.

Right: Get with the strength: Firsts player Sean O'Kane stands behind the Fifths brains trust: L-R Beau Velona, who took a five-wicket haul the day after the function, team manager Ryan Fairclough and captain Jesse Nankivell-Sandor.

The support of the Moonee Valley Football Club was also acknowledged on the night, with a table of 11 representatives from MVFC at our celebration, led by President Alex Tomsic.

Three of the Football Club representatives on the night have a direct links to us, as Bill and Sally Wilson and Charlie Intagliata all pulled on the whites for Moonee Valley.

***For more words and pictures, click HERE

February 4, 2012

charlie's firewood