In the news with Population Health Survey launch at Ormond Park: January 2012 - Page 2
by
Moonee Valley shows we're on a good wicket as snapshot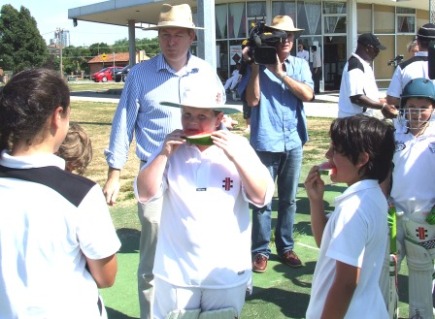 looks at Victoria's healthy lifestyles
We don't eat enough fruit and vegetables, and more and more Victorians are becoming obese or developing diabetes.

We've improved our smoking habits, have kept steady on abusing alcohol and maintain a reasonable level of physical fitness, the Minister for Health, David Davis said.

Most of us think we're on top of our personal health, with more than eight in 10 Victorians reporting their health as excellent, very good or good.

Releasing the Victorian Population Health Survey 2009 at the Moonee Valley Cricket Club in Ormond Park, Moonee Ponds, Mr Davis said the snapshot, based on a detailed survey of around 7500 adults, showed there were areas where we could all do better.

Mr Davis visited Moonee Valley Cricket Club on January 29 for the launch, where he was joined by MVCC Vice President Simon Thornton and senior coach Vic Hodge.

Above: Under 12s player Riley Boxshall tucks into our healthy watermelon with teammates
while Victoria's Health Minister David Davis and the media look on.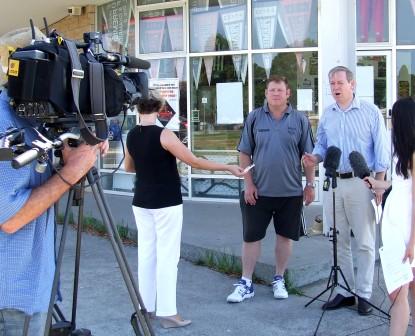 Mr Davis highlighted the fresh fruit platters prepared by the Club for its senior teams each weekend, and to highlight the healthy lifestyle of members of our Club to the TV news crews at the launch, helped hand out fruit to the Under 12s playing a match at the time.

The launch featured on the TV news bulletins that night, with MVCC Vice President Simon Thornton fronting the cameras with Minister Davis. To see the vision, click on the links here:
Channel 9
Channel 7
To hear the audio of Minister Davis' media conference, click HERE

Mr Davis said the State Government was encouraging all Victorians to turn around unhealthy lifestyles through the $100 million Prevention Community Model, targeting more than a million people through targeted health plans in 14 selected municipalities and with general programs across the State.

The Victorian Population Health Survey has been conducted every year since 2001.

The latest figures available based on local government areas show the City of Moonee Valley rating better than the State-wide averages in some categories, and needing to improve in others.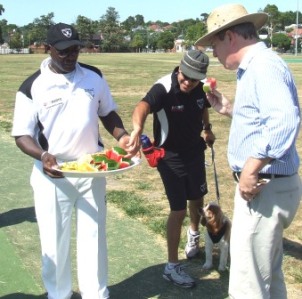 The Moonee Valley figures show:

• 17.0 per cent of males and 13.7 per cent of females in Moonee Valley are current smokers.
• 11.8 per cent of males and 3.4 per cent of females in Moonee Valley drink alcohol at weekly high-risk levels.
• 34.0 per cent of males and 23.6 per cent of Moonee Valley females were overweight.
• 23.1 per cent of Moonee Valley males and 12.3 per cent of females were classified as obese.
• 2.8 per cent of Moonee Valley males and 12.9 per cent of females had the appropriate vegetable intake.
• 47.0 per cent of males and 60.2 per cent of females had the appropriate fruit consumption.
• 56.5 per cent of males and 61.0 per cent of females engaged in sufficient physical activity.

"Just 52 per cent of the people surveyed for the current report met the recommended minimum daily intake of two or more serves of fruit," Mr Davis said.

Above: Coach Vic Hodge hands out the fruit for Minister Davis to enjoy, along with Club player
Jim Polonidis and his dog Phoenix.

"And less than one in 10 met the target of five or more serves of vegetables each day.

"While the proportion of men and women who were overweight has remained constant between 2003 and 2009, the prevalence of obesity has increased over the period," Mr Davis said.

**** For more words and pictures, click >>>>>>>> HERE





February 1, 2012

charlie's firewood