NEWS

25/09/2011


Moonee Valley two wins! [more]

16/09/2011


Saturday September 24 v Lucknow CC - we're playing for the McKeown Trophy: MVCC stalwart Geoff McKeown (left) [more]

12/09/2011


Stephen Ward captained our Second team in the Donnybrook visit. [more]

08/09/2011


Laffan Reserve, Donnybrook Rd, Donnybrook. **Amit Chaudhary - ready for action [more]
---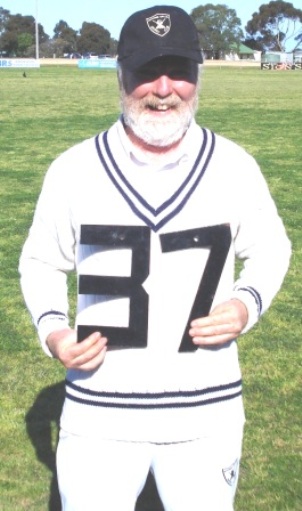 A change of Luck for our Valley tourists

Moonee Valley sent two teams down to Bairnsdale on the September 24/25 weekend for games against Lucknow Cricket Club, and was able to turn the tables on the results from our last visit two pre-seasons ago.

Both our First and Second Elevens won their games, and we got some valuable match practice in.

We're grateful to Lucknow CC and its president, Paul Garry, for again hosting the games, and to its major sponsor, the Grand Terminus Hotel for arranging accommodation for us.

Our First side, batting first, made 3/101 off 30 overs, with Sean O'Kane making 54no and Trent Milne a stylish 25. We got Lucknow all out for 88, with Craig Pridham and Mark Gauci each taking two wickets.

In the Second team, Moonee Valley got Lucknow all out for 89, with Stephen Ward taking an excellent 3/20 and Simon Thornton and Bede Gannon each snaring two wickets.

In reply we made 8/140, on the back of a hard-hitting 37no from Allan Cumming and 23 from Stephen Ward.

Left: Allan Cumming shows his score - 37no.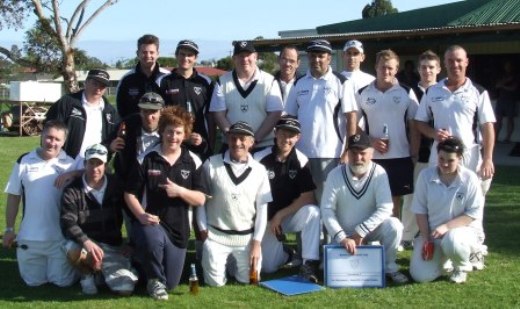 At right: The Moonee Valley squad: L-R - Back - Mark Gauci, Matt Thomas, Steve Nickelson, Simon Thornton, Pat Taylor, Amit Chaudhary, Ashley Krollig, Peter O'Kane, Stephen Ward and Sean O'Kane.

Front - Peter Golding, Ben Thomas, Jim Polonidis, Bede Gannon, Phill King, Craig Pridham, Allan Cumming and Jessie Taylor.






*****

More photos and words: Click HERE


---
Our training details - back at Ormond Park
We are now back at Ormond Park for the rest of our pre-season training.
The dates and times are:
Seniors, including women - Tuesdays and Thursdays from 5.15pm.
Under 16s - Tuesdays 4.30-6pm
Under 14s - Thursdays 4.30-6pm
Under 12s - Wednesdays 4.30-6pm
Under 10s - Mondays 4.30-6pm starting September 12
Milo In2Cricket - watch this space - due to start mid-October


For more details, ring Charlie Walker on 0409 237 543
---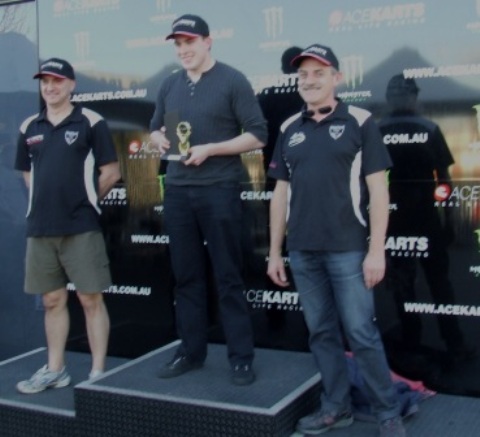 An Ace Day at Ace Karts

A group of Moonee Valley cricketers ventured to Ace Karts in Carrington Dve, Sunshine on August 21 for a day of Sunday racing on the track - the biggest in Australia.

Ace Karts is a valued sponsor of our Club, and as many players and supporters as possible were urged to attend to show our appreciation.

At the end of the 20 minute race, Nigel Walker (centre, left) finished first, closely followed by Phill King (right) and Lou Raffaele (far left).

For more information on the day, click on the link at the top of this screen for our News pages.


---
******

Membership fees and payment options for 2011/12 - Seniors and juniors. To find out amounts and how to pay, click here
---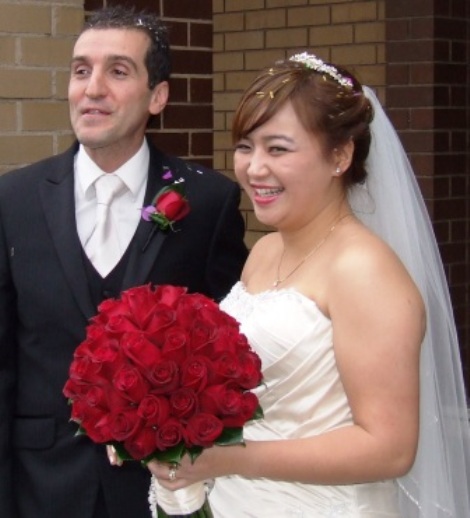 WEDDING BELLS FOR OUR JIM AND TIEN
It was a real Moonee Valley wedding when Jim Polonidis and Tien Ha were married on July 30.

The guest list comprised 37 current and former players of the Club, with a combined 4357 games between them.

The experience ranged from Life Member and Past President Darren Nagle, with 298 games to his credit, through to one-gamer Robert Goss - a past junior dad.

The 4357 game tally of course included the stars of the show, Jim with 200 games even, and Tien with 46.

There were plenty of wild and woolly cricket tales told at the reception at Ascot House in Ascot Vale, after the wedding at St Dimitrios Church in Moonee Ponds. And unlike a fair whack of the 2010/11 cricket season, the rain held off! Watch this website for more info and photos. **To see more pictures, click HERE
---
Tanya McDonald's our Junior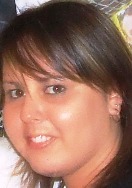 Co-ordinator
Tanya McDonald
has taken on the vital role of Junior Co-ordinator for the 2011/12 season.
Tanya, who has played with our women's teams for the past two seasons and has also played a number of games in the men's grades - including one memorable match when she cleaned up West Coburg with three wickets - is keen to ensure our juniors hit the ground running this season.
She has already been given the full support of the Club's two previous Junior Co-ordinators -
Kevin Gardiner
and
Charlie Walker
, who between them had the role covered for 10 years - and Past President
Darren Nagle
, who was Prez when we established juniors in 1996 and is now a junior coach.
We're calling on players, parents and supporters to give Tanya their full support and ensure she has plenty of back-up to do the important job.
Tanya is calling for expressions of interest and nominations to finalise the junior coaching roles for this season
.
We have nominated one Under 16 team, three Under 14 teams, two Under 12 teams and two Under 10 teams for 2011/12, plus a Milo program for the youngsters.
Rahul "Sunny" Sharma and Vice President Simon Thornton are jointly coaching our Under 16s. Darren Nagle has nominated to coach one of the Under 14 teams in association with Ross Aitken, and Brad D'Elton is coaching another. Kevin Gardiner has nominated to coach an Under 12s team with support from Michael Cumbo, and John Talone has expressed a willingness to either coach an Under 10 team or run the Milo program. Pat Taylor has nominated to coach Under 10s.
Any other nominations or expressions of interest should be directed to
Tanya McDonald
on
0432 165 672
or by email to
tanya_l_mcdonald@hotmail.com
---
Call for new players for season 2011/12 -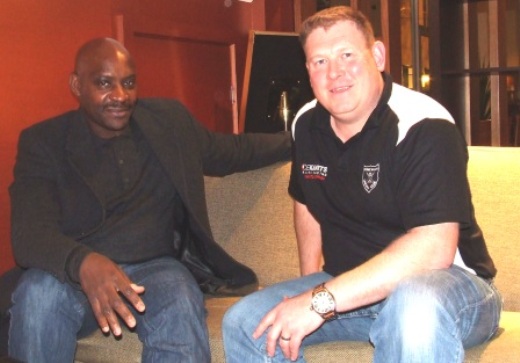 seniors, women and juniors
Moonee Valley Cricket Club is calling for new players for our teams for the 2011/12 season.


We have entered four two-day teams in the Victorian Turf Cricket Association, five two-day and one-day teams in the North West Cricket Association, a women's one-day Sunday team in the Victorian Women's Cricket Association and teams at the Under 16, Under 14, Under 12 and Under 10 age groups in the North West Cricket Association.


Moonee Valley is again running a Milo In2Cricket program for the youngsters.


Club President Charlie Walker said we have spots available for players of all ages and abilities, and interested players have the option of where they want to aim - serious cricket at the top end, or more social cricket in the one-day grades.


"We are looking forward to an exciting season, with Vic Hodge as our new senior coach with a range of new ideas and practices," Charlie said.


Vic Hodge is shown above left with Club Vice President Simon Thornton.

Anyone interested in joining Moonee Valley this season should phone Charlie Walker on 0409 237 543, Secretary Peter Golding on 0419 009 721 or Tanya McDonald on 0432 165 672.

---
Main Club contact details

:
Charlie Walker - President 0409 237 543; 9370 1802
Peter Golding - Club Secretary 0419 009 721
Simon Thornton - Vice President 0417 570 779
Tanya McDonald - Junior Co-ordinator 0432 165 672

************************************************************************************************


For more contacts, see "

Office bearers & Officials

" under "Club News & Info" at the top of the page

.
(email: -
mooneev@club.cricketvictoria.com.au
)


Our website:
http://archive.mooneevalleycricket.com.au

Moonee Valley's Facebook Page: Click
HERE

or on the Facebook logo, or go to
http://www.facebook.com/MVCC.Cricket

Our Twitter Account: To see all posts click
HERE
or on the Twitter bird at left,

or
go to
www.twitter.com
.



For our Twitter #mvcricket link, click
HERE
or on the Twitter "T" on the

right.
You can either search for #mvcricket to get the latest posts, or type in mv_cricket to see all the communications.
---
The Moonee Valley Cricket Club is a section of the Moonee Valley Sporting Club .

Last updated: September 25, 2011

For more history on our Cricket Club, including Premiership match reports, click here

You are visitor #
85516
to this site

September 29, 2011

charlie's firewood