Lucknow Pre-season trip 2011 - Page 2
by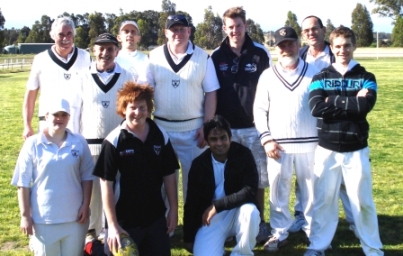 Luck was in for Moonee Valley this time around
Our squad of 22 players - with an injured Matt Thomas as a substitute - had a good weekend at Bairnsdale for our matches against Lucknow Cricket Club on September 24/25.

The teams were: Firsts - Mark Gauci (capt), Amit Chaudhary, Steve Nickelson, Peter Golding, Trent Milne, Craig Pridham, Jim Polonidis, Sean O'Kane, Hayda Khan, Peter O'Kane and Ben Thomas.

Seconds - Simon Thornton (capt), Stephen Ward, Pat Taylor, Jessie Taylor, Muhammad Maaz, Umar Farooq, Phill King, Allan Cumming, Bede Gannon, Ashley Krollig and Charlie Walker.

We again enjoyed the hospitality of Lucknow CC president Paul Garry and his team, but this time Moonee Valley was able to reverse the results - our two wins were in contrast to our visit two pre-seasons ago, when Lucknow was victorious in both games.

Our 2009/10 pre-season visit stood us in good stead, as our Firsts and Seconds went on to win the Premiership that year. We didn't visit last pre-season, as there wasn't a weekend that suited both clubs.

Hopefully our 2011/12 season follows that of 2009/10, and we're among the flags again as a result.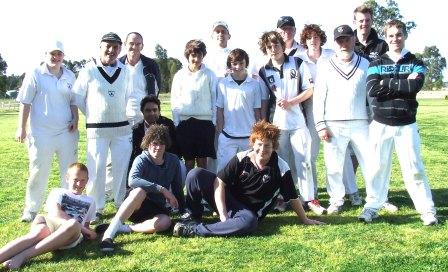 Pictures: Above - Members of our Seconds team: Back (L-R) Charlie Walker, Phill King, Ashley Krollig, Simon Thornton, Matt Thomas, Allan Cumming, Pat Taylor and Stephen Ward. Front: Jessie Taylor, Bede Gannon and Umar Farooq.



At right: Moonee Valley Second team members mix with some of the young Lucknow team> L-R Back - Jessie Taylor, Phill King, Pat Taylor, LCC, Ashley Krollig, LCC, LCC, Simon Thornton, LCC, Allan Cumming, Matt Thomas and Stephen Ward. Front - LCC, LCC, Umar Farooq and Bede Gannon.

(27/9/11)

September 26, 2011

charlie's firewood