NEWS

31/05/2011


Moonee Valley Cricket Club Inc. annual general meeting - details [more]

26/05/2011


Moreland Moonee Valley Cricket Association will not exist next season. [more]

15/05/2011


For Arosha Perera's wife Ishani. [more]

14/05/2011


Peter Wright - our developing champ! [more]
Introducing our new coach...

Moonee Valley Cricket Club is pleased to announce the appointment of Vic Hodge as our senior coach for the 2011/12 season.
Vic, who last season coached the Melbourne Cricket Club Fifth Eleven and trained his squad part of the time with the Premier club's top four sides, has played representative cricket in England.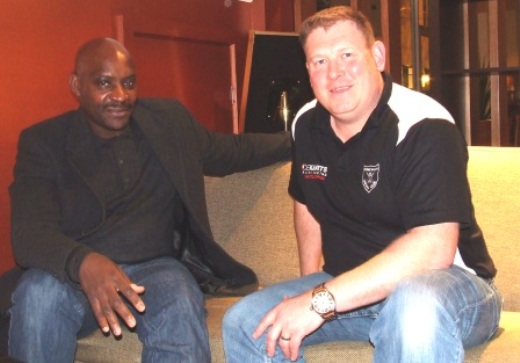 He has also been a player-manager with semi-professional soccer teams in England.
Vic played Under 19s rep cricket for County club Warwickshire as an opening bowler, and had the distinction of being a net bowler at Edgbaston for the 1981 Ashes series.

Accepting our coaching role, Vic said he was excited to be coaching a club as big and diverse as Moonee Valley.
"My cricket philosophy is to make the most of what you have and look for continual areas of improvement, however small; in order to sustain performance and extend one's playing career," he said.
As a player/coach with Melbourne's Fifth Eleven, which is one of 10 teams in the MCC Club Eleven competition, Vic coached a team of mainly MCC cricketers, many of whom have represented the Club at Premier level and sometimes even State or national level.
He plans to play with Moonee Valley this season in combination with his coaching role.

Vic is shown above with Vice President Simon Thornton at the North Suburban Club,
where we did the coach interviews.

"I decided to apply for the job as coach in recognition and acceptance that my playing career will end at some point," Vic said."
This is coupled with my commitment and desire to stay involved in the game, and to give something back to the sport."
Vic said he was very interested in having some input into Moonee Valley's junior program, with a view to helping advance the players to senior cricket.
He also has an interest in our women's section, as his mother had played cricket in St Kitts, in the West Indies.

Moonee Valley Vice President Simon Thornton and President Charlie Walker, who interviewed Vic twice at our sponsor the North Suburban Club, said they were impressed at Vic's commitment to the challenge and his eye for detail.
"He's got us excited already – and pre-season hasn't yet started," Simon said.

Lou Raffaele, who coached Moonee Valley for four seasons, including to our First and Second Eleven flags in 2009/10, advised at the end of last season that he planned to step down because of the demands of his young family.
Lou intends to keep playing at Moonee Valley.
And Pakistani player Ihtisham Uddin, who played in our Firsts for the first half of last season, has reached agreement to come back to Moonee Valley this season. Ihtsi will take on an assistant coaching role.

---
Valley's Presentation Night - and Amit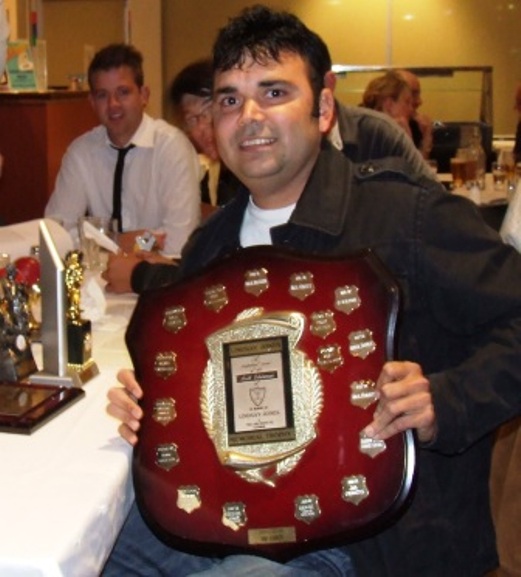 wins
everything!
Our chairman of selectors, Amit Chaudhary, really scooped the pool at the Moonee Valley Cricket Club awards night on Saturday, May 7.

As well as winning the First Eleven batting and bowling awards, Amit was named the Club Champion, for points based on performances in the Firsts.

But in an unprecedented move, Amit also won the Moonee Valley Award, based on points for performances in all grades other than the Firsts. Because of the topsy-turvy season with the weather, Amit managed to play in several other grades - for performances including a century, 98 not out and a seven-wicket haul.

And to top off the night for Amit, he also won the Lindsay Jones Best Clubman award - the most prestigious award at Moonee Valley.

Amit is pictured with the Lindsay Jones Award perpetual shield and some of his other trophies.

For more pictures and details of the night, click HERE.
---
REMINDER: Moonee Valley Cricket Club Inc. Annual General Meeting, Thursday June 23. In the Bowls rooms at Ormond Park, 7pm. More details - see the News tags at the top of this page.

---
A fairytale wedding for Valley's Arosha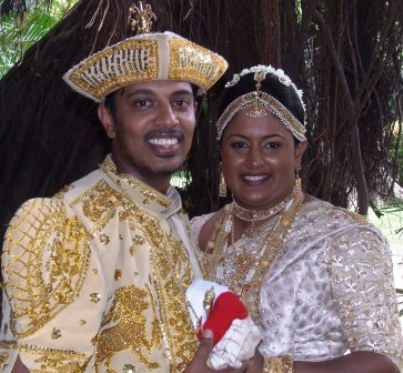 Moonee Valley star Arosha Perera returned home to Sri Lanka in April to marry his Ishani, and the brilliance of the traditional garments made it seem a real fairytale wedding.

While Arosha and Ishani married in Australia two years ago, this was their opportunity to go home for a proper Buddhist wedding and an equally impressive homecoming ceremony.

Moonee Valley Cricket Club was represented by president Charlie Walker, Club champion Raj Aiyappan, his wife Shontell and their daughter Tiana - who was one of the little bridesmaids, and past player Nick Puccio with his partner Janine.

The wedding was held in the capital Colombo on April 22, and the homecoming in Arosha's home city of Kandy on April 24. Also present was managing director of the Don Kyatt group of companies, Frank Hutchinson, who did so much in association with our Club to keep Arosha in Australia when it seemed likely three years ago that changed immigration laws would require him to leave.

*****Click HERE for more photos and information.
---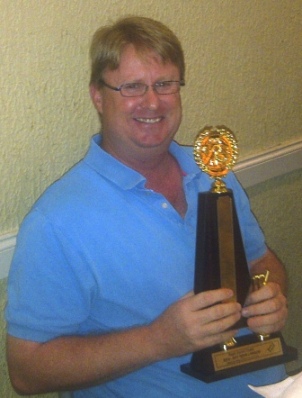 Our Deano delivers
Moonee Valley Fourths opening bat Dean Lawson has won the NWCA Barron Shield batting award - the second player from the Valleys to win it in three seasons.

Horse trainer Deano, who clubbed 296 runs at an average of 37 from just eight games, received the trophy at the NWCA awards night on April 8.

He follows on from team-mate Alan Harry, who won the award in the 2008/09 season.

Deano has become a stalwart of the Mighty Fighting Fourths, and in the last season brought up his 50th game for Moonee Valley.

Wife Sam and children Trent and Brooke have also played cricket at Moonee Valley.

Dean has scored 1760 runs @ 35.2 in his 54 games - which already has him at 40th on Moonee Valley's all-time run scorers. And he's got plenty of cricket left in him yet.

A premiership has so far eluded the Mighty Fightings, and there's a great deal of determination to address that anomaly in season 2011/12. So opposition bowlers watch out - Deano's coming for you!

---
Main Club contact details

:

Peter Golding - Club Secretary 0419 009 721
Charlie Walker - President 0409 237 543; 9370 1802
Kevin Gardiner - Junior Co-ordinator 0417 536 896

************************************************************************************************


For more contacts, see "

Office bearers & Officials

" under "Club News & Info" at the top of the page

.
(email: -
mooneev@club.cricketvictoria.com.au
)


Our website:
http://archive.mooneevalleycricket.com.au
---
The Moonee Valley Cricket Club is a section of the Moonee Valley Sporting Club .

Last updated: June 21, 2011

For more history on our Cricket Club, including Premiership match reports, click here
You are visitor #
81295
to this site
June 24, 2011

charlie's firewood