Arosha's Sri Lanka wedding - Page 2
by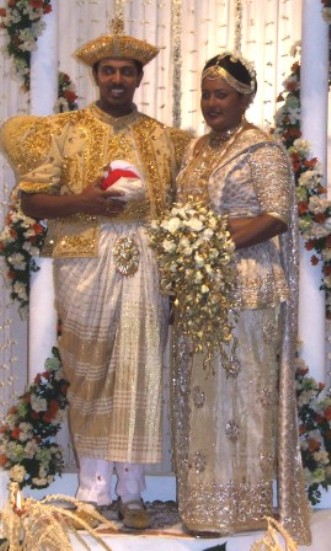 Arosha and Ishani's Sri Lankan wedding

Moonee Valley star Arosha Perera returned home to Sri Lanka in April to marry his Ishani, and the brilliance of the traditional garments made it seem a real fairytale wedding.

And the Royal wedding held in England a week later had nothing on Arosha and Ishani's wedding in terms of color, sound, pomp and pageantry. The ceremony and absolutely spectacular.

While Arosha and Ishani married in Australia two years ago, this was their opportunity to go home for a proper Buddhist wedding and an equally impressive homecoming ceremony.

Arosha and Ishani (right) absolutely stunning in their traditional costumes.

Moonee Valley Cricket Club was represented by president Charlie Walker, Club champion Raj Aiyappan, his wife Shontell and their daughter Tiana - who was one of the little bridesmaids, and past player Nick Puccio with his partner Janine.

The wedding was held in the capital Colombo on April 22, and the homecoming in Arosha's home city of Kandy on April 24.

Also present was managing director of the Don Kyatt group of companies, Frank Hutchinson, who did so much in association with our Club to keep Arosha in Australia when it seemed likely three years ago that changed immigration laws would require him to leave.

Frank was at the wedding with his wife Di and with two of his senior managers who work closely with Arosha at the company - Angela and Teresa. Had it not been for the efforts of Frank, his company and his staff, Moonee Valley would not have been able to keep Arosha in Australia for the past three seasons.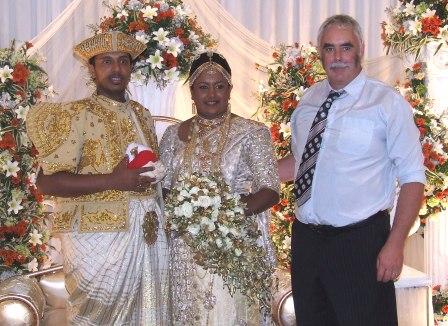 And we all know the crucial role Arosha played in our First Eleven premiership in 2009/10 - so thanks to Frank and the Don Kyatt Group.

And it's not as though Frank is a stranger to cricket - son Brent is a past First Eleven captain at Essendon, and Frank had a long career as a suburban batsman himself.

Joining Arosha and Ishani for a photo - Moonee Valley president Charlie Walker (right).

And the day we left Kandy after the homecoming, the Aussies were able to join Arosha and Ishani as they observed their religion at Sri Lanka's most sacred Buddhist site - the Holy Temple of the Tooth Relic.

After that we were honored to join them for a cup of tea with Arosha's parents at their home on the outskirts of Kandy, where we were treated to a display of Arosha's trophies and citations from throughout his cricket career, and a flick through the extensive photo albums of his cricket right from his days at school.

Reading through the citations, it's amazing that Arosha's career never got past his selection in the Sri Lanka A team. Surely politics was involved in him never winning selection to play Test or One Day cricket for Sri Lanka. But Sri Lanka's loss has been Moonee Valley's gain.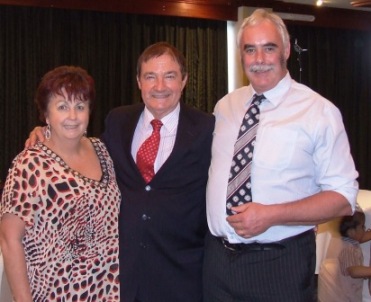 Right - Charlie Walker (right) at the Kandy homecoming with Di and Frank Hutchinson of the Don Kyatt Group of Companies, who have done so much to keep Arosha in Australia and who he regards as his second parents.

Below: Raj and Shontell Aiyappan with one of the elephants at the Pinnawala Elephant Orphanage, which we visited on the way to Kandy.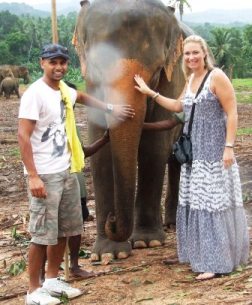 More pictures: Click HERE



May 7, 2011

charlie's firewood