Presentation Night 2011 - at the North Suburban Club - Page 2
by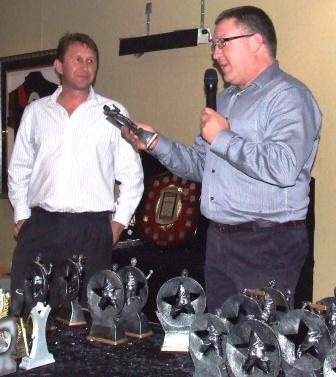 Our big presentation night at the North Suburban Sports Club

Moonee Valley celebrated a season of achievements when players, partners and supporters came together for our 2010/11 presentation night on Saturday, May 7.
We celebrated our on-field and off-field achievements, with presentations of batting, bowling and fielding awards to each of our 10 senior teams, plus a number of individual achievement awards.

At right: Secretary Peter Golding presents the
Bowling Award to Sevenths player John Brelis.


Amit Chaudhary was announced as the winner of Moonee Valley's most prestigious award, the Lindsay Jones Trophy – as well as winning the First Eleven batting and bowling awards, the Club Champion award for best player in the Firsts and the Moonee Valley Award for the most points in all other grades.
Presentation Night was hosted by one of our major sponsors, the North Suburban Club.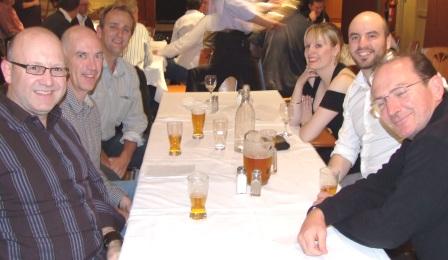 Pat Taylor was awarded the Most Improved Player trophy, which is judged by coach Lou Raffaele.

Go Fourths: L-R: Paul Hobbs, Alan Harry, skipper Brett Curran, Megan and Steve Herbert and Mark Madden.
President Charlie Walker did the citation and announcement of the Lindsay Jones Award, which is named for the efforts of a selfless clubman.



Lindsay was not Moonee Valley Cricket Club's greatest player, but he was our greatest clubman before dying tragically at the end of the '85 season. His stats of 22 games, 78 runs and 2 wickets do not do justice to the effect he had on our Club.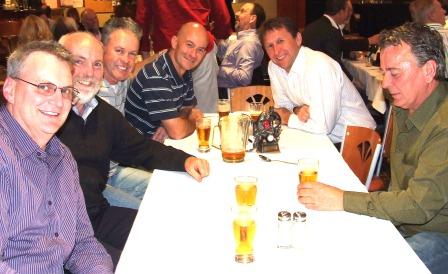 L-R: One-day rascals: Doug and
Allan Cumming, Kevin Memery,
Glenn Perussich, John Brelis and
Steve Malone.

Amit Chaudhary has become a key person both on and off the field at Moonee Valley since playing three lower-grade games in 2007/08.
He was among our best players in the First Eleven Grand Finals in 2008/09 and 2009/10,
has been Chairman of Selectors for two years and has worked
tirelessly behind the scenes for the betterment of Moonee Valley – always without seeking recognition.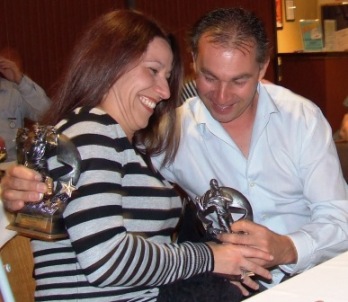 Amit played a crucial role in recruiting Surender Dayma and Ihtisham Uddin as international players last season, and is working just as hard to try and entice internationals to Moonee Valley for the 2011/12 season.

At left: Thirds batting and bowling award winner
Dean Jukic and partner Agatha Soccio.



A number of our milestone trophies were presented at our Most Valuable Player vote count night, which we held at the Union Hotel in Ascot Vale on the first week of the finals.

Our night was attended by eight life members – Ian Denny, Peter Gardiner, Darren Nagle, John Talone, Jim Polonidis, Jim McKenzie, Danny Terzini and Charlie Walker.

The gathering heard that the 2011/12 season will mark the 40th anniversary of the founding of our Moonee Valley Cricket Club, and major celebrations are planned to mark the milestone.

It had been a tough season what with washouts. Our Firsts, Seconds, Thirds and Fifths all moved up a grade. We had three senior teams play finals, and another three lose out by narrow margins.

For more: Click HERE



May 9, 2011

charlie's firewood