NEWS

31/05/2011


Moonee Valley Cricket Club Inc. annual general meeting - details [more]

26/05/2011


Moreland Moonee Valley Cricket Association will not exist next season. [more]

13/05/2011


Next Tuesday, May 17 at the North Suburban [more]

09/05/2011


For Arosha Perera's wife Ishani. [more]
Valley's Presentation Night - and Amit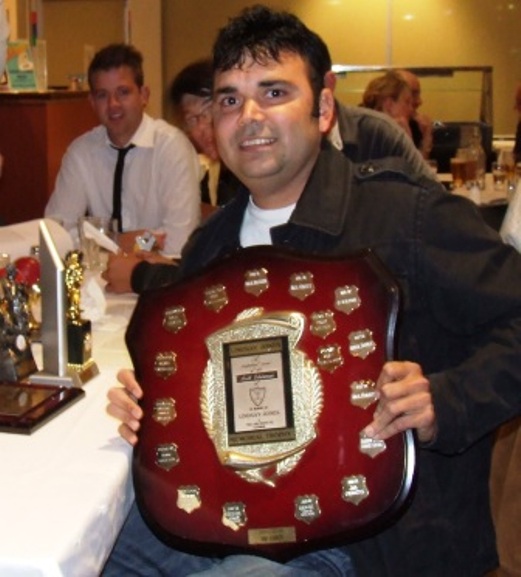 wins
everything!
Our chairman of selectors, Amit Chaudhary, really scooped the pool at the Moonee Valley Cricket Club awards night on Saturday, May 7.

As well as winning the First Eleven batting and bowling awards, Amit was named the Club Champion, for points based on performances in the Firsts.

But in an unprecedented move, Amit also won the Moonee Valley Award, based on points for performances in all grades other than the Firsts. Because of the topsy-turvy season with the weather, Amit managed to play in several other grades - for performances including a century, 98 not out and a seven-wicket haul.

And to top off the night for Amit, he also won the Lindsay Jones Best Clubman award - the most prestigious award at Moonee Valley.

Amit is pictured with the Lindsay Jones Award perpetual shield and some of his other trophies.

For more pictures and details of the night, click HERE.
---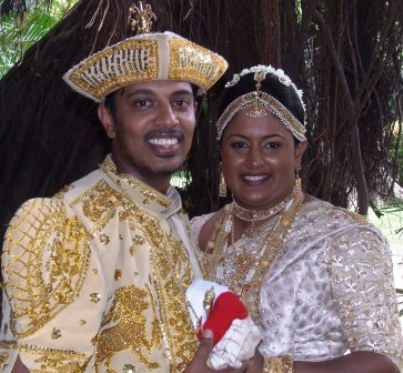 A fairytale wedding for Valley's Arosha
Moonee Valley star Arosha Perera returned home to Sri Lanka in April to marry his Ishani, and the brilliance of the traditional garments made it seem a real fairytale wedding.

While Arosha and Ishani married in Australia two years ago, this was their opportunity to go home for a proper Buddhist wedding and an equally impressive homecoming ceremony.

Moonee Valley Cricket Club was represented by president Charlie Walker, Club champion Raj Aiyappan, his wife Shontell and their daughter Tiana - who was one of the little bridesmaids, and past player Nick Puccio with his partner Janine.

The wedding was held in the capital Colombo on April 22, and the homecoming in Arosha's home city of Kandy on April 24. Also present was managing director of the Don Kyatt group of companies, Frank Hutchinson, who did so much in association with our Club to keep Arosha in Australia when it seemed likely three years ago that changed immigration laws would require him to leave.



*****

Click HERE for more photos and information.
---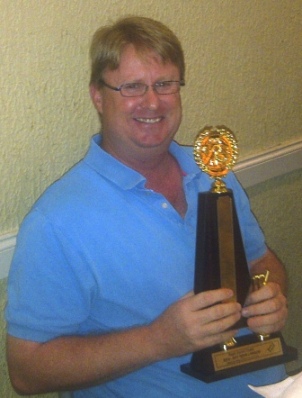 Our Deano delivers
Moonee Valley Fourths opening bat Dean Lawson has won the NWCA Barron Shield batting award - the second player from the Valleys to win it in three seasons.

Horse trainer Deano, who clubbed 296 runs at an average of 37 from just eight games, received the trophy at the NWCA awards night on April 8.

He follows on from team-mate Alan Harry, who won the award in the 2008/09 season.

Deano has become a stalwart of the Mighty Fighting Fourths, and in the last season brought up his 50th game for Moonee Valley.

Wife Sam and children Trent and Brooke have also played cricket at Moonee Valley.

Dean has scored 1760 runs @ 35.2 in his 54 games - which already has him at 40th on Moonee Valley's all-time run scorers. And he's got plenty of cricket left in him yet.

A premiership has so far eluded the Mighty Fightings, and there's a great deal of determination to address that anomaly in season 2011/12. So opposition bowlers watch out - Deano's coming for you!

---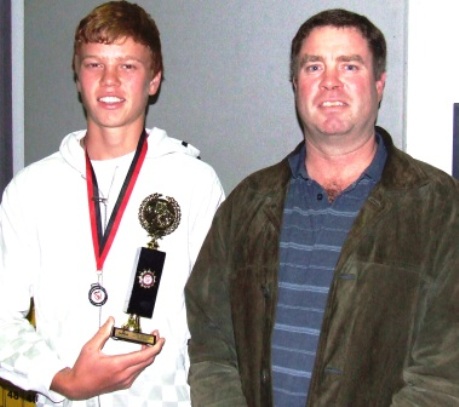 O

ur Peter wins the NWCA junior awards
Moonee Valley Under 14s captain Peter Wright stamped himself as a senior star of the future when he won two competition-wide awards at the North West Cricket Association junior presentations.

Playing in our Under 14 A team, Peter won a trophy for coming second in the batting wth 223 runs at an average of 44.6.

He also won the Bob Byron Medal as equal winner of the Under 14 A best player award.

Peter is shown here with his trophies alongside his father and co-coach of the Under 14 A team, Norm Wright.

For most of the season Peter stood head and shoulders above the opposition, and also led his team's bowling with 13 wickets at 5.85, including a haul of 5/8 off four overs when he terrorised Craigieburn.

Even though he's playing Under 14s, Peter has attracted the attention of several Premier clubs.

As well as juniors, Peter played most of the season in Moonee Valley's seniors in our Fourths, but also had one game where he opened the bowling for our Seconds. Peter also took to the field with our top players in the Twenty20 competition. Well done to a champ of the future!
---
Main Club contact details

:

Peter Golding - Club Secretary 0419 009 721
Charlie Walker - President 0409 237 543; 9370 1802
Kevin Gardiner - Junior Co-ordinator 0417 536 896

************************************************************************************************


For more contacts, see "

Office bearers & Officials

" under "Club News & Info" at the top of the page

.
(email: -
mooneev@club.cricketvictoria.com.au
)


Our website:
http://archive.mooneevalleycricket.com.au
---
The Moonee Valley Cricket Club is a section of the Moonee Valley Sporting Club .

Last updated: June 14, 2011

For more history on our Cricket Club, including Premiership match reports, click here
You are visitor #
80898
to this site
June 16, 2011

charlie's firewood