Our Grand Finals: Where to see the Valleys in action this weekend
Moonee Valley's in action in five Grand Finals this weekend, and we want supporters to get themselves out and about and give our players MAXIMUM support.
We're starting off with Darren Nagle's Under 12s down at Fairbairn Park in Woods St, Ascot Vale from 8.20am Saturday, with Sunday as the reserve day if required.
Then we're in the middle of four senior grand finals - the Firsts and Seconds are playing Werribee Centrals on adjoining ovals at Overland Reserve in East Keilor, the Thirds are playing St Francis at JP Fawkner Reserve in Oak Park and the Fourths are playing Buckley Park out at Ginifer Reserve in Gladstone Park.
There are more details if you click on this weekend's games in the news tab on the menu bar above. See you there! Go Valleys!

---
Sunday Night and Mad Monday - we'll be celebrating the end of the 2009/10 season come what may. We're at the POW in Ascot Vale - see the news item on Grand Final details on the menu bar above for times, etc.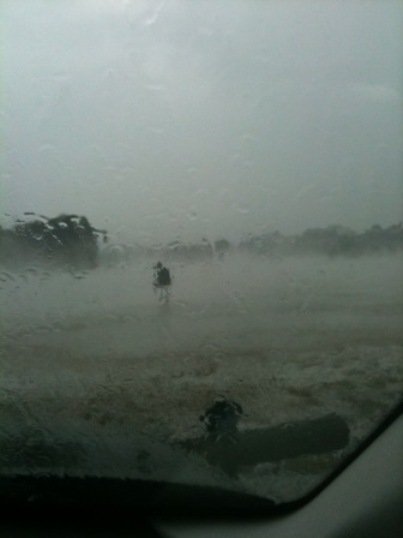 ---
Deluge dealt us four Grand Final teams
The heavens opened up over Melbourne on Saturday, March 6, and the subsequent washouts and reductions in play saw Moonee Valley progress with five teams into the grand finals - the Firsts, Seconds, Thirds, Fourths and the Under 16 White team.
And we've still got the Sevenths and our Under 12 D team contesting the one-day semi finals.
The downpour was touted in some areas as the heaviest we've seen for 40 years, and Moonee Ponds Creek behind Ormond Park was soon running a banker.
There was follow-up heavy rain on the Saturday night, on Sunday and into Monday, which was the reserve day for our Thirds, Fourths and juniors.
It's a great result with five senior sides and two junior sides still live in the finals. Watch this space to see where you can see our Moonee Valley teams going for glory.
Our Fourths were down at Fairbairn Park when the Saturday rain came, and Dean Lawson provided this photo of the park under water - taken through his windscreen.
Peter Golding was out at John McLeod Oval in Deer Park with the Seconds, and got the shots of a barely-visible ground and the clubrooms awash.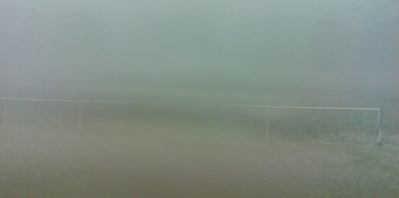 Hailstones bigger than 20-cent coins pelted the ground at Ormond Park as players from the Firsts and the Sevenths huddled in our clubrooms. The whole park was very quickly under sheets of water, and it was obvious there would be no more play for the day.

There were no further balls bowled in the Firsts match against Footscray United, and Moonee Valley went through to the Grand Final courtesy of finishing top of the ladder.

The progression also means Moonee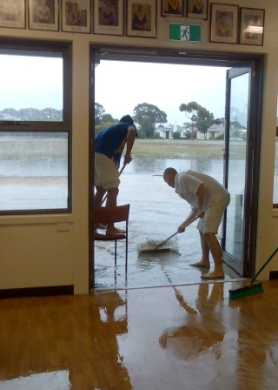 Valley has booked a spot for a further promotion for next season, up into North Division - just one rung below the highest grade in the Victorian Turf Cricket Association.


Cleaning up - or trying to - at the John McLeod Oval in Deer Park, where Moonee Valley Seconds ended Taylors Lakes' bid for the Grand Final.

---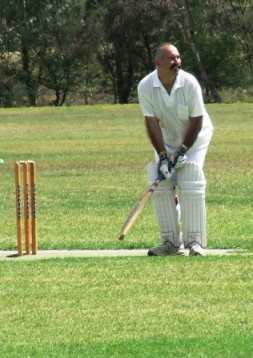 250 was the go for Joe
Life member Joe Ansaldo brought up his 250th game for Moonee Valley in style when his Ninths wrapped up an easy win over Oak Park and leapt to fourth spot on the ladder for the finals.
The February 28 game was a triumph for the wily Joe with two wickets, although his trademark flourish with the bat brought a top edge and he didn't trouble the scorers. He faces up here at left.
Joe became the fourth player to play 250 games for Moonee Valley, behind just Darren Nagle, Ian Denny and Sandro Capocchi. His 250th game also brought him closer to another milestone - he now has 42 ducks in his career, and is threatening to reach 50 if he gets half a chance.
Joe had some stalwarts in the team to help him celebrate the milestone - life member John Talone, Kevin Gardiner, Steven Ball, Paul Comino, Jeff Nicol and skipper Allan Cumming have been long-time team-mates and clubmates, while we had some exciting young players to help keep the match ticking over.
For the record, Moonee Valley 8/181cc defeated Oak Park 78. Joe took 2/8 off four overs.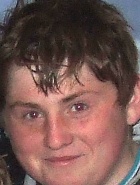 The Ninths were confirmed as one of our seven senior teams in this year's finals, to accompany six of our junior teams.
The Firsts, Fourths and Sevenths finished top of the ladder, while the Seconds and Thirds finished second.
In the Thirds, Sam Coventry-Poole (left), in his first full season out of juniors, made an unbeaten 120 against Glenroy, to follow on from the century his by George Pearson on Day 1 of the match. It was Sam's maiden century, and we won easily.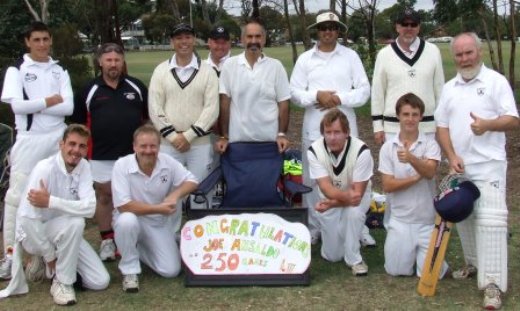 Joe's team-mates (particularly skipper Allan Cumming and the kids) put together a memorial
for his 250th.
L-R: - Back - Mark Spagna, Paul Comino, John Talone, Bryan Milne, Joe Ansaldo, Kamal Parmar,
Kevin Gardiner and Allan Cumming. Front - Nick Taylor, Jeff Nicol, Steven Ball and John Loy.


---
We're the Twenty20 Premiers again!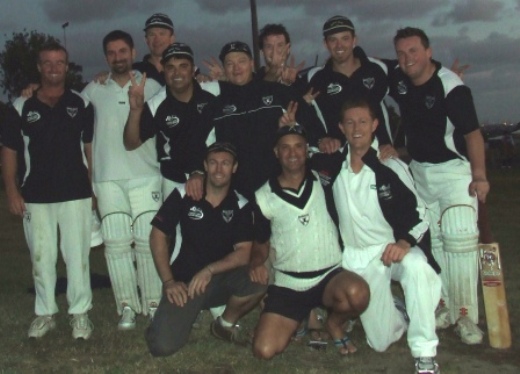 Our winners: L-R. Back - Sean O'Kane, Dino Sapuppo, Tony Sherer, Amit Chaudhary, Mark Gauci,
Evan Blythe, Matt Thomas, Kane Harding. Front - Geoff McKeown, Lou Raffaele, Craig Pridham.

Moonee Valley has won the North West Cricket Association Twenty20 competition for the second year in a row, with a thrilling last-ball victory over Buckley Park on Tuesday, February 23.
Needing three off the last ball, fast bowler Evan Blythe played an elegant glide down to the vacant fine leg for four to take the Valley total to 7/177, after Buckley Park struggled to 175 off its 20 overs.
The win netted $1000 to our Club's coffers.
The win follows on from our easy victory over Taylors Lakes last season, which came after we narrowly went down to Taylors Lakes in 2007/08.
Vice President Sandro Capocchi said the win was wonderful for the Club, but even though we've now played in three Grand Finals in a row we're yet to host one at our home ground.
Captain Mark Gauci said he believed the Buckley Park total was at least 10 runs short of what he thought they needed, but they were well restricted by Tony Sherer's three wickets.
In response, Matt Thomas batted well in the middle order after Lou Raffaele whipped up 20 runs from a whirlwind second over. Excellent hitting down the order from Kane Harding and Craig Pridham got us close to the target, before Evan's final shot hit the boundary.
Sandro said he was proud that Moonee Valley turned on the crowd even though the final was played away from home. We had more than 50 supporters turn up to provide vocal support for our team, and their efforts more than drowned out the home-ground advantage Buckley Park hoped to get from its loud music intros for its own players.
The final overs were played in near-darkness as scorer Phill King struggled to see what was happening in the middle. And thanks to Mickster Cumbo for his unfailing efforts with the camera to record our win for posterity.
We expect that the win will again qualify Moonee Valley to represent the NWCA in the VB Challenge series, playing against MMVCA and VTCA teams from our region and working towards a final at the MCG.
But as skipper Gauci says, it's nice to win the Twenty20, but we need to stay focused for the real game, with the likelihood of seven senior teams and half a dozen junior sides in finals.
****For more photos from the inspiring win, click >>>>>>>>>>>>>>>>>>>>>>>>>> here

---
Forthcoming dates to watch:
Saturday, April 17 - our big Presentation Night at the North Suburban Club. You know it's a great night, so put it down in the diary now!
More details coming shortly.

---
Main Club contact details:
Charlie Walker - President 0409 237 543; 9370 1802
Kevin Gardiner - Junior Co-ordinator 0417 536 896
Richard Cooney - Club Secretary 0411 034 707

For more contacts, see "
Office bearers & Officials
" under "Club News & Info" at the top of the page.
(email: -
mooneev@club.cricketvictoria.com.au
)
Our website:
http://archive.mooneevalleycricket.com.au
---
The Moonee Valley Cricket Club is a section of the Moonee Valley Sporting Club .

Last updated: March 18, 2010
For more history on our Cricket Club, including Premiership match reports, click here

March 23, 2010

charlie's firewood