Twenty20 Premiership win 2009/10 - v Buckley Park
by
We're the Twenty20 Premiers again!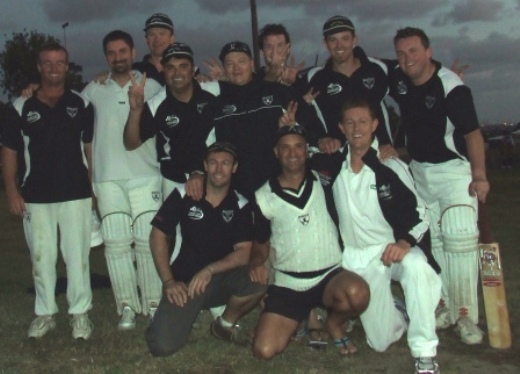 Our winners: L-R. Back -

Sean O'Kane, Dino Sapuppo, Tony Sherer, Amit Chaudhary, Mark Gauci,
Evan Blythe, Matt Thomas, Kane Harding. Front - Geoff McKeown, Lou Raffaele, Craig Pridham.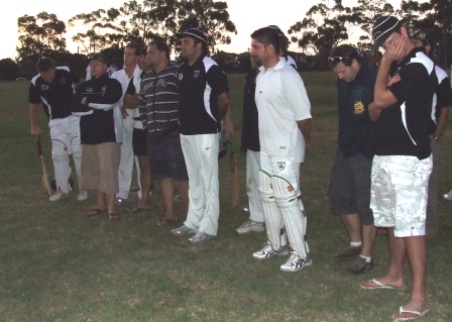 Moonee Valley has won the North West Cricket Association Twenty20 competition for the second year in a row, with a thrilling last-ball victory over Buckley Park on Tuesday, February 23.
Needing three off the last ball, fast bowler Evan Blythe played an elegant glide down to the vacant fine leg for four to take the Valley total to 7/177, after Buckley Park struggled to 175 off its 20 overs.
The win netted $1000 to our Club's coffers.

Lining up after the game: Moonee
Valley's victorious players with
Vice President Sandro Capocchi,
who officially represented the Club.

The win follows on from our easy victory over Taylors Lakes last season, which came after we narrowly went down to Taylors Lakes in 2007/08.
Vice President Sandro Capocchi said the win was wonderful for the Club, but even though we've now played in three Grand Finals in a row we're yet to host one at our home ground.
Captain Mark Gauci said he believed the Buckley Park total was at least 10 runs short of what he thought they needed, but they were well restricted by Tony Sherer's three wickets.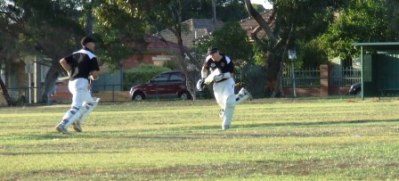 In response, Matt Thomas batted well in the middle order after Lou Raffaele whipped up 20 runs from a whirlwind second over. Excellent hitting down the order from Kane Harding and Craig Pridham got us close to the target, before Evan's final shot hit the boundary.
Sandro said he was proud that Moonee Valley turned on the crowd even though the final was played away from home.

Lou Raffaele (left) and Geoff McKeown
got our innings off to a bright start.

We had more than 50 supporters turn up to provide vocal support for our team, and their efforts more than drowned out the home-ground advantage Buckley Park hoped to get from its loud music intros for its own players.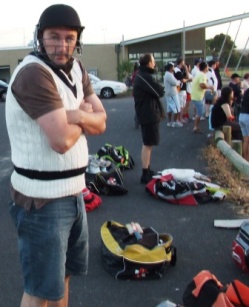 The final overs were played in near-darkness as scorer Phill King struggled to see what was happening in the middle. And thanks to Mickster Cumbo for his unfailing efforts with the camera to record our win for posterity.
We expect that the win will again qualify Moonee Valley to represent the NWCA in the VB Challenge series, playing against MMVCA and VTCA teams from our region and working towards a final at the MCG.
But as skipper Gauci says, it's nice to win the Twenty20, but we need to stay focused for the real game, with the likelihood of seven senior teams and half a dozen junior sides in finals.

Ardent supporter Jim McKenzie (right) - Jim donned anything
he could find to counter the cold.



How could we lose, with this terrific group of fanatical
supporters on hand (below) to inspire our Valley boys on to victory?
The Valley crowd was sensational, and had to have
played a role in getting us over the line!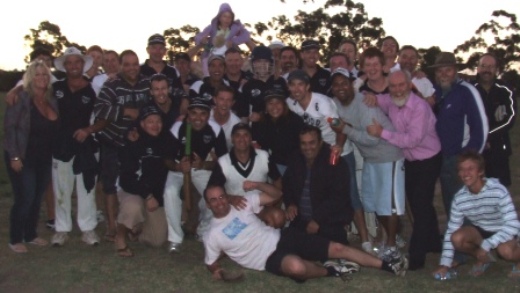 Many thanks to Michael Cumbo for the photos.

February 25, 2010

charlie's firewood