Premierships - Four in 2009/10!
by
Moonee Valley - Four Flags in 2009/10!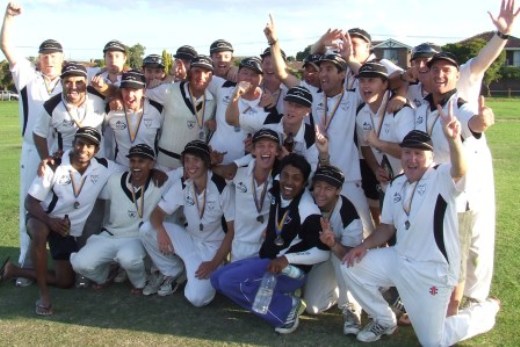 Our Firsts and Seconds celebrate out on the East Keilor pitch together. Left to right: Back row - Darren Nagle, Pat
Felmingham, Ben Thomas, Evan Blythe, Matt Thomas, Bede Gannon, Dean Jukic, Geoff Smith & Simon Thornton.
Middle row - Amit Chaudhary, Bryce Peter-Budge, Lou Raffaele, Mark Gauci, Craig Pridham, Jim Polonidis, Kane
Harding & Sean O'Kane. Front row - Dushan Raveendrakumar, Raj Aiyappan, Chris Stafford, Josh Maginness, Arosha
Perera, Geoff McKeown and Peter Golding.

Moonee Valley has won four Premierships for the 2009/10 season - our most successful season ever.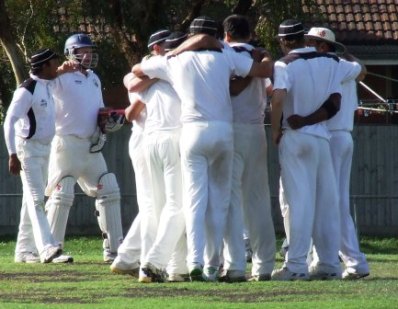 Mark Gauci captained the Firsts to an emphatic win over Werribee Centrals, while coach Lou Raffaele captained the Seconds to an equally dominant victory, also over Werribee Centrals.

At right - The Moment: Werribee's last wicket falls
in the First Eleven Grand Final and the Valley boys
know they've won the flag.

Our Under 16 White team, coached by Kevin Memery and Steve Malone won a hard-fought victory over Taylors Lakes.

And our Under 12 Gold team, coached by Darren Nagle and assisted by Ross Aitken, easily accounted for Greenvale.

Season 2009/10 broke a long drought of senior premierships, following on from our last senior title, the First Eleven flag in 2000/01.

Despite our long premiership history at the senior level, it's the first time we've won more than one senior flag in the one season.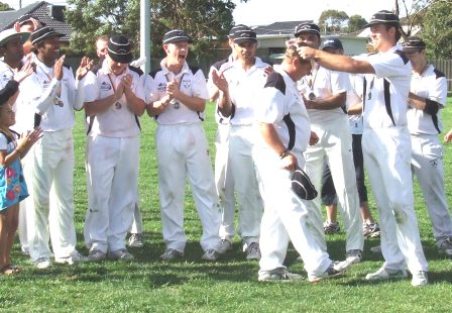 The four flags beats our previous best, when we won three junior grand finals in the 2007/08 season.

And Moonee Valley has maintained our remarkable run of success, which has seen us win one or more junior premierships in each of the past seven seasons.



At right: - Firsts captain Mark Gauci receives his Premiership medal from vice-captain Matt Thomas, watched by team-mates (from left) Dushan Raveendrakumar, Arosha Perera, Kane Harding, Craig Pridham, Raj Aiyappan, Amit Chaudhary and Geoff McKeown.



At the after-match celebrations back at the Prince of Wales Hotel in Ascot Vale on the Sunday night - March 21 - Club President Charlie Walker said our stability over the past few seasons had played a big part in our success.

When Moonee Valley signed on coach Lou Raffaele for the 2007/08 season, his resume had highlighted the fact that he had taken every previous club he had coached to a Firsts premiership.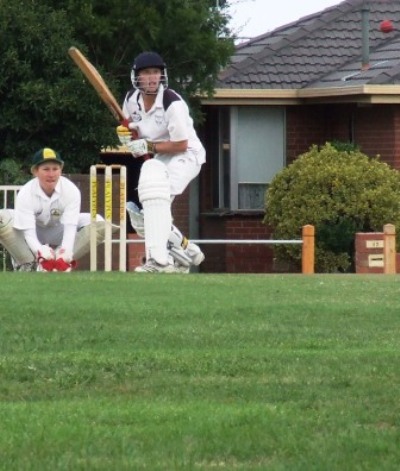 Charlie noted that Moonee Valley was now the beneficiary of that amazing run of success - and we were keen for Lou to continue to build at the Valleys.

It was also noted that we have only had a short-term tenure in the North A section of the Victorian Turf Cricket Association.

We went up to North A in 2003/04, after playing off in a Grand Final the previous season. We won just one game in North A, were relegated at the end of that season and didn't even make finals again until 2008/09.

At left: - They couldn't get him out: Joshua Maginness batted an amazing 167 overs in the Seconds Premiership over two innings, thwarting any chance Werribee Centrals may have had.

This time around we've again only lasted one season in North A - but that's because we've won the Premiership and been promoted to North Division!

While it has been great to get 19 new names in Wisden as Premiership players - Darren Nagle, Jim Polonidis and Geoff McKeown were already premiership players - it's wonderful that some long-serving stalwarts of our Club have finally received the ultimate prize.

Mark Gauci has captained the Firsts through our lean years, while Dean Jukic has played well over 100 games.

Matt Thomas and Joshua Maginness came through our junior program in the hard years, when we were building teams and were not regularly achieving success. Other ex-juniors such as Chris Stafford and Bede Gannon are first-time senior premiership players but also won flags in the juniors.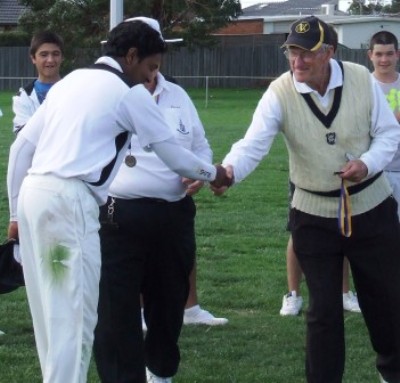 Charlie said there are a number of other juniors who toiled through the hard years who he hoped would reap the benefits of a flag in years to come - including a bloke with a broken jaw presently living in Canberra (Murray Walker).

While we were celebrating success for our four Premiership teams - five if you include the Twenty20 premiership we won during the season - we also needed to be mindful of our fellow players in the Thirds and Fourths, who played in the Grand Final but fell just short.



At right: Arosha Perera receives his Man of the Match medal in the Firsts from umpire Ken Eastwood, a former Australian Test batsman

.



Our Thirds, with seven players aged between 14 and 18, were rueing a bad first innings after we had done all the hard work to dismiss St Francis cheaply for 147, while the Fourths fell an agonising 26 runs short of Buckley Park after looking gone for all money at the end of Day 2.

But the Firsts and Seconds put in excellent efforts across the four days of their Grand Finals.

Well done Valleys!







>>>>>>>>>>>>>> More photos --- click HERE


March 25, 2010

charlie's firewood