Front Page - up to February 7, 2017
by
BREAST CANCER AWARENESS - WE'RE PART OF PINK STUMPS DAY, FEBRUARY 17-19

***

SEE 'latest news' on the right side of this page for more detail - and make your donation to our Moonee Valley fundraiser

-

https://pinkstumpsday2017.gofundraise.com.au/page/mvccpinkstumps2017
---
Sunny's on the money at Ormond Park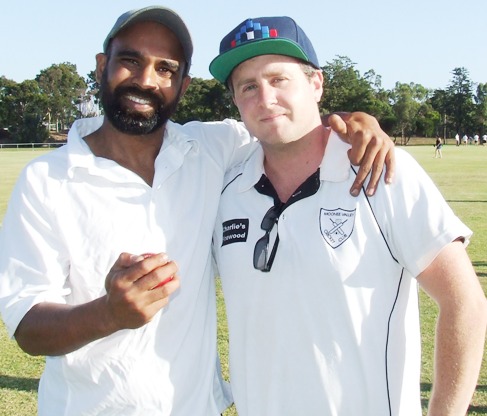 Moonee Valley's Sukhdeep "Sunny" Singh was really on the money when he took to the field with the Thirds in the Round 15 clash at Ormond Park.
Knowing he had to bowl well to help the team defend its total of 121 against Youlden Parkville, Sunny came on first change.
The Valleys had already done some damage via Jesse Felle when Clyde D'Cruz took a wicket with the last ball of an over to have them 4/26.
What happened next defies belief. Sunny took wickets with his first three balls in the next over, as Youlden Parkville lost four wickets in four balls.
They couldn't keep up with the dismissals, and their next batsman had a lengthy delay before he could kit up and come out.
Sunny followed up his hat-trick with another three wickets to give him the great figures of 6/4 as YP went all-out for 32.
Valleys declared at 4/81 to have another crack at them, and Sunny took a further four wickets in the second dig to give himself match figures of 10 for 11.
Jesse Felle picked up a further three wickets and Alex Steinmeyer two as we rolled Youlden Parkville in the January 29 match for 79 to record an outright win - a rare feat in a one-day game, but allowable in Mercantile.
As anyone who faces him in the nets will tell you, Sunny is a slippery character and hard to pick or get away.
He has an awkward round-arm action and a flick of the wrist so that the ball's on to you before you're ready for it.
Sunny joined Moonee Valley a month after the season started and has already picked up 17 wickets at the great average of 5.53.
---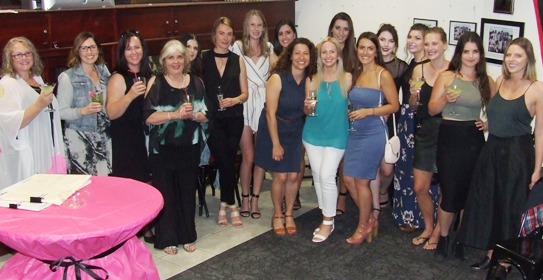 FINE LEG

The presence of a bevy of beauties at Moonee Valley's Cocktail, Wine & Tapas night on January 21 added a touch of class to the Ormond Park pavilion, and a sign of things to come when we get our new clubrooms.
The old pavilion is past its best-by date in terms of holding partner-friendly functions, so it was great that so many wives and partners turned out to the event.
Many thanks to player/chef Clyde D'Cruz for his excellent spread of nibbles and to the other players who helped prepare and serve food and organise the event, including Ed Rayner, Ben Thomas, James Harris, Michael Ozbun, Matt Thomas and Channa DeSilva.
For more pictures from the event, click HERE
---
OUR JUNIOR CLINIC - PUTTING ON A

SHOW AT ORMOND PARK

Ten senior players spent a productive Saturday morning with our Moonee Valley juniors on January 21, with an intensive skills clinic at Ormond Park.

Players ranging from our opening bowling attack for the Firsts, through to First Eleven keepers and our bowling coach Michael Ozbun were on hand to skill up our juniors across the range of cricket's disciplines.

All agreed it was an important link in helping our young stars of the future take their next step - particularly when it finished with egg and bacon rolls.

At left: Callum Morrissy shows great application to bowling, under the watchful eye of Firsts opening bowler Chris Pollock.

The senior players who imparted their skills were Peter Golding, Nate Wolland, Chris Pollock, Anthony Cafari, Dean Coxall, Michael Ozbun, Jack Newman, Alex Davidson, Simon Thornton and Director of Junior Cricket Channa DeSilva.

Club President Charlie Walker said the clinic provided an important bridge between the junior and senior sections of the club, and an excellent introduction for the up-and-coming young stars who want to go on to play seniors at Moonee Valley in the future.

"We hope that the boys can put the tips and training to good use and notch up some more wins for their team as we enter the second half of the season," he said.
****For more pictures from the clinic, click on this LINK

---
Our boys in Green put on a show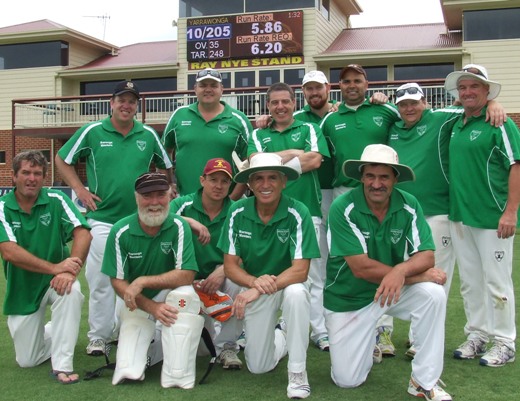 in Barooga

Moonee Valley sent a team to the Barooga Over 35s tournament for the fourth year in a row in January, and again they did the Valley proud.
We were initially restricted for numbers when four members of the touring party pulled out in the last week, and we took to the field with just eight players in the first of our three games.
Despite this, we put up a tough showing and it was our only loss for the tournament after we called in reinforcements and conscripted a couple of Barooga players for our remaining two games.
At right: Our team for Game 2: L-R. Back - Travis Gow, Dale Hadfield. Daniel Phillips, Nate Wolland, Amit Chaudhary, Mark Gauci, Sean O'Kane. Front - Wes Sutton, Allan Cumming, Matt Dimble, Neil King, Tony Gleeson.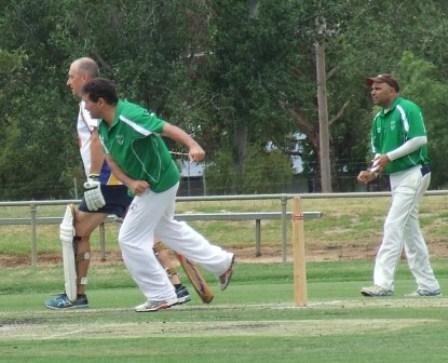 We finished second overall, and Tony Gleeson - a past Valley premiership coach and long-time senior player - won the bowling award across the whole tournament.
With temperatures in Barooga - a NSW town across the Murray from Cobram - at high to extreme in January, we have exchanged our traditional Valley black strip for cooler green shirts.
At right: Tony Gleeson sends one down, with Amit Chaudhary in the field.

In fact, we played in 41 degrees in the first game of the January 16-19 tournament, and despite being short on numbers our resolve never wilted.
Veteran Neil King held the opposition in the field for 18 long overs to finish undefeated on 77 when he was the last man in - under tournament rules which allow the final batsman to bat on until he loses his wicket or the overs run out.
The scoreboard from our second game shows Yarrawonga Mulwala all out chasing Moonee Valley's
Our squad of present and past Moonee Valley players was: Allan Cumming, Mark Gauci, Dale Hadfield, Daniel Phillips, Neil King, Charlie Walker, Tony Gleeson, Nate Wolland, Sean O'Kane and Amit Chaudhary. Our Barooga signings were Travis Gow, Matt Dimble, Wes Sutton and Vince Iannucci.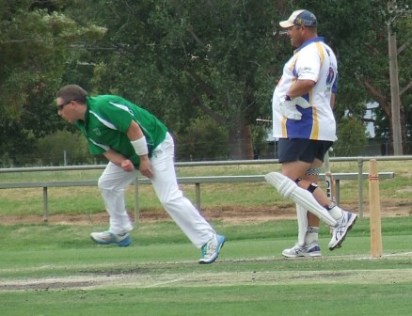 Moonee Valley's highlights included Tony Gleeson's nine wickets @ 7.66, Mark Gauci's three wickets @ 16; Mark's 132 runs @ 132.0, Neil King's 79 runs @ 79.0 captain Daniel Phillips' 59 runs @ 29.5 and Amit Chaudhary's unbeaten 43 runs.
At right: Captain Daniel Phillips bowls in Game 2.

Our thanks go to Mick O'Dwyer of the Barooga Sports Club and the Barooga Cricket Club for organising the excellent event, which is an annual part of the Moonee Valley calendar.
Thanks also to Sean O'Kane who interrupted his Western Australia working holiday to come back and play for the Valleys and organise some of his old Barooga cricket teammates when our numbers needed bolstering.
Five Valley players have played in all four of our trips to Barooga - Mark Gauci, Neil King, Daniel Phillips, Sean O'Kane and Charlie Walker. We're already planning for our return next January.



---
Tons just keep coming for our Liam Shaw

Batsman/wicketkeeper Liam Shaw has started a page of his own in Moonee Valley's Wisden record of achievements, having hit three centuries - all unbeaten - in three successive games.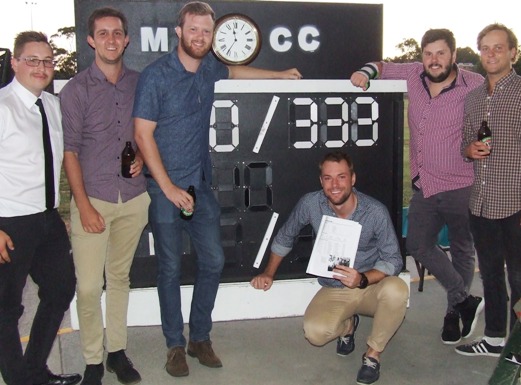 Liam's whirlwind 128no in the Fifths on January 7 was followed by 100no in the Sixths the following week - and he repeated the dose on January 21 with an unbeaten 105 against Ascot Vale.
After his second ton Liam became just the ninth player in Club history to ton-up in successive games - but he was part of that illustrious group for just one week before setting a new standard all of his own.
At right: Liam Shaw holds the page in Moonee Valley's Wisden where he will stand alone with three consecutive centuries - 333 runs without losing his wicket - with teammates (from left) Nick Brelis, Paddy Shelton, Justin Trowell, Shane Chalmers and Charlie Jackson.
He doesn't have an average over the course of his three centuries, having scored 333 runs without the loss of his wicket.
You have to go back to the last round before the Christmas break to see when he last walked off - but even that was a brutal 87. That gives Liam an average of 420 across the four games.
It's the most sustained run of top form in Moonee Valley history.
Liam said the third century was particularly significant for him, as his grandmother passed away two days before the match.
Liam's successive centuries were the first at Moonee Valley since Trent Milne tonned up in the Fifths and Eighths in 2011/12. Other players to achieve the feat are Warwick Nolan in 1988/89, Ian Denny in 1990/91, Sandro Capocchi in 1991/92, Shane Golds in 2001/02, Matt Thomas in 2006/07, Arosha Perera in 2008/09 and Dean Lawson in 2008/09. But now Liam's in a class of his own.
Liam played his junior cricket at Old Students Cricket Club in the Shepparton district, but dropped out of the game for about seven years before he was enticed to play with mates at Moonee Valley.

---

---
SENIOR TRAINING - TUESDAYS & THURSDAYS from 5.15pm - Details - ph 0409 237 543
---
Main Club contact details:
* Charlie Walker - President 0409 237 543; 9370 1802
* Peter Golding - Club Treasurer 0419 009 721
* Simon Thornton - Vice President 0417 570 779
* Leigh Holder - Joint Junior Co-ordinator 0423 226 532 allleigh@bigpond.net.au
* Peter Pickering - Joint Junior Co-ordinator 0414 800 145 pjp@vicbar.com.au
* Channa DeSilva - Director of Junior Cricket 0402 833 592

Email: mooneev@club.cricketvictoria.com.au


For more contacts, see " Office bearers & Officials " under "Club News & Info" at the top of the page

Last updated: February 4, 2017.

For more of our history, including our Premierships, click HERE


| | |
| --- | --- |
| Our Sponsors | Number of visits to this site |
February 7, 2017

charlie's firewood