2007/08 Senior Presentation Night - at the North Suburban Club
by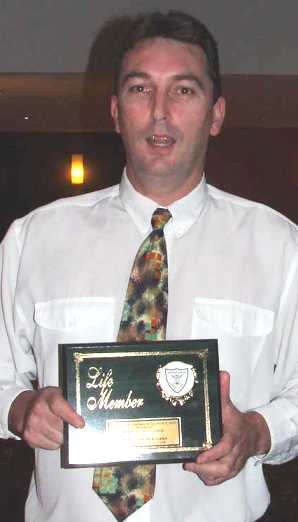 Big Jim was more than presentable

The awarding of life membership to Jim "Stynesy' McKenzie (right) was the highlight of the Moonee Valley Cricket Club's presentation night.

Around 100 members, partners and guests were at the North Suburban Club on April 5 for the awards, and a great night was had by all.

As always, Jimmy spoke from the heart – and his wry humor (again as always) had most of the room in stitches.

Jim spoke about what it meant to play cricket for Moonee Valley, and why these days he was still prepared to travel across from Bayswater every second week to play with his mates.

And rivalling the popularity of Jim's life membership was the announcement of Paul Comino as the winner of the Lindsay Jones best clubman award.

Paul's been on the committee now for two seasons, but it's the extra things he does behind the scenes – that often don't seem to get noticed – that made him such a worthy winner.

Paul had previously played with Moonee Valley in the early 90s but left when the Club folded the Fifths after two seasons in 1993. He returned to the Valley when we revived the Fifths in 2003, and since then has brought up his 50th game, won a Sevenths bowling average and captained the Ninths.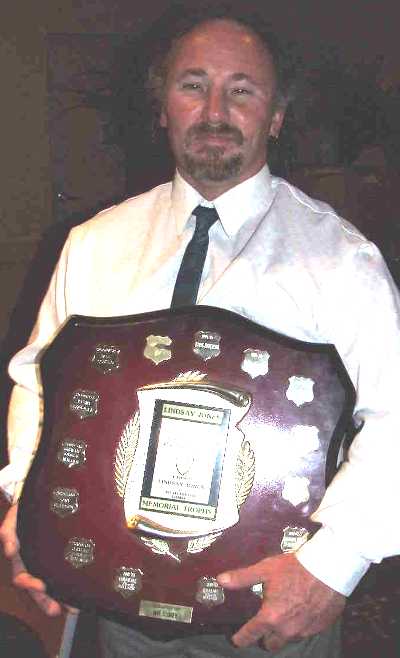 The 2007/08 presentation night was our first since the Women's team was instituted at Moonee Valley, and always the table with the girls seemed to be the one that had the most fun.

If only we could bottle and spread around to all other grades the camaraderie, support and bonding among this wonderful team!

Lindsay Jones Award winner - Paul Comino (right).

The Club Champion – best player based on points – in the Firsts was Arosha Perera with 565, in front of Dan Bailey with 538 votes.

The Moonee Valley Award – best player based on points for all other grades – was won by Sean O'Kane with 847, from Ian Denny on 719 and Sandro Capocchi on 542.

Batting awards were won by: Arosha Perera in the Firsts with 381 runs @ 47.6; Sandro Capocchi in the Fifths with 407 runs @ 50.9; Dean Lawson in the Sixths with 389 runs @ 64.8; Sean O'Kane in the Eighths with 445 runs @ 49.4 and Kim Johnston in the Women's team.

Bowling awards were won by: Daniel Bailey in the Firsts with 25 wickets @ 19.8; Kevin Gardiner in the Fifths with 19 wickets @ 20.1; Anthony Sherer in the Sixths with 15 wickets @ 17.4 and Sam Lawson in the Women's team.

Our fielding award winners were Geoff McKeown in the Firsts; Tien Ha in the Women's team; Evan Blythe in the Seconds; James Rawlinson in the Thirds; Peter Chiera and William Lai in the Fourths; Phill King in the Fifths; Paul Hobbs in the Sixths; Shaun Rayment in the Sevenths; John Brelis in the Eighths; and Jason Dolezal-May in the Ninths.




Other milestones honored on the night were: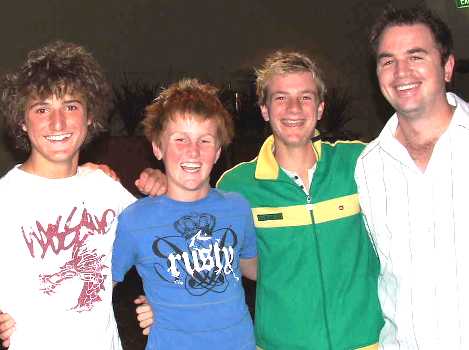 Runs:

Ian Denny 10,000 runs; Bob Sciacchitano 4000 runs; Danny Terzini 3000 runs; Mark Cini 2000 runs; and Kevin Gardiner, Tom King, Ben Thomas, Steven Ball and Arosha Perera 1000 runs.

Wickets:

Paul Nicol 200 wickets; Jesse Felle and Joe Ansaldo 100 wickets; and Domenic Chiera and Daniel Phillips 50 wickets.

Games:

Darren Nagle 250 games; Jim McKenzie 200 games; Dean Jukic and Wayne Nicol 100 games; and Matthew Thomas, Phill King, Dino Sapuppo, Allan Cumming, Charlie Walker, Peter
Fenaughty and Ben Thomas 50 games.



Pictured here at Presentation Night are Under 16 players who did
well in Senior ranks (L-R) Robbie Ball, Sam O'Brien
and Ben Coote, with their U/16 coach Simon Payton.


Centuries were acknowledged for Ian Denny (3 centuries), Sean O'Kane (2 centuries), Arosha Perera (2 centuries), Nick Launer, Prateek Chaudhary, Sunny Sharma, Steven Ball and Sandro Capocchi.



We also acknowledged the hat-trick of Andrew Payton, playing in the Sixths against Balmoral, and the 7/69 taken by Rakesh Naidu in the Fourths against St Francis.

WATCH THIS SPACE FOR MORE PHOTOS: COMING SOON! Here They Are: >>>> { 2 } { 3 } { 4 }


May 2, 2008

charlie's firewood