*** IN FOR A FEAST OF FINALS ***
We've got 13 senior and junior teams contesting the finals this weekend, March 7 & 8. To see more details, and to get information about our MVP night on Sunday, click on the news item above.

---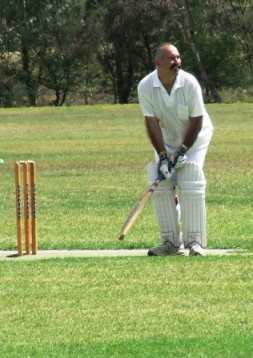 250 the go for Joe
Life member Joe Ansaldo brought up his 250th game for Moonee Valley in style when his Ninths wrapped up an easy win over Oak Park and leapt to fourth spot on the ladder for the finals.
The February 28 game was a triumph for the wily Joe with two wickets, although his trademark flourish with the bat brought a top edge and he didn't trouble the scorers.
He faces up here at left.

Joe became the fourth player to play 250 games for Moonee Valley, behind just Darren Nagle, Ian Denny and Sandro Capocchi. His 250th game also brought him closer to another milestone - he now has 42 ducks in his career, and is threatening to reach 50 if he gets half a chance.

Joe had some stalwarts in the team to help him celebrate the milestone - life member John Talone, Kevin Gardiner, Steven Ball, Paul Comino, Jeff Nicol and skipper Allan Cumming have been long-time team-mates and clubmates, while we had some exciting young players to help keep the match ticking over.

For the record, Moonee Valley 8/181cc defeated Oak Park 78. Joe took 2/8 off four overs.

The Ninths were confirmed as one of our seven senior teams in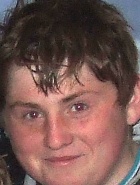 this year's finals, to accompany six of our junior teams.

The Firsts, Fourths and Sevenths finished top of the ladder, while the Seconds and Thirds finished second.

In the Thirds, Sam Coventry-Poole (right), in his first full season out of juniors, made an unbeaten 120 against Glenroy, to follow on from the century his by George Pearson on Day 1 of the match. It was Sam's maiden century, and we won easily.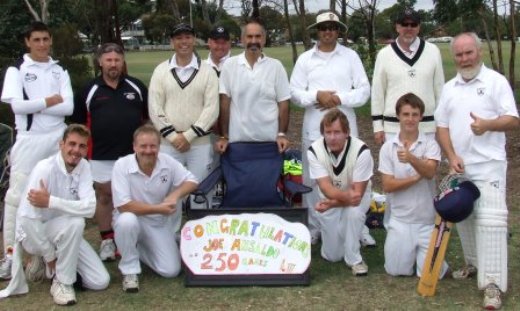 Joe's team-mates (particularly skipper Allan Cumming and the kids) put together a memorial
for his 250th.
L-R: - Back - Mark Spagna, Paul Comino, John Talone, Bryan Milne, Joe Ansaldo, Kamal Parmar,
Kevin Gardiner and Allan Cumming. Front - Nick Taylor, Jeff Nicol, Steven Ball and John Loy.

---
We're the Twenty20 Premiers again!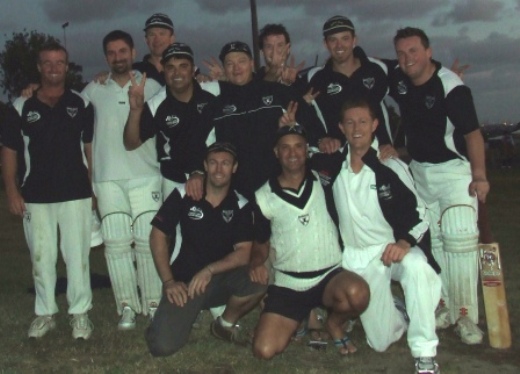 Our winners: L-R. Back - Sean O'Kane, Dino Sapuppo, Tony Sherer, Amit Chaudhary, Mark Gauci,
Evan Blythe, Matt Thomas, Kane Harding. Front - Geoff McKeown, Lou Raffaele, Craig Pridham.

Moonee Valley has won the North West Cricket Association Twenty20 competition for the second year in a row, with a thrilling last-ball victory over Buckley Park on Tuesday, February 23.
Needing three off the last ball, fast bowler Evan Blythe played an elegant glide down to the vacant fine leg for four to take the Valley total to 7/177, after Buckley Park struggled to 175 off its 20 overs.
The win netted $1000 to our Club's coffers.
The win follows on from our easy victory over Taylors Lakes last season, which came after we narrowly went down to Taylors Lakes in 2007/08.
Vice President Sandro Capocchi said the win was wonderful for the Club, but even though we've now played in three Grand Finals in a row we're yet to host one at our home ground.
Captain Mark Gauci said he believed the Buckley Park total was at least 10 runs short of what he thought they needed, but they were well restricted by Tony Sherer's three wickets.
In response, Matt Thomas batted well in the middle order after Lou Raffaele whipped up 20 runs from a whirlwind second over. Excellent hitting down the order from Kane Harding and Craig Pridham got us close to the target, before Evan's final shot hit the boundary.
Sandro said he was proud that Moonee Valley turned on the crowd even though the final was played away from home. We had more than 50 supporters turn up to provide vocal support for our team, and their efforts more than drowned out the home-ground advantage Buckley Park hoped to get from its loud music intros for its own players.
The final overs were played in near-darkness as scorer Phill King struggled to see what was happening in the middle. And thanks to Mickster Cumbo for his unfailing efforts with the camera to record our win for posterity.
We expect that the win will again qualify Moonee Valley to represent the NWCA in the VB Challenge series, playing against MMVCA and VTCA teams from our region and working towards a final at the MCG.
But as skipper Gauci says, it's nice to win the Twenty20, but we need to stay focused for the real game, with the likelihood of seven senior teams and half a dozen junior sides in finals.
****For more photos from the inspiring win, click >>>>>>>>>>>>>>>>>>>>>>>>>> here

---
Forthcoming dates to watch:
Sunday, March 7 - the night of Day 2 of the first semi finals - Most Valuable Player night and cocktail night at the bowling club rooms. It's a Sunday on a long weekend, so come along. Announcement of the Most Valuable Player awards in each senior grade, and presentation of most of our 50-game and other milestone trophies. For the flier, click HERE

Saturday, April 17 - our big Presentation Night at the North Suburban Club. You know it's a great night, so put it down in the diary now!
More details on both these events coming shortly.
---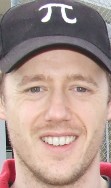 Maiden Valley tons for Mickster, George
Our one and only Mickster - Michael Cumbo, hit his maiden century on the February 20 weekend when he opened the batting for the Fourths against Pascoe Vale Central.
One of the most popular players at Moonee Valley, Mickster anchored the team's innings and helped set up a big total of 290.
And on the same day newcomer George Pearson also notched up an impressive century in the Thirds, George Loh (right) took 7/32 to rout Glenroy for 68.
George P joined Moonee Valley just before Christmas from Oak Park, where he had captained their one-day team.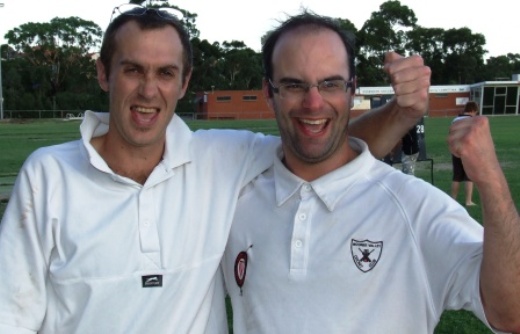 He had never played turf cricket before coming to the Valley and has quickly adapted, and will play a key role at the top of the order in our finals campaign this season. He had previously scored four tons with Oak Park.
The Mickster's century makes him part of a very select group of players who have made a century and taken a hat-trick.
Mickster, who has a mild intellectual disability, took his hat-trick against Socials in 2004.
He brought up his 100th game for Moonee Valley in the last round before Christmas.

For more pictures of Mickster's achievements, turn to the News pages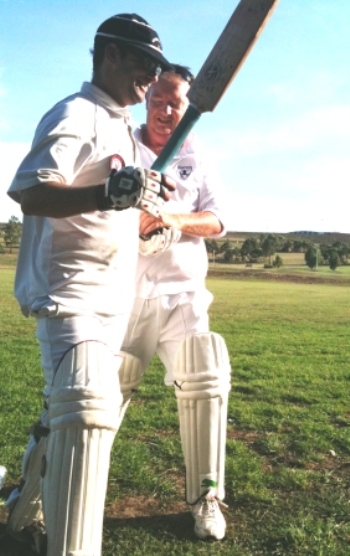 Above - George Pearson (left) and Michael Cumbo celebrate their centuries.



Right - Michael Cumbo is congratulated by team-mate Steve Radford.
---
MVCC Gala Cocktail Evening
Sunday, March 7: - 8pm until late - it's the long weekend!
Ladies - wear your best cocktail dresses.
Guys - dress to impress!

LIVE BAND
Our team Most Valuable Player and milestone individual awards will be presented on the night, to be held in the bowling club rooms.


COST

: $55 per single, or $100 with partner. All inclusive! Juniors $20!


Beer, wine & soft drink 8-11.30pm


Details: Ryan Fairclough 0404 015 114; Joe Ansaldo 0404 878 264; Sandro Capocchi 0435 423 527

---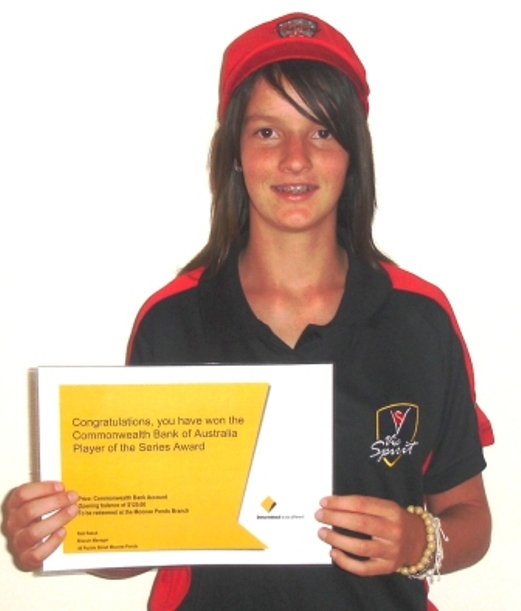 Our Amelia tops the tournament
Moonee Valley's Amelia Radford was top of the tournament in the Commonwealth Bank's Under 16 State women's titles.

Amelia, who plays with our Under 14 A boys' side and also with Moonee Valley's senior women, excelled with both bat and ball in the series, representing the North West Wizards region.

The Player of the Series award was a fitting reward for her efforts.

Amelia has already done some intensive training with Victorian selectors and coaches in at the MCG indoor centre.

Her domination of the championships is sure to make the selectors for the State team sit up and take notice.Proud parents Steve and Kerrie are regulars around our Club and key sponsors through their company, Dorr Fine Foods - and Steve as a member of our Fourth Eleven.
---
Main Club contact details:
Charlie Walker - President 0409 237 543; 9370 1802
Kevin Gardiner - Junior Co-ordinator 0417 536 896
Richard Cooney - Club Secretary 0411 034 707

For more contacts, see "
Office bearers & Officials
" under "Club News & Info" at the top of the page.
(email: -
mooneev@club.cricketvictoria.com.au
)
Our website:
http://archive.mooneevalleycricket.com.au
---
The Moonee Valley Cricket Club is a section of the Moonee Valley Sporting Club .

Last updated: March 3, 2010
For more history on our Cricket Club, including Premiership match reports, click here

March 9, 2010

charlie's firewood