Valley's "Fieldlow Awards" winners
by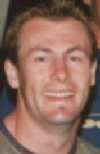 Moonee Valley held its annual "Fieldlow Awards" for the 2005/06 season on March 9 - the Thursday selection night for the Third Eleven finals team.
The votes are polled for each game in each grade, and reflect the best fielding efforts in the sides - not batting and bowling performances.
As the results of the major vote-winners show, the wicketkeepers caught the eye this season. Under Moonee Valley's Bylaws, a different player is selected each game to adjudicate the votes.
Keepers to take out the awards were Geoff McKeown, Justin Willee, Dan Terzini, Liam Brown and Shane Comino.
2005/06 MVCC Fielding Awards

First Eleven:
Geoff McKeown
21
(pictured bottom right)

Matt Thomas
11
Second Eleven:

Justin Willee
24
Sandro Capocchi
16
Third Eleven:

Dan Terzini
23
James Rawlinson
19
Fourth Eleven:

Paul Hedjes
22
Daniel Ayers
20
Shaun Rayment
19
Allan Cumming
18
Fifth Eleven:

Liam Brown
19
Alexei Borrell

15

Sixth Eleven:


Shane Comino

17

(pictured top right)


David Bell

9

Seventh Eleven:


William Lai

7

Evan Blythe 6

Joe Darmanin 6

March 20, 2006

charlie's firewood