All the "Grudge match" results - and more!
by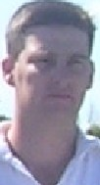 Our One-day fundraiser game
The winnings Sixths team: L-R - Francis Tran, Charlie Walker, Phill King, Shaun Rayment, Dom Chiera, Tom King, Peter Chiera, Darren Nagle, Sam O'Brien, Callum MacGregor, Chris Kerr, captain Shane Comino, Joe Van Loon, Bede Gannon.
Moonee Valley's Sixth Eleven took on the Seventh Eleven in a Sunday afternoon game and barbecue at Ormond Park on March 19 – the third annual fundraising game involving our one-day teams.

Players who had notched up three or more games with either of the sides were selected in that team, while those who had only played one or two games were up for selection by the captains – Shane Comino of the Sixths and Peter Fenaughty in the Sevenths.

We might have had a few extra players – but what the heck. It closed up gaps in the field, and made scoring more challenging.

With a 35 overs per side format, with batsmen retiring on 25 and bowlers limited to five overs, it made for an interesting game.

In the end the Sixths prevailed, scoring 9/164 batting first and withstanding a late challenge from the Sevenths, who finished on 12/157 after being 10/152 at the end of the 35 overs.

The weather was beautiful and the conditions excellent for the game on the synthetic eastern oval, and the excess fielders created problems in trying to get shots through the field.

The Sixths lost three wickets while reaching 28 runs off 10 overs, then 98 runs were put on while Tom King (27 not out), Cal MacGregor (25 not out) and Joe Van Loon (22) put on some wonderful partnerships.

Dom Chiera followed up with 25 not out to anchor the second half of the innings.

The pick of the bowlers were Alexei Borrell with 4/20 and Eamonn Fenaughty, swinging the ball a mile to pick up 3/5.

The Sevenths started briskly, but were always behind the run rate in their chase. When William Lai went for a handy 18 and Bob Sciacchitano retired on 10, Chris Stafford (17) and Stewart Blandford (24) tried to pick up the scoring rate.

But when Chris fell to a blinder caught-and-bowled from Chris Kerr and Stewart was caught at second slip by Charlie Walker off Shaun Rayment's first ball, things were grim.

Solid contributions from Brett Curran (20) and David Taylor (19) weren't enough to push up the run rate, and after Dom Chiera and Tom King came back on at the end to snare three wickets between them, the game was won by the Sixths.

It was a wonderful day, with 29 players showing their skills in the whites and caps of Moonee Valley and an excellent finale to the season.



The Sevenths side: L-R: - Allan Cumming, Marcus Plozza, Eamonn Fenaughty (front), David Graetz, Paul Comino, captain Peter Fenaughty, Alexei Borrell, Jesse Nankivell-Sandor, Chris Stafford, John O'Brien, William Lai, Stewart Blandford, David Taylor, Bob Sciacchitano.

Sixths v Sevenths.

Sixths:

Darren Nagle c Sciacchitano b Borrell 6
Chris Kerr c Lai b Stafford 11
Shane Comino c J. O'Brien b Borrell 2
Tom King retired 27
Cal MacGregor retired 25
Joe Van Loon c Borrell b E. Fenaughty 22
Domenic Chiera retired 25
Bede Gannon c P. Fenaughty b E. Fenaughty 2
Phill King c Plozza b E. Fenaughty 2
Peter Chiera not out 16
Shaun Rayment b Borrell 5
Francis Tran caught J. O'Brien b Lai 6
Sam O'Brien c Plozza b Nankivell-Sandor 2
Charlie Walker not out 1
Extras (2 b, 2 lb, 5 w, 3 nb) 12
TOTAL 9/164

(Nankivell-Sandor 5 overs, 0 maidens, 1/22; Stafford 5/0/1/8; Borrell 5/0/4/20; Lai 5/0/1/19; P. Comino 3/0/0/34; B. Curran 3/0/0/21; J. O'Brien 3/0/0/9; B. Sciacchitano 2/0/0/3; S. Blandford 0/0/0/17; E. Fenaughty 2/1/3/5).

Sevenths:

William Lai c D. Chiera b MacGregor 18
Bob Sciacchitano retired 10
Chris Stafford c & b Kerr 17
Stewart Blandford c C. Walker b Rayment 24
Marcus Plozza c D. Chiera b Van Loon 2
Brett Curran run out (Kerr/Gannon) 20
David Taylor b P. Chiera 19
Jesse Nankivell-Sandor c T. King b Nagle 3
John O'Brien b T. King 8
Allan Cumming b D. Chiera 4
Alexei Borrell c Nagle b T. King 6
Eamonn Fenaughty retired 2
Peter Fenaughty c D. Chiera b P. King 1
David Graetz c Nagle b Walker 1
Paul Comino not out 0
Extras: (4 b, 1 lb, 3 w, 11 nb) 19
TOTAL 12/157

(MacGregor 3 overs, 0 maidens, 1/15; T. King 6/0/2/29; D. Chiera 5/0/1/14; Tran 2/0/0/3; Kerr 5/0/1/22; Van Loon 5/0/1/24; Rayment 2/0/1/8; S. O'Brien 2/0/0/6; Nagle 3/0/1/13; Gannon 2/0/1/11; P. Chiera 1/0/1/5; Walker 1/0/1/3; P. King 1/0/1/4).


March 22, 2006

charlie's firewood