Premiership 2009/10 Second Eleven - Peter Golding report
by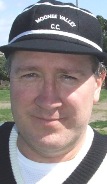 Peter Golding's birds-eye view of the Seconds Grand Final - from behind the stumps

Day 1 began with fine weather, as it had been for most of the previous week – in stark contrast to the deluge of the week before which affected the playing of the semi finals.
An inspection of the pitch on the No. 2 ground at Overland Reserve, East Keilor led to a little consternation, with a little softness the legacy of the previous weekend weather.

Upon most of the team reflecting on our esteemed leader's ability to win the toss (not) during the season, we relaxed in the knowledge that we had no control of the outcome and could let Werribee decide.

Werribee Centrals ("Go C's") did in fact win the toss and sent us in – in a Grand Final; on a warm to hot day; with a lightning-quick and very rough outfield. Apparently they had done this all year with a lot of success – having not lost a match – but had never beaten us; the earlier game being washed out.

Our innings started brightly with Spud (known to the C's as 'the fat man') taking most of the strike from Josh (known to the C's as an even more original 'Joshie').


These two put on a sparkling opening partnership of 58 – Spud was dismissed for 45 by the competition's leading player and C's captain Wilson.


Enter Ben Thomas, who promptly refused to run from the non-strikers end on a ball that beat the keeper and went half way to the boundary. Well, actually he ran up a bit, back a bit, ran forward a bit more, fell over, turned around and then fell into the crease – beaten back to his original crease by the first slip, who had run about 100 metres and thrown the ball from near the boundary furthest away from Ben. Nice one Ben. Score was 2/69.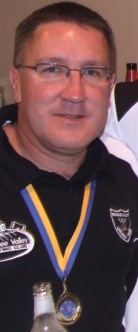 Bryce Peter-Budge joined Josh with a season-high score of 14 no and an average of 9. Bryce showed true style under pressure and made it to 35 in quick time before ambition got in the way of ability and he was bowled by a very angry Taylor with score reaching 3/120.

Our captain, Lou Raffaele, entered next and was politely clapped to the centre by the C's, who then showered him with compliments and other words of wisdom designed to lull him into a false sense of security. It worked, and Lou was soon out LBW for 1 to Green, he of the slightly interesting action – and many a fine word of support for our equally fine team. The score at this stage was 4/127.

At this stage I went to get changed and came back with the score 7/132, with Jukic, Stafford and Gannon amusing keeper Simpson and bowlers Green and Taylor (2) with their batsmanship.

Jim Polonidis was next in and promptly swatted a full toss straight to mid-on where the coach's son – Sam Crea, dropped the first of his sitters for the match. Jim and Josh batted steadily to stumps and we were handily placed at 7/151, Josh having batted all day for 46 through 80 overs.

The weather dawned fine and warm for the second day and we sensed that another 30 runs on Day 2 would really put the pressure on the C's.

Jim started where he started the previous day by putting a sitter straight through Sam Crea's sure hands – this time at square leg. The crowd went wild.

Both Josh and Jim smelt an opportunity and worked the ball around, picking off the increasing number of loose balls and surviving the new ball. Finally Josh was dismissed by Taylor off the bat, onto pad and back onto the stumps for a magnificent 53, off 99 overs, and the score was 8/196. The C's were wilting.

Peter Golding (left) entered to the joy of the opposing keeper (Simpson) who inquired as to his keeping ability given he batted at No. 10. I responded by bludgeoning the first ball through the vacant second slip – the captain having forgotten that people bat No. 10 for a reason. 200 up!

Jim continued to bunt the ball around the park until he was dismissed by Allister at 213. He departed the scene to a chorus of 'well batted, sir' and 'bravo' from the C's, who were particularly impressed that Jim had made his highest score of the season – the second Valley player to do so in the first innings.

Evan Blythe joined the fray and he and Peter Golding annoyed the bowlers immensely by occupying the crease, not scoring runs and pulling away as the bowler came to the crease – all the while with Simpson chirping compliments to the both of us.

Eventually Evan was the first of the pair to actually hit the ball and was caught by the ever-reliable Sam Crea off Allister – his only fielding effort of the innings that resulted in him stopping the ball cleanly – bad luck Evan. The heroes had been dismissed for 215.

The Valley boys were pumped – we had batted 118 overs, having never reached 80 before the GF – and posted a good score on a flat, but slightly low, wicket.

The C's were hot, bothered, buggered and peed off with Joshie and Jimmie, but particularly Evan, who had made it his personal mission to sledge the fielders while he was batting.

Our bowling was opened by the best opening attack in the A2 competition, Evan Blythe and Chris Stafford; and in reserve we had the Valley's A2 leading wicket-taker Bede Gannon with Jim Polonidis and Dean Jukic to follow.

We welcomed the two batters (Duffin and Simpson) to the crease in true Valley tradition, both of them having made right d***heads of themselves during our innings. Duffin backed away to both Evan and Chris on his way to a blistering 1, where he presented an easy catch to Peter Golding behind the stumps (making the most of Simpson's earlier advice about keeping) from the bowling of Chris Stafford. Score 1/6.

Soon thereafter Simpson ensured that his friendship with Evan Blythe would be life-long by presenting a dolly catch to Josh. Much celebration followed and we wished Mr Simpson the best of luck in his future endeavours on his way from the crease. Score 2/8.

The competition's leading player (Wilson) then entered to calls from Bede Gannon for a bowl to get his bunny out – having dismissed him earlier this season for not many in our only encounter.



Lou wisely ignored these ridiculous calls until Wilson's batting (attempting to imitate a clone of Josh and Evan/Peter at the same time) got so boring that Bede was tossed the ball. Exit Wilson, brilliantly caught by Bryce in the gully – exactly as Lou had predicted one ball earlier.

The score was now 3/46 and not long to go until stumps. During the next week Bryce was unable to train as he had broken his finger in the effort of the catch.

We continued to bowl at Sardi – a gun bat – who regularly pushed the ball in the air through the on-side from just about any ball bowled to him, and Jennings – another gun bat who did not-much-at-all for some time until Lou, just before stumps, relented to the near-continuous warming up from Dean Jukic and gave him a bowl.

Peter Golding and Dean conferred before the first ball, as they had done all season. As per all season Dean told Peter to signal for a ball down leg side and the Valleys would be sure to get a wicket from a leg side stumping. Peter knew better than that, having seen every first ball from Dean go down leg side all year.

First ball, down leg side, bails whipped off and lo-and-behold Jennings was not only out of his crease, but the umpire rightly gave the decision out! 4/74 and the C's had only one real batsmen left in the sheds.

It had been a fantastic two days of cricket from the Valley boys, who were well in the game prior to Week 2.

A short sidetrack – the best umpiring I have seen up close – no mistakes and a clear head kept over four days – congratulations to Umpires Campbell and Tranter.

The Valley boys had practiced with some anticipation during the week and when the weather dawned fine again on Day 3, we were first out onto the ground keen to take on Sardi and the Tony Greig impersonator (Johnson).

Sardi continued to bat streakily as Lou closed the gap on his shots through the leg-side only for both Sardi and Johnson to edge through slips and gully for the first few overs. No catches were given or dropped, but there was lots of frustration.

Soon enough Sardi lost concentration and popped a catch to mid-on where Jim gleefully pocketed the chance off Evan Blythe – 5/108.

Next over Chris Stafford beat Jennings and another simple catch to Peter Golding ensured – 6/108 and the Valley boys were crowing. By this time most of the C's were busy watching their A Grade get pummelled by Gauch's Greats.

Enter Allister and Crea – two finer batsmen you have never seen. Allister played one streaky shot backing away from Chris Stafford and was then promptly caught and bowled for 4 – score 7/112.

Dean Taylor entered the scene with smoke coming out of his ears, scored a quick 6 runs and departed when easily caught by Peter Golding off Chris Stafford – score 8/122. Phil Green came and edged the ball around the park for a little while until he too could not resist the combination of red hair and pink painted toenails paraded by Bede Gannon which resulted in a little too much excitement, a big swing and Chris Stafford pouched the resulting simple catch – score 9/142.

Finally, the batting star that was McAlpine entered (on a par with Peter & Evan in his books, but a total of 5 runs for the season did not support his case). Sam Crea who had done nothing at one end while the world collapsed around him. He was so inspired by McAlpine's first shot that he smashed a ball from Bede Gannon straight to Lou Raffaele at mid-off and the innings was over – all out for 143 and a lead of 72 for the Valleys.

McAlpine's parting gift to the Valley boys was to point his bat menacingly at all and sundry. We know not why, as he was not there long enough to be sledged.

The Valleys were loud and proud but recognised that the match was not over, despite bowling of 21-8-2-38 from Evan Blythe, 24-7-4-61 from Chris Stafford, 10.1-2-3-13 from Bede Gannon and his toenails and a cameo 3-2-1-1 from the master, Dean Jukic.

Our openers quickly returned to the crease, determined to score runs batting second and put the match beyond the brave and gallant C's.

Spud and Josh continued to torment the C's with another solid opening partnership before Spud was caught for a well-made 20, the score at this stage being 1/21. Josh was playing the same role as the first innings and the C's were loving it.

Enter Ben Thomas. About an over in, with the spinner on, a ball went past the keeper and nearly all the way to the unoccupied boundary. Our two great communicators, having learnt from the first innings, refused to move from their crease at all – much amusement from both teams, but it was the right decision.

Ben then tore apart the C's attack for his highest score of the season (the third individual Valley batting season-high score in the GF), making 45 before being dismissed just before stumps with the score at 2/96. Josh and Lou survived until stumps with the score on 2/112 and a lead of 184 – surely we had more than one hand on the prize?

Day 4 dawned a little cooler, with a fair breeze blowing, but the pitch was still true – if a little lower and slower again at the far end.

Josh and Lou started brightly, with Lou taking a particular liking to McAlpine before his tasty treats got a little too much and Lou was caught in the gully for a well made 36. The score at this stage was 3/154 and a lead of 226 was looking pretty good, although there was still plenty of time for a determined team to chase the runs.

Another dreaded mini-collapse followed with Bryce and Dean not faring too well – 5/159. Chris Stafford joined the Rock who by now had passed 50 and appeared to be making winning the GF his own personal mission – he certainly showed more skill, fight and concentration than all of the vaunted C's batting line-up throughout the match.

Eventually Josh was adjudged LBW for a well-made 63 to go with his first innings of 53. More importantly he had batted without a chance for around 165 overs in the match – 6/175. Bede was out soon after at 7/189.

Jim joined Chris and they put on a few before Jim was dismissed for a brisk 4 – bringing his match total to 50 (not bad for a No. 9 and more than most of the C's leading batsmen) – score 8/197.

Peter Golding joined Chris Stafford, who, having seen the first few balls that Peter attempted to place into the hands of the slips fieldsmen, copied Sam Crea and holed out first ball of the next over for an important 18 – score 9/197.

Evan managed to give out and receive a few well-placed sledges in the two or three balls he faced before the innings ended on 197 after 74 overs – the second-longest we had batted all season, after the first innings.

We had left the C's 269 to chase off 55 overs and to their credit the two young openers came out and gave it a go – Simpson looking a better batsman in the second innings but Duffin remained looking like his name for a few overs.

Soon enough Duffin missed a straight ball and was LBW to Evan Blythe, who, having been slogged for a few runs had smoke coming out of his ears. Evan congratulated Duffin on his innings with a hearty cheer and the Valleys were away at 1/30.

Sardi came in and played in his usual careful GF style – providing half-chances to all and sundry in front of the wicket, while Simpson was batting by numbers at the other end.

Soon enough Simpson played a top-edge pull shot off Evan Blythe that skied towards deep mid-wicket. The players all watched as Jim Polonidis (rumored later that day to have been recruited by a scout from the Greek Olympic team) ran a full 100 metres at top speed – never looking like catching the ball – dived full length and took it cleanly in two hands before the rest of the team joined him in a celebration that broke the spirits of the C's players that had bothered to watch their own match. 2/59.

Wilson (Captain) entered and promptly played and missed for about seven overs while Chris and Evan congratulated him on his batting ability at regular intervals. Sardi lost patience with the events at the other end and holed out to Lou at mid-on from the bowling of Evan Almighty – 3/63.

Jennings entered and was also frustrated by the Valley's tight and accurate bowling machines (Stafford and Blythe) and was out bowled by Evan with the score on 4/77. Wilson's tedious innings was ended shortly after – caught by Ben with the score now on 5/78.

Johnson and Allister batted slowly for a while – all the time getting tips on the low, slow pitch from Peter Golding.

After about 15 straight overs Chris Stafford was relieved at the far end by Bede Gannon, who promptly removed Allister LBW and then bowled the very angry Taylor with the score at 7/113.

Meanwhile, Evan was soldiering on from the crowd end, which had swelled with support from Gauch's Greats who had already wrapped up their Grand Final and what seemed like 500 other Valley supporters.

He soon broke Johnson's toe with a slow straight ball and the C's had plummeted to 8/127. At this stage the C's needed nearly 10 runs an over.

Enter Sam Crea and Phil Green. Lou spotted the problem fairly early on in their partnership – they could not bat much, but could run between wickets, so he promptly despatched most of our fielders to the boundary, with a few placed to stop the twos – except Ben Thomas, who was placed for the hit that goes straight up in the air. Phil saw through that ploy and did in fact hit it straight up in the air to Ben who – with 1000 spectators watching – dropped the catch. The Earth did indeed open up and swallow him.

The young C's continued to hit the ball around until Evan decided that 22 straight overs was enough, Bede swapped ends with Chris and the scoring was again slowed to a trickle.

As the final over commenced, the C's needed 54 runs to win and the Valley boys relaxed a little. Chris obtained a well-deserved wicket in the last over, which allowed us to welcome McAlpine to the field one last time.

He was offered batting coaching by most players in hearing distance and this seemed to work, as he edged his sixth run of the season to the resounding cheers of the remaining C's supporters.



A great season for the Valley boys, who performed brilliantly in most matches but kept a season's best performance for the GF, both as individuals and as a team.

Peter Golding.




July 27, 2010

charlie's firewood