Premiership 2009/10 Second Eleven
by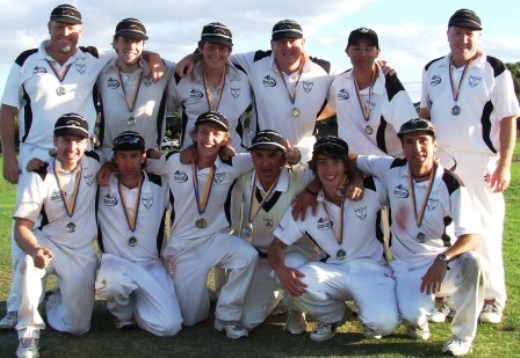 Our 2009/10 Premiership team: L-R: Back - Darren Nagle, Evan Blythe, Bede Gannon, Simon Thornton, Dean Jukic and
Peter Golding. Front - Bryce Peter-Budge, Ben Thomas, man-of-the-match Joshua Maginness, captain Lou Raffaele,
Chris Stafford and Jim Polonidis.

Josh proves that grinding out the overs can be a highlight

Day 1 of the VTCA North A 2 Grand Final started out with fine weather at Overland Reserve, the home of East Keilor Cricket Club.The week before it had rained an enormous amount, which led to a soft sort of pitch on inspection.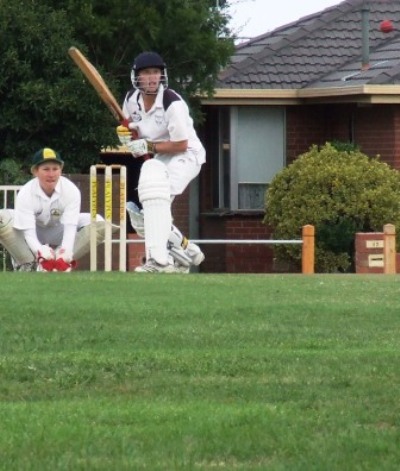 The toss was made and won by Werribee Centrals and they decided to bowl first, which didn't bother our captain Lou Raffaele a bit as he was planning to bat anyway if he got the opportunity.

Apparently Werribee had put the opposition in first all year, and having not lost a home and away game, was confident of bowling us out cheaply.

Our innings started brightly, with Darren Nagle and young Josh Maginness (right) putting on a fine 58 before Nagle was dismissed for a sterling 45. Ben Thomas came to the crease, and before long was run out for 7.

The score was 2/69 when Bryce Peter-Budge came in. Before long the score was nicely moving along, due to Bryce's fine stroke play. He overplayed at a ball and was bowled for a fine 35, with the score at 3/120.

At this stage Josh was still there, frustrating the opposition with intense defensive play. Captain Lou Raffaele came and went for 1, followed by the loss of another three quick wickets, and very quickly the score was 7/132 at tea.

It could've been much worse had the Werribee player Duffin held onto a very simple catch off Jim Polonidis first ball. It proved costly as both Jim and Josh saw out stumps on Day 1 at 7/151.

Day 2 was just as interesting, with both batsmen scoring more freely before Josh – who had batted for an amazing 106 overs – was out on 53, and the score was 8/196.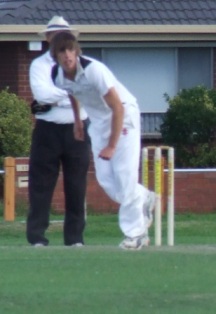 Polonidis, who was dropped first ball was finally out for a handy 46. The remaining two wickets fell cheaply, and Moonee Valley ended up all out for 215. Dean Taylor the best of the Werribee bowlers, taking four wickets.

Werribee started out shaky, with the first wicket falling quickly to have them 1/6. It was then 2/8, and 3/46. The bowling was tight and the talk fantastic, and with a few overs to go for stumps the captain introduced Dean Jukic to bowl. His first ball led to a stumping to have the Werribee boys reeling at 4/74.

The key batsmen for Werribee was young Nick Sardi: He was the man Moonee Valley wanted. He didn't last long though as Day 3 started where we had left off the previous week, with Evan Blythe, Chris Stafford (left), Bede Gannon and Jim Polonidis all bowling superbly.

Werribee went from 5/108 to be all out for 143 – a lead of 73 runs to Moonee Valley on the first innings.

We had fine bowling from Blythe, 21overs, 2/38, Stafford 24 overs, 4/61, and Gannon 10 overs, 3/13.

Our second innings started well with runs coming freely and before long we were 1/21, with Josh again batting Werribee out of the game. Ben Thomas came and hit a quickfire 45, and that saw us to 2/96.

Captain Raffaele entered and with Josh played out to stumps on Day 3 and Moonee Valley was 2/112, a lead of 184, with eight wickets in hand. The final day started off with Lou taking a liking to McAlpine's short bowling by hitting the ball around and out of the park before he got over-zealous and was caught at slip.

The score was now 3/154, and a lead of 226. Before long another Moonee Valley collapse occurred and the loss of a few quick wickets saw the score at 5/159, with Josh Maginness still there at the crease.

Not long after a break Josh was dismissed for 63, his second half century of the game. Josh had batted an amazing 167 overs across the two innings, and this resolute approach was a major factor in the result.

Another four wickets fell cheaply to have Moonee Valley all out for 197, a lead of 269. Werribee had 55 overs to win the flag.

Werribee lost its first five wickets for 78 runs, and the bowling was exceptional. There were no dropped catches, talk was loud and Werribee was down and almost out.

Spud Nagle took one on the chin that bounced up into his face, and had a trip to hospital for stitches while 12th man Simon Thornton took to the field. Spud returned though to see through the win.

Both Blythe and Stafford were bowling unchanged for Moonee Valley and together they netted the first five wickets with good tight bowling. Another three wickets fell to have Werribee 8/127, before Crea and Green, two young up-and-coming players decided that having a go would be the best defence and they started hitting balls everywhere.

Green was eventually out for a well-made 41. The final over started and Werribee needed 54 runs to win. No chance.

Best of our bowlers in the second innings were Blythe 22overs, 6/91, Stafford 20 overs, 1/62 and Gannon 11overs, 2/46. It was a well deserved premiership from a group of dedicated players.

It was a team performance with no individuals playing for themselves, and was won with tremendous spirit over four hard days of cricket.

Captain Lou Raffaele said the umpiring was the best he'd seen in years, with no bad decisions, the umps always in control and tremendous respect from both sides for umpires Campbell & Tranter.

Hosts East Keilor were thanked for a very well presented venue and they showed great respect to both sides, always very courteous and always helped with whatever was needed.

Captain Lou Raffaele saved a special thanks for the Moonee Valley boys for a gutsy, well-fought premiership. Excellent team effort and well deserved.

**To see Peter Golding's slightly more irreverent Grand Final report, click here.


July 26, 2010

charlie's firewood