Premiership 2009/10 First Eleven
by

The rematch - Valley looks to break its 10-year drought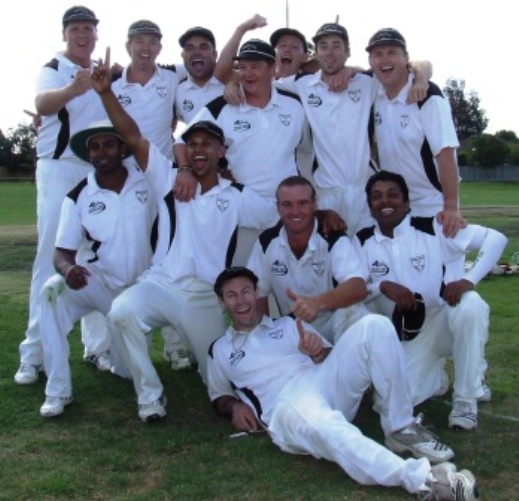 Here's our Premiership team: L-R: Back - 12th man Geoff Smith, Matt Thomas, Amit Chaudhary, Mark Gauci, Craig
Pridham, Pat Felmingham, Kane Harding.
Front - Dushan Raveendrakumar, Raj Aiyappan, Geoff McKeown, Sean O'Kane and Arosha Perera.

East Keilor hosted the North A Grand Final for the second consecutive season between the ladder leaders Moonee Valley and Werribee Centrals.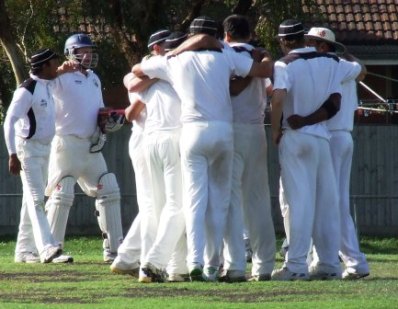 But this year was different - in 2008/09 we had finished second on the ladder, and with the first week of the Grand Final washed out, we were up against it in terms of ladder position.

But 2009/10 was different - we were top dog, conditions were good and we were ready for it.

Moonee Valley won the toss and elected to bat on what looked a great pitch for batting. Moonee Valley quickly reached 1/75 then started to lose quick wickets before tea to go in at 5/120.

Wickets continued to fall after the break with the pace of Edrich (5/58) proving difficult for the Valley batsmen.

At right: The Moment: We've won it!

Moonee Valley crumbled to 7/143 before Chaudhary (62) joined captain Mark Gauci (38) at the crease to enjoy a 76 run stand off 34 overs to get Moonee Valley to 7/218 at stumps.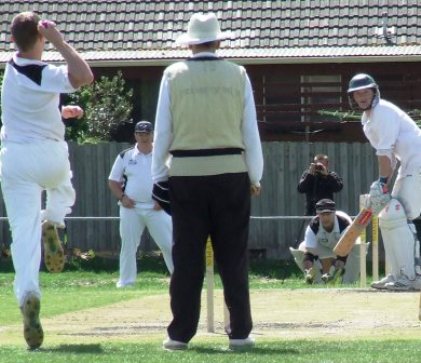 Day 2 started with WC paceman Clutton (3/69) claiming the remaining three wickets for 22 runs, eventually bowling Moonee Valley out for 240.

Tight, aggressive bowling from Moonee Valley quickly reduced WC to 8/87 in their first innings, with Harding (4/51) and Aiyappan (3/36) doing most of the damage before a 73 run partnership for the 8th wicket between King (47) and Clutton (41) gave WC a first innings score of 163 – reducing the first innings deficit to 77.

At right: Craig Pridham bowling, with Mark Gauci at slip and Geoff McKeown behind the stumps.

WC struck late on Day 2 to have Moonee Valley 2/28 at stumps, with an overall lead of 105 going into the second weekend.

WC were out to claim early wickets on Day 3, but some solid batting efforts from the highly rated Perera and young Felmingham helped get Moonee Valley to tea at 3/77, with an overall lead of 144. Perera continued to shine as WC started to rip through the Moonee Valley batting line-up, sparked by spinner Cowlishaw (3/31).

Moonee Valley slipped to 8/150 before Cowlishaw was surprisingly taken out of the attack. This allowed Chaudhary (25) and then O'Kane (26) to combine with Perera for a match-winning 72 run stand. Eventually Moonee Valley was bowled out for 240, equaling the first innings efforts with Perera taking the honors with an unbeaten 122.

With a lead of 317, Moonee Valley struck in the last over of the day to have WC 1/3 at stumps.

WC needed to chase down 317 and began Day 4 in an aggressive fashion, reaching 1/39 before Cachia (28) shouldered arms to a straight ball. Moonee Valley then began to take wickets at a steady pace, having WC all out in the 65th over for 152 and giving Moonee Valley the premiership.

Man of the match honors went to Arosha Perera with his match-winning innings of 122 not out.

(Mark Gauci – Moonee Valley Captain).

September 25, 2010

charlie's firewood