The Great Spud's 250th game
by
17/10/2007
Many happy returns for our great Spud
Moonee Valley legend and former president Darren "Spud" Nagle became just the second player in the Club's history to reach the 250 game milestone when he took to the park in the opening round of the 2007/08 season.
And it was a credit to Spud that so many present and past teammates put up their hand to celebrate the historic occasion with him.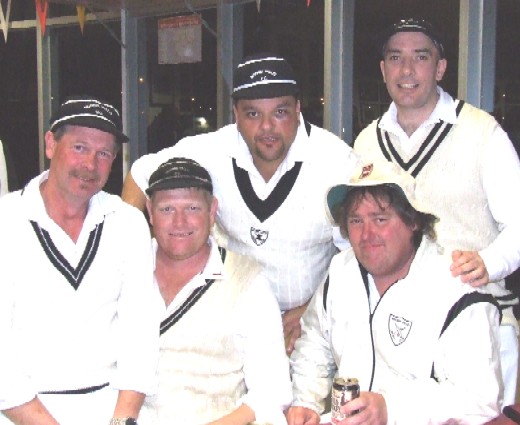 Moonee Valley legends who played the game - L-R - Greg Peters (218 games, 6 flags), Darren Nagle (250 games, 7 flags), Sandro Capocchi (239 games, 5 flags) Terry Nagle (143 games, 4 flags) and John Talone (212 games, 1 flag).

The club was able to assemble a virtual 'legends' team – and that's the way they played. Playing in the Moreland Moonee Valley Cricket Association C Mats grade, Moonee Valley whipped Ascot Vale in the October 6 match.
And Spud led from the front, with a hard-hitting – and occasionally stylish – 82 not out, from a Moonee Valley total of 5/292 off the 40 overs.
In reply, Ascot Vale was restricted to 6/119.
And young tyro Matt Thomas reached his 50-game milestone on the same weekend, in the Fourth Eleven team which exacted revenge against St Francis for the Fourths Grand Final loss.
The combined tally of the players in Spud's team was more than 1770 games for Moonee Valley, so it was an historic occasion both on and off the field.
Spud has played virtually all of his cricket in the First Eleven, but elected last season to drop back a grade or so to free up a place for some of the young talent coming through as part of Moonee Valley's junior development policy.
With the first week of turf cricket for the season called off due to problems preparing the wickets, we were able to swing a couple of Darren's top grade teammates back to play in his milestone match.
The team comprised Spud, Greg Peters, Terry Nagle, Sandro Capocchi, John Talone, Kevin Gardiner, Phill King, Mark Gauci, Matt Gauci, Paul Nicol and Bob Sciacchitano – representing five life members.
The team was Moonee Valley's nominated Fifth Eleven. The innings score of 292 went into the record books as the highest score by our Fifths, while some less-than-kind pundits also suggested the waistlines of the players represented a record as the heaviest team ever to take the field for the club.
The openers, Greg Peters and Sandro Capocchi, got us off to a great start, carrying the score to 144 – a new Fifths first wicket partnership record – before Greg was stumped on 59. The man-of-the-moment then came to the crease – as he has done on so many occasions partnering Sandro – and they put on a further 75 before Sandro was caught and bowled for 94.
A quickfire 47 run partnership with Mark Gauci, a cameo batting appearance from Terry Nagle and a few hard hits at the end saw Valleys reach our massive score.
When it was Ascot Vale's turn to bat, they were quickly on the back foot, with Matt Gauci effecting a sharp runout and then taking two catches off brother Mark to have the home team reeling at 3/6. They crumbled further to 5/20 with keeper Phill King taking catches off Kevin Gardiner and Paul Nicol – but then consolidated.
Their batsmen then played out time at the Dunstan Reserve ground to preserve their wickets.
The players in the Moonee Valley team all meant a lot to Spud.
Greg Peters was our captain and coach during the glory years of Moonee Valley in the 1980s and 90s, leading us to six Premierships. Greg has come out of retirement twice – the Ian Denny 250th game, when he made 50 not out, and now a half century with Spud.
Sandro Capocchi is closing in on the 250-mark as well, and succeeded Spud as Moonee Valley president. They've played most of their cricket together in the Firsts.
John Talone was part of the power base of the Club with Darren for more than a decade, acting as Secretary to Spud's presidency and his closest confidant.
Spud's brother Terry Nagle also came out of retirement – a genuine club legend in his own right, with 142 games, 319 wickets and four premierships. He has a hamstring tweak and a duck to remember Spud's 250th.
Bob Sciacchitano is a long-time Spud ally and a workmate, and also a life member.
Mark Gauci is our First Eleven captain, a 100-game player and one of the most committed guys around the Club, and had time on the committee during Spud's presidency.
Matt Gauci was also on the committee during Spud's time, and is also a 100-game player and First Eleven performer.
Phill King played a key role in helping develop our Moonee Valley junior program, which was part of Spud's long-term vision as president.
Kevin Gardiner is part of the bridge between old and new at the Club, playing in the 80s before an extended break – and now back as a key man both on and off the field.
Paul Nicol has played with Spud for an extended period and is also our "milestone specialist" – he also played in Ian Denny's 250th.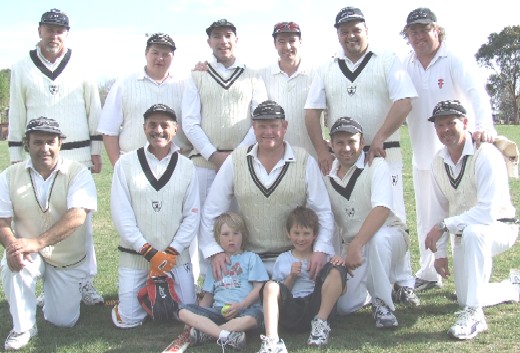 The winning team for Darren "Spud" Nagle's historic 250th match for Moonee Valley:
(L-R) Back - Kevin Gardiner, Mark Gauci, John Talone, Matt Gauci, Sandro Capocchi, Terry Nagle.
Front - Bob Sciacchitano, Phill King, Darren Nagle, Paul Nicol, Greg Peters.
At front - Terry's son Max, and Darren's youngster Jack Newman.


Our batting:
Sandro Capocchi c&b 94 – 13x4s, 2x6s
Greg Peters st 59 – 9x4s
Mark Gauci c 14 – 2x6s
Darren Nagle 82no – 16x4s
Terry Nagle c&b 0
Matt Gauci c 0
Paul Nicol 0no


Our bowling:
Paul Nicol 10 overs, 7 maidens, 2/6
Mark Gauci 5/0/2/15
Kevin Gardiner 4/1/1/12
Darren Nagle 9/1/0/25
Bob Sciacchitano 7/0/0/36
John Talone 3/0/0/17
Matt Gauci 3/1/1/6


September 24, 2010

charlie's firewood