New coach, new captain for our Valley women
by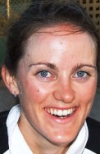 New coach, new captain for our Valley women

Moonee Valley Cricket Club is pleased to announce the appointment of Darrell Marr as coach of our women's team for the 2010/11 season, and the appointment of Clare Ardern as our captain.

Darrell, who has been a team manager with our women's teams for the past two seasons while his daughters Sam, Jessica and Beth played with our Club, has a wealth of experience in both cricket and football coaching and administration.

Moonee Valley Secretary Peter Golding (left) is shown congratulating Darrell Marr on his appointment as our women's coach.

Moonee Valley Secretary Peter Golding said Darrell presented at the interview with an excellent range of views and initiatives to take our women's cricket forward and further develop the skills of the players.

And Clare Ardern demonstrated her energy for cricket and her desire to help the team improve when she was interviewed and appointed on September 21.


First Eleven Premiership captain Mark Gauci, who was part of the interview panel, said he was impressed by Clare's enthusiasm. Mark is shown at left congratulating Clare on her appointment.

"I have a real passion for both cricket and women's sport, and a strong desire to be involved with the development and promotion of women's cricket at Moonee Valley," said Clare, who is a physiotherapist and PhD candidate.

"My aims as a captain are to show others why cricket is a great game and actively promote my belief in the importance of regular physical activity as part of a healthy lifestyle.

"I look forward to the opportunity to develop the skills of new and novice playes, and work in close consultation with past and present senior players to achieve these aims."
Training will be held every Thursday from 4.30pm, with optional Tuesday sessions.
Anyone wanting to join our women's team should attend training or ring Darrell Marr on 9309 3301 or 0414 528 085.
---
September 26, 2010

charlie's firewood