Kev Gardiner's little birdie
by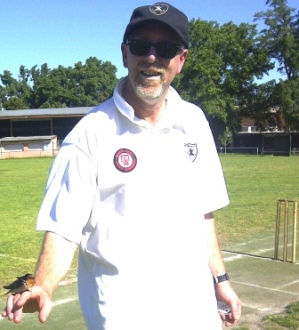 C'mon Kev, that tale's a bit hard to swallow
Big grizzly bear or cuddly koala? Moonee Valley's Kevin Gardiner certainly showed his gentler side when a small bird was injured during the Fourths' Round 4 match.
The Merlynston Hadfield fielders oohed and aahed when our opener Glenn Perussich played and missed, and applauded what they said was a great ball by their bowler.
But then Kind Kev, umpiring at square leg, stepped in.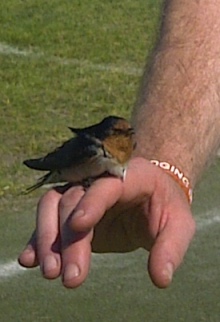 He spotted a tiny quivering bundle mid-pitch, and walked over to gently pick up a stunned swallow, which was clocked by the ball as it flew across.

Neither Glenn now fellow opener Darren Nagle had noticed the bird get hit or realised the reason the ball deviated and missed Glenn's bat.

Fears that the swallow had breathed its last were thankfully proved to be exaggerated.

Kevin held the groggy bird on his hand four about five overs while he officiated at square leg, then carried it off the ground with the changeover of umpires.

It sat recuperating on the sidelines for a few more overs before flying off, seemingly none-the-worse for its encounter with the cricket ball.

And Moonee Valley flew off with the points after the November 5 match.

November 9, 2011

charlie's firewood