Deserving Dean gets life membership
by Charlie Walker
---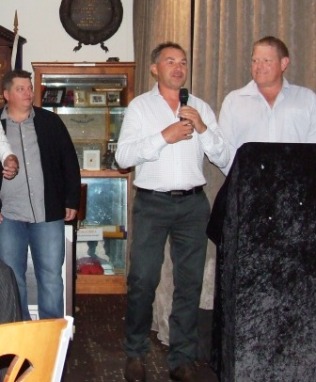 Deserving Dean gets our

Life Membership

A 25th Life Member was inducted into the annals of the Moonee Valley Cricket Club when Dean Jukic had the prized medallion pinned to his chest at our Presentation Night on April 9.
A crowd of more than 70 players and partners gathered at the Moonee Ponds Club for our big night of the year, and the room was silent when Deano was given the microphone.
He spoke from the heart - as has always been the case with our Dean Jukic.
The prestigious Lindsay Jones Best Clubman award was bestowed on Michael Ozbun.
At right: An emotional Dean Jukic speaks about his Life
Membership, flanked by Mark Gauci (left) and Darren Nagle.

Eight Life Members - Darren Nagle, John Talone, Jim McKenzie, Jim Polonidis, Dan Terzini, Kevin Gardiner, Mark Gauci and Charlie Walker - gathered at the front of the room as Deano's career and contribution at Moonee Valley was described in detail - first by Pola and Gauch, then with a Q&A session from Spud Nagle.
When it was Deano's return to respond, his emotion showed his love and devotion to our Club (and of course to parner Agatha Soccio as well).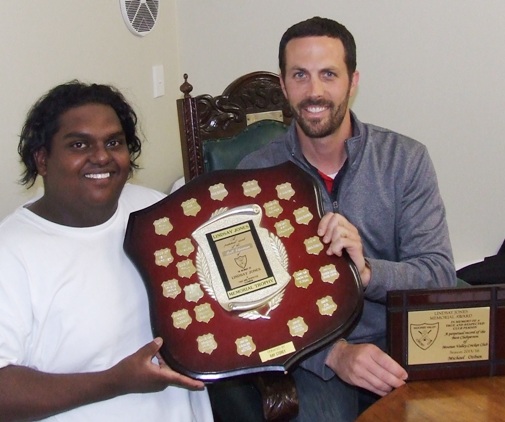 Our 2015/16 Club Champion award was won by Nadeera Thuppahi, who has returned home to Sri Lanka. We're now in negotiations for his return next season. The Club Champion was announced by Matt Thomas, who won the award in the two previous seasons. Matt also announced that Tuffy was selected in the VTCA North B Team of the Year.
The runaway winner of the Moonee Valley Award, for the best player in all grades other than the firsts, was coach Mark Gauci.
The Bendigo Bank Most Improved Award, determined each season by the coach, was won by Daniel Comande - whose great game in the Thirds in the first round of the year was rewarded with promotion to the Firsts, and he never looked back.
Channa DeSilva broke a three-year Peter Golding stranglehold on the Wicketkeeper of the Year award when he won the vote in a keen four-way tussle for the honor with Peter Golding, Chris Rebeiro and Paul Hobbs.
Above: Michael Ozbun (right) receives his Lindsay Jones Best Clubman trophy from the previous season's winner, Channa DeSilva.
**Watch this space for more photos and details - CLICK HERE!



April 14, 2016

charlie's firewood