2015/16 Presentation night
by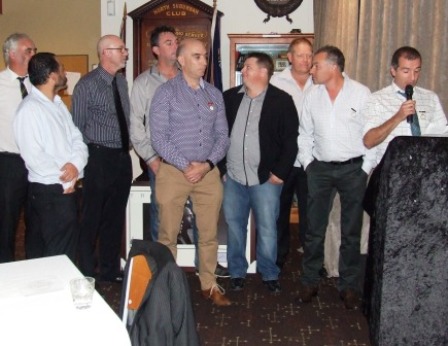 PRESENTATION NIGHT 2015/16

A 25th Life Member was inducted into the annals of the Moonee Valley Cricket Club when Dean Jukic had the prized medallion pinned to his chest at our Presentation Night on April 9.

A crowd of more than 70 players and partners gathered at the Moonee Ponds Club for our big night of the year, and the room was silent when Deano was given the microphone.

At right: How do we get some attention around here? Jim Polonidis works hard at the microphone, but other Life Members seem otherwise distracted. L-R Charlie Walker , Dan Terzini, Kevin Gardiner, Jim McKenzie, John Talone, Mark Gauci, Darren Nagle and new Life Member Dean Jukic.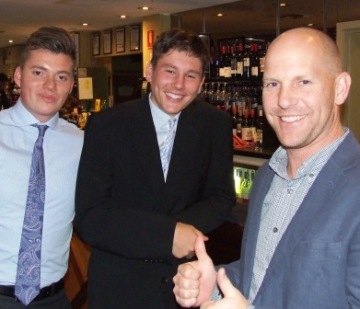 He spoke from the heart - as has always been the case with our Dean Jukic.

The prestigious Lindsay Jones Best Clubman award was bestowed on Michael Ozbun.

At right: L-R: Most Improved Player Daniel Comande with last year's MIP Jack Newman and Firsts opening bat Troy Eden.

Eight Life Members - Darren Nagle, John Talone, Jim McKenzie, Jim Polonidis, Dan Terzini, Kevin Gardiner, Mark Gauci and Charlie Walker - gathered at the front of the room as Deano's career and contribution at Moonee Valley was described in detail - first by Pola and Gauch, then with a Q&A session from Spud Nagle.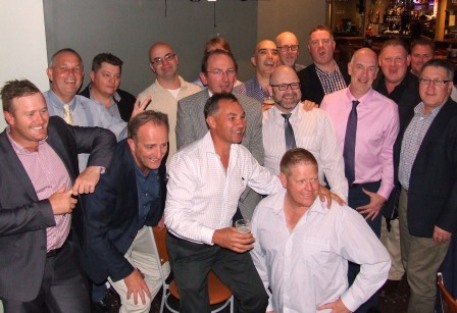 When it was Deano's return to respond, his emotion showed his love and devotion to our Club (and of course to parner Agatha Soccio as well).

At right: A roll-call of players who have been captained by Thirds skipper Brett Curran: L-R. Back - John Roberts, Mark Gauci, Michael Cumbo, Mark Madden, John Talone, Paul Hobbs, Kevin Gardiner, Norm Wright, Alan Harry, Simon Thornton, James Beilken and Peter Golding. Front: Peter O'Kane, Brett Curran, Dean Jukic and Darren Nagle.

Our 2015/16 Club Champion award was won by Nadeera Thuppahi, who has returned home to Sri Lanka.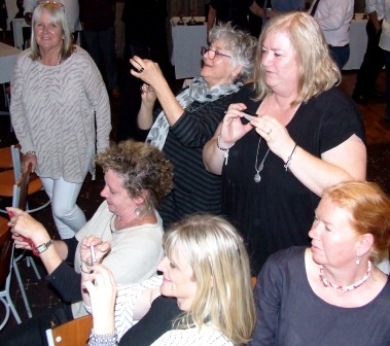 We're now in negotiations for his return next season. The Club Champion was announced by Matt Thomas, who won the award in the two previous seasons. Matt also announced that Tuffy was selected in the VTCA North B Team of the Year.

At right: WAGS gather for the camera shoot for Curran's Raiders: L-R Adele Walker, Mary Curran, Melissa, Julia Raath, Bernadette Hobbs and Kelly Wright.

The runaway winner of the Moonee Valley Award, for the best player in all grades other than the firsts, was coach Mark Gauci.

The Bendigo Bank Most Improved Award, determined each season by the coach, was won by Daniel Comande - whose great game in the Thirds in the first round of the year was rewarded with promotion to the Firsts, and he never looked back.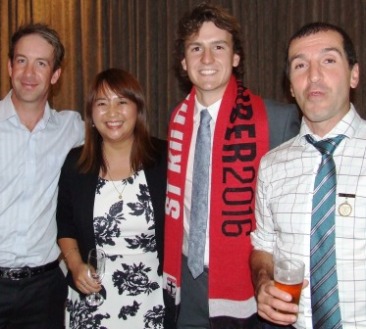 Channa DeSilva broke a three-year Peter Golding stranglehold on the Wicketkeeper of the Year award when he won the vote in a keen four-way tussle for the honor with Peter Golding, Chris Rebeiro and Paul Hobbs.

At right: We're now in the winter sport season: L-R Ben Thomas, Tien Polonidis, St Kilda-supporting Paul Bannister and Jim Polonidis.

Club Championship awards
Moonee Valley Cricket Club Club Champion 2015/16 - Nadeera Thuppahi 519 points
Moonee Valley Cricket Club Moonee Valley Award 2015/16 - Best Player all other grades - Mark Gauci 1090 points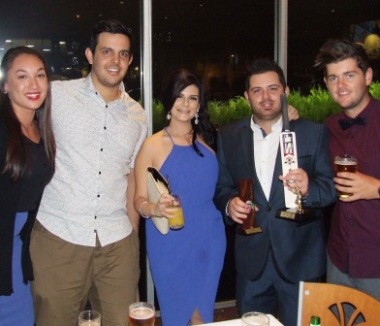 At right: The dress-up table: L-R Jade with Chris Rebeiro, Vanessa and Anthony Riggio and Chris Pollock.

Best Clubman
Lindsay Jones Memorial Award – in memory of a true and respected club person: Moonee Valley Cricket Club Season 2015/16 Michael Ozbun

Most Improved
Bendigo Bank Most Improved Player Award - Coach's Award 2015/16 Daniel Comande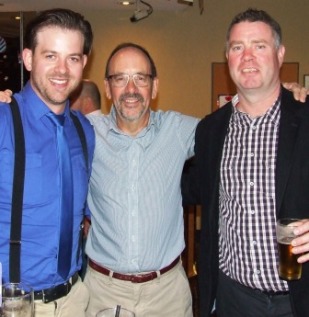 At right: Dapper: L-R Matt Thomas, Allan Thomas and Norm Wright.

Life Membership
Season 2015/16 – in recognition of Outstanding and Dedicated Service to the Moonee Valley Cricket Club – Dean Jukic

Wicketkeeping Award

Best Wicketkeeper across all Grades 2015/16 Channa DeSilva


Batting Awards
First Eleven Batting Award 2015/16 Nadeera Thuppahi 419 Runs @ 52.38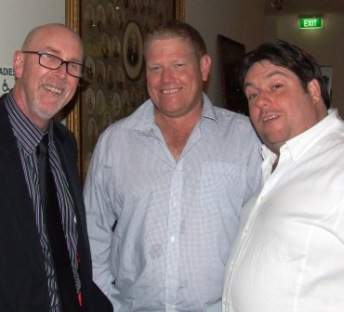 Second Eleven Batting Award 2015/16 Sean O'Kane 224 Runs @ 56.0

At left: Three old stagers: L-R Kevin Gardiner, Darren Nagle and Ryan Fairclough.

Third Eleven Batting Award 2015/16 Peter O'Kane 240 Runs @ 40.0

Fourth Eleven Batting Award 2015/16 Mark Gauci 310 Runs @ 51.67

Fifth Eleven Batting Award 2015/16 Neil King 203 Runs @ 50.75

Sixth Eleven Batting Award 2015/16 Liam Farrell 275 Runs @ 34.38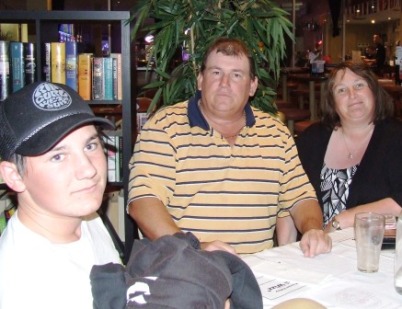 Bowling Awards
First Eleven Bowling Award 2015/16 Chanaka Silva 15 Wickets @ 17.4

Second Eleven Bowling Award 2015/16 Jim Polonidis 16 Wickets @ 12.13

At left: Our new recruits with a bright future: L-R Jordon, Shane and Angela McDonald.

Third Eleven Bowling Award 2015/16 Brett Curran 15 Wickets @ 12.33

Fourth Eleven Bowling Award 2015/16 Jesse Felle 23 Wickets @ 12.3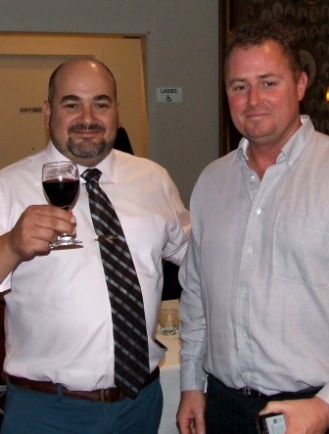 Fifth Eleven Bowling Award 2015/16 Peter Smith 16 Wickets @ 20.31

Sixth Eleven Bowling Award 2015/16 Shane Chalmers 22 Wickets @ 15.18

At left: The crop of 2015/16: James Harris (left) and James Beilken.

Fielding Awards

First Eleven Fielding Award 2015/16 Anthony Riggio 13 Votes

Second Eleven Fielding Award 2015/16 Liam Moloney 12 Votes

Third Eleven Fielding Award 2015/16 Paul Hobbs 15 Votes

Fourth Eleven Fielding Award 2015/16 Peter Golding 28 Votes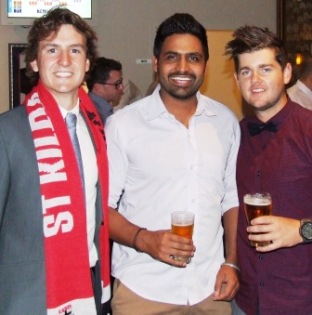 Fifth Eleven Fielding Award 2015/16 Shaun Rayment 10 Votes

At left: Time to celebrate: L-R Paul Bannister, Jatinder Singh and Chris Pollock.

Sixth Eleven Fielding Award 2015/16 Grahame McCulloch 9 Votes

Games Achievement

Jim Polonidis 250 games 2015/16

Mark Gauci 250 games 2015/16

Dean Jukic 200 games 2015/16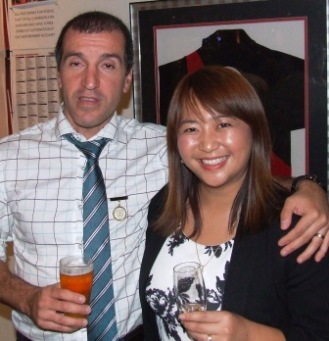 Peter Smith 150 games 2015/16

Allan Cumming 150 games 2015/16

At left: Jim likes the backdrop: An Essendon jumper! Jim & Tien Polonidis.

Pat Taylor 100 games 2015/16

Paul Hobbs 100 games 2015/16

Sam Carbone 50 games 2015/16

Neil King 50 games 2015/16

Jack Newman 50 games 2015/16

Michael Ozbun 50 games 2015/16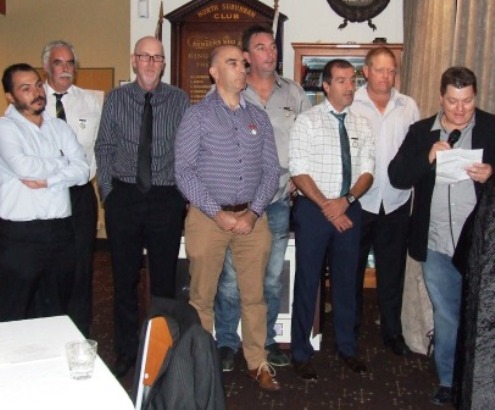 Mick Bannister 50 games 2015/16

Umar Farooq 50 games 2015/16

At left: Life members gather on stage: L-R Dan Terzini, Charlie Walker, Kevin Gardiner, John Talone, Jim McKenzie, Jim Polonidis, Darren Nagle and Mark Gauci.

Runs Achievement

Mark Gauci 6000 runs 2015/16

Ben Thomas 3000 runs 2015/16


Sean O'Kane 3000 runs 2015/16

Jesse Felle 2000 runs 2015/16

Michael Cumbo 2000 runs 2015/16

At left: Our partners help ensure we've got a viable and successful club. L-R Adele Walker, Julia Raath, Mary Curran, Sandra Thomas & Virginia Gardiner.

Neil King 1000 runs 2015/16

Glenn Eismontas 1000 runs 2015/16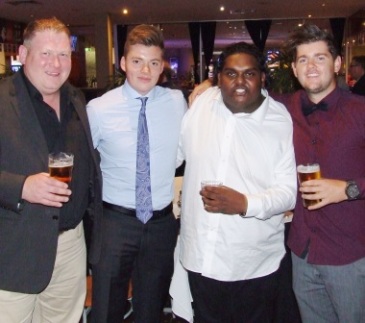 At right: A potent bowling attack (except for Channa) L-R Simon Thornton, Daniel Comande, Channa DeSilva and Chris Pollock.

Centuries

Nadeera Thuppahi 138 First Eleven v East Coburg Round 2 2015/16

Mark Gauci 131 Fourth Eleven v Clayton District Round 9 2015/16

Peter O'Kane 122 Third Eleven v Melbourne City Round 2 2015/16

Sean O'Kane 113 Second Eleven v East Keilor Round 2 2015/16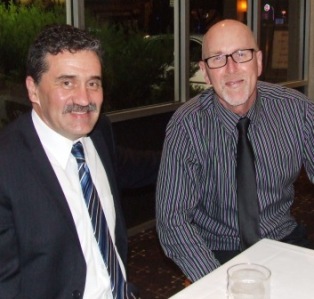 Anthony Riggio 101no First Eleven v East Coburg Round 2 2015/16

Nadeera Thuppahi 100no Sixth Eleven v Shakti Lions Round 8 2015/16

At right: Two bowling warriors: Tony Gleeson (left) and Kevin Gardiner.

Wickets Achievement

Jim Polonidis 300 wickets 2015/16


Peter Smith 250 wickets 2015/16

Mark Gauci 200 wickets 2015/16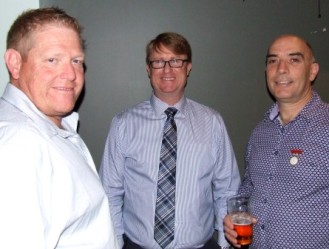 Murtaza Khaliq 50 wickets 2015/16

At right: Thousands of runs for Moonee Valley: L-R Darren Nagle (6200), Dean Lawson (3300) and John Talone (4700).

Match Bowling Achievement

Charlie Jackson 10/67 Fifth Eleven v Northern Lions Round 2 2015/16 – 3/35 & 7/32

Match Innings Bowling Achievement

Charlie Jackson 7/32 Fifth Eleven v Northern Lions Round 2 2015/16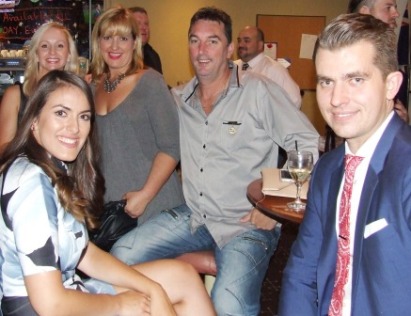 Jack Newman 6/15 Second Eleven v East Keilor Round 7 2015/16

Dean Jukic 6/15 Third Eleven v Power House Round 1 2015/16

At right: Looking good! L-R Nysaa, Vanessa, Mr & Mrs Jim McKenzie and Jesse Nankivell-Sandor.

Nick Brelis 6/24 Fourth Eleven v Bentleigh Round 2 2015/16

Brett Curran 6/36 Third Eleven v Indigos Round 12 2015/16

Eddie Rayner 6/71 Fifth Eleven v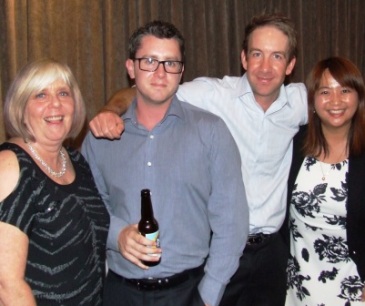 Sydenham Hillside Round 13 2015/16

Padrick Shelton 5/13 Sixth Eleven v Ascot Vale Round 15 2015/16

Daniel Phillips 5/16 Second Eleven v Aberfeldie Park Round 10 2015/16

At right: Smile, Eddie - you took six wickets!
L-R Sandra Thomas, Eddie Rayner, Ben Thomas & Tien Polonidis.

Vishal Mehta 5/33 Fourth Eleven v Burnley CYMS Round 1 2015/16

Brett Curran 5/38 Fourth Eleven v South Yarra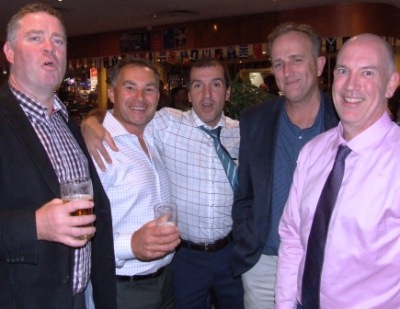 Round 8 2015/16

Chanaka Silva 5/43 First Eleven v St Andrews P/Vale Round 4 2015/16

At right: Great mates: L-R Norm Wright, Dean Jukic, Jim Polonidis, Brett Curran & Alan Harry.

Peter Smith 5/48 Fifth Eleven v Pascoe Vale Central Semi Final 2015/16

Dean Jukic 5/52 Second Eleven v St Andrews Pascoe Vale Round 6 2015/16

Maurice Virduzzo 5/74 Fifth Eleven v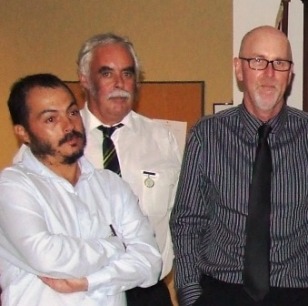 West Coburg Round 3 2015/16

Most Valuable Player Awards

Joint MVP First Eleven Nadeera Thuppahi 2015/16

Joint MVP First Eleven Chanaka Silva 2015/16

MVP Second Eleven Mark Gauci 2015/16

MVP Third Eleven Mark Gauci 2015/16

MVP Fourth Eleven Matthew Esmore 2015/16

MVP Fifth Eleven Danny Terzini 2015/16

MVP Sixth Eleven Shane Chalmers 2015/16

Above right: Stage fright? Looking somewhat startled on the stage are (L-R) Dan Terzini, Charlie Walker and Kevin Gardiner.





April 27, 2016

charlie's firewood