Darren "Spud" Nagle - Our first to 300 - Page 3
by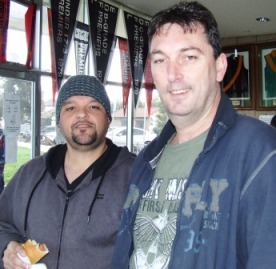 Our Spud's no dud!
Club legend Ian Denny spoke after the match, putting the magnitude of Spud's 300th game and his lifetime commitment to Moonee Valley CC into some sort of perspective.
He received a signed bottle of fine wine from his teammates in the Fourths, and a plaque from Vice President Simon Thornton which has named the Ormond Park clubrooms bar as the "300 Game Darren Nagle" bar into the future.

Marking the occasion: Life members (left) Sandro Capocchi
(left) and Jim McKenzie.
Fourths skipper Brett Curran also paid tribute to Spud's contribution – both on the day and throughout his career.
"To see so many of the Moonee Valley past and present players turn out was a testament to the affection, esteem and regard for Darren Nagle's contribution to the MVCC," Brett said.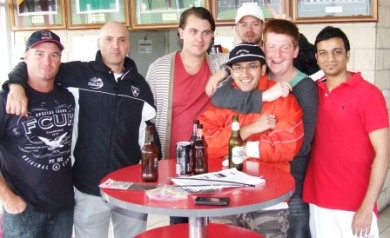 "A mark of the man was his ability to impose himself on the game. He won the toss and humbly refused an offer to open the bowling but when he eventually came on he bowled 6 sharp overs to take 4 for 15.
"His fielding was brilliant and enthusiastic. To top it off his batting display gave all a glimpse of his elegant class – a four off his first ball and then to 40 not out, steering us to victory with 5 fours and a huge six.

At right: Current players were on hand to mark Spud's milestone, including (from left) Sean O'Kane, Lou Raffaele, Jesse Nankivell-Sandor, Sunny Sharma (front), Matt Thomas, Bede Gannon and Sainath Tavate.
"It was an honor for all in the Mighty Fighting Fourths to play in the game and it was made even more special to have Spud's great mates Ian Denny and John Talone with us as well.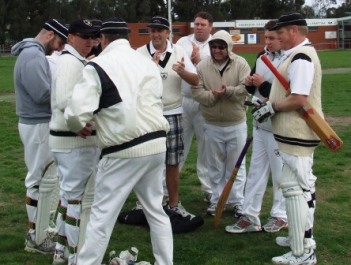 "The prospect of all three in our side for the season is a tantalising embarrassment of riches. Every MFF player rose to the occasion and played extremely well."


A huddle of Spud's fellow combatants savour the occasion before coming off the ground to celebrate the win with the rest of the Club: L-R: Steve Herbert, fellow unbeaten opener Dean Lawson, Ian Denny, a clapping skipper Brett Curran, Norm Wright, Paul Hobbs, Liam Curran and the great man Darren Nagle.




Below: Three great mates get together in front of the match scoreboard: L-R John Talone, Darren Nagle and Ian Denny.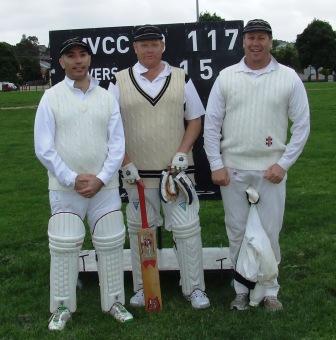 Below: Blasts from the past: Past players Peter Gardiner (left) and Tony Hicks were at Ormond Park to see Spud reach the milestone.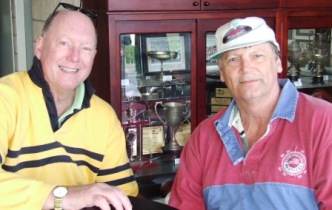 MORE PICTURES >>>>> CLICK HERE ...



November 2, 2011

charlie's firewood