Darren "Spud" Nagle - Our first to 300 - Page 2
by
First to 300 – our Valley legend Spud breaks new ground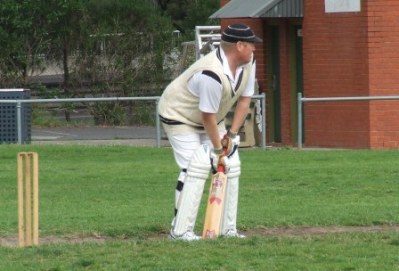 Moonee Valley Cricket Club legend Darren "Spud" Nagle was given a guard of honor when he ran on to the ground to play his 300th game – and didn't let us down when he unleashed a Man of the Match performance.


Past and present players, family, supporters and admirers were all on hand for the October 30 Sunday game, which fittingly was held at Moonee Valley's home ground Ormond Park.


Spud shared the achievement off-field with a large group of admirers – and his onfield teammates in our Fourth Eleven included fellow life members John Talone and Ian Denny.

Spud is the first Moonee Valley player to reach the exalted 300-game mark - while Ian is now on 284 and John on 256.

Spud (above) commands the crease against Greenvale in the confident style that has
netted him more than 5500 runs throughout his career.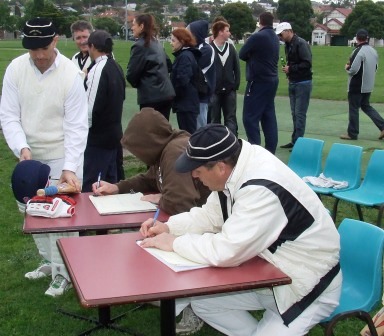 Spud ran through a guard of honor of his Fourth Eleven teammates and current and past players, and the clubrooms were decorated with a big banner put together by the Talone family.

Life members on hand to share Spud's achievement included Peter Gardiner, Warwick Nolan, Sandro Capocchi, Dan Terzini, Jim McKenzie, Bob Sciacchitano, Joe Ansaldo and Charlie Walker, while other notables from past playing ranks included Tony Gleeson, Daniel Phillips, Stephen Radford, Tony Hicks, Geoff Smith, Alan Thomas and Spud's brother Terry "Tex" Nagle.

Others to attend included Carlton Premier Cricket legend Gary Schickerling, revered local umpire Allan Taylor, Melbourne Cricket Club identity Garry Sturrock and Spud's junior coaching confidantes Ross Aitken, Lee Newman and Chris Bibby.

Team-mate Ian Denny (right) finalises the red ink in the scorebook against Spud's name, while waiting to cheer him off the ground are (from left) John Talone, Peter Golding, Danny Terzini, Victoria Thorneycroft, Nicole McLachlan and Bede Gannon.

The team for Spud's 300th game, in the North West Metropolitan Cricket Association's Musgrove Shield grade, was: Brett Curran (capt), Liam Curran, Steven Ball, Kevin Gardiner, Paul Hobbs, Dean Lawson, Steve Herbert, Norm Wright, Darren Nagle, John Talone, Ian Denny.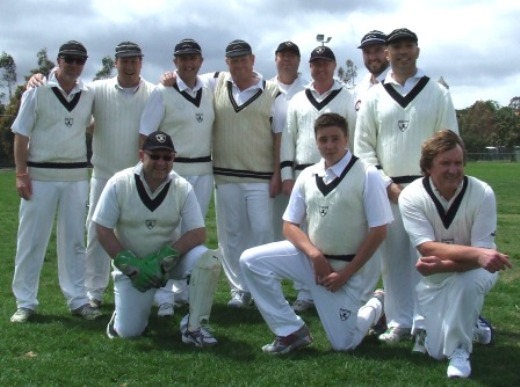 The team at right is L-R: Back - Kevin Gardiner, Ian Denny, Brett Curran, Darren Nagle, Norm Wright, Dean Lawson, Steve Herbert and John Talong. Front - Paul Hobbs, Liam Curran, Steven Ball.

A special thanks must go to Greenvale, which has struggled with its numbers in Musgrove Shield this year but made an undertaking to put a team on the field to ensure the milestone match went ahead.

Spud didn't disappoint with his onfield efforts - he got the first breakthrough of the match with a smart runout, then took 4/15 off six overs as we restricted Greenvale to 9/111 off its 34 overs. He then knocked up 40 not out as we passed the total without the loss of any wickets in just 16 overs.

The weather for the afternoon had been threatening - but not as threatening as Spud's determination to make his mark on the game. Appropriately, Spud was Man of the Match.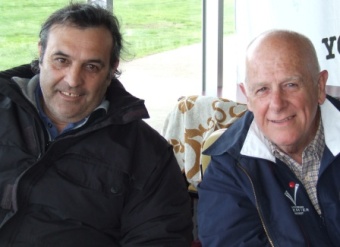 Spud's onfield and off-field records are imposing – he's an eight-time Premiership player – equal top of our list – and has accumulated more than 5500 runs (fifth highest of all time) and 409 wickets (third highest of all time). He is a five-times winner of the First Eleven bowling award, winner of the Second and Third Eleven batting awards, two-time member of the Moonee Valley Wisden Team of the Year and has been selected three times as a Moonee Valley Wisden Player of the Year.

Spud was a key driver to the formation of the Moonee Valley junior section in 1996/97 and has remained committed to the juniors ever since.

Spud is still putting back into the Club, as a coach of our Under 14 Black team and our Under 14 Co-ordinator, and we can expect to see him playing senior cricket with some of the youngsters he's coached in the next couple of years.

Two Schickas, two legends: Above - Moonee Valley life member Bob Sciacchitano (left) compares
notes with Gary Schickerling, a long-time secretary and president of Premier Club Carlton CC.

Off-field, Darren was Club President for 13 seasons through Moonee Valley's real glory years, running the Club in association with 14-season Secretary and close mate John "Odie" Talone.

Fittingly, it was Odie and his family, including Milo participant Luke, who prepared and wrote the banner which hung in our rooms to mark the milestone.

MORE Pictures and words - click HERE ....




MORE Pictures and words - click ....

November 1, 2011

charlie's firewood