NEWS

22/03/2011


Sendoff for Joel Wilford - 6pm this NOTE: IT'S NOW WEDNESDAY, (NOT Thursday) at the Union Hotel [more]

21/03/2011


Saturday, May 7 at the North Suburban Club [more]

11/03/2011


Chris O'Haire - a former Valley junior playing in the Fifths semi final. [more]

10/03/2011


March 25 & April 1 - see here for details [more]
Our Hopes washed away with the rain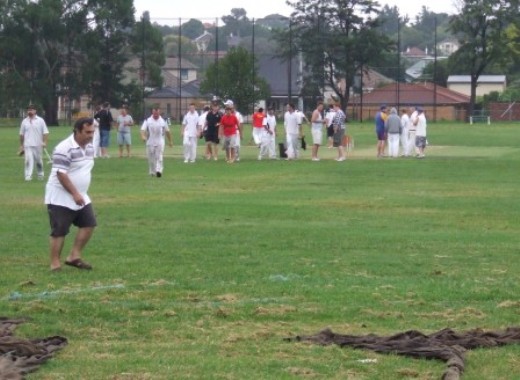 Moonee Valley's hopes were washed away with the rain on Sunday, March 13, when the weather halted the push by our Fifths for a Grand Final berth in C Turf.

After the rains came down with Moonee Valley having a vice-like grip on the game, endeavours by players and supporters to get the wicket back to a playable condition were to no avail. When the rain eased off more than 20 people were out on Ormond Park sopping up water, pushing it away from the pitch and laying grass clippings, but to no avail. When another late fall of rain came through, umpire Andrew Crump had no alternative but to abandon the match.

Because St Andrews had finished higher than Moonee Valley on the ladder, it went through to the Grand Final - even though we had it on the ropes at 4/78 chasing our 236.

The picture here shows Moonee Valley out on Ormond Park trying to get the pitch ready - with life
member Bob Sciacchitano and the sodden hessians in the foreground.

Our Thirds had a bad couple of overs in the B Turf semi final, going down fighting to St Francis. We had them on the ropes at 9/91 before they posted 159, then we were in all sorts of trouble before a rally by Geoff Smith and young Luke Malone gave us some hope. We were all out for 122.

And our Under 12 White team fell an agonising four runs short of Brunswick in their semi final.

It will be the first time Moonee Valley has not had a team in a grand final since 2001/02. Our Firsts were in a GF in 2002/03 in our first season in VTCA, then we had an incredible run of seven seasons when we won one or more junior flags each year, culminating in 2009/10 when we had a junior premiership and flags for our Firsts and Seconds.

But in 2010/11 it's not to be, even though the weather was the only thing that stopped our Fifths from going through.
---
*****
DATES TO WATCH FOR

****

Junior presentation nights are coming up on Friday, March 18 - Milo, Under 10 and Under 14 - and Friday, April 1 - Under 12 and Under 16. See the news item above for more details.

And our annual Senior Presentation Night is at major sponsor the North Suburban Club, on Saturday, May 7.
---
A big night for Moonee Valley's Most Valuable Player awards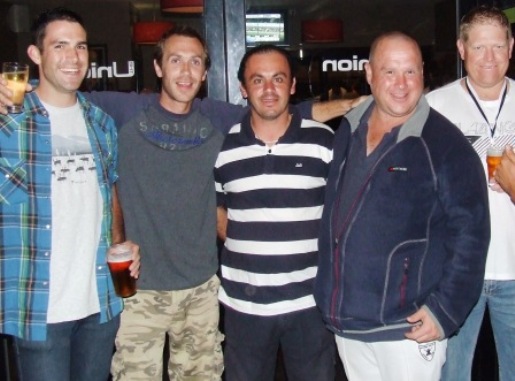 Moonee Valley held its Most Valuable Player awards night at Ascot Vale's Union Hotel on Sunday, March 13, with more than 45 players and supporters in attendance to cheer on some excellent performances.

Even the disappointment of missing out in two senior semi finals earlier in the day didn't dampen the enthusiasm and cameraderie of our Club.

Pictured here are L-R: Tom King, George Pearson, Mark Cini, Peter Smith
and Darren Nagle, who all played earlier in the day.

As well as the MVP medals, we also presented a range of achievement trophies, including games, wicket and runs milestones, centuries and five-for wicket hauls.

Our MVP winners are:

Firsts - Chris Stafford.
Seconds - Simon Thornton.
Thirds - Darren Nagle.
Fourths - Dean Lawson.
Fifths - Dean Jukic.
Sixths - Pat Taylor.
Women First Eleven - Tracy Armstrong.
Sevenths - John Brelis.
Eighths - Tim Ryan.
Ninths - Sunny Sharma.

***Watch this space for more photos and details of the night.

---
Main Club contact details:

Peter Golding - Club Secretary 0419 009 721
Charlie Walker - President 0409 237 543; 9370 1802
Kevin Gardiner - Junior Co-ordinator 0417 536 896

************************************************************************************************
For more contacts, see "Office bearers & Officials" under "Club News & Info" at the top of the page.
(email: - mooneev@club.cricketvictoria.com.au)
Our website: http://archive.mooneevalleycricket.com.au
---
The Moonee Valley Cricket Club is a section of the Moonee Valley Sporting Club .

Last updated: March 17, 2011

For more history on our Cricket Club, including Premiership match reports, click here
You are visitor #
78137
to this site
April 5, 2011

charlie's firewood