Sporty Jim's 300th game
by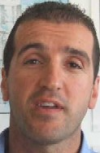 Sporty Jim's 300th game
Moonee Valley legend Jim Polonidis has become the seventh player in our history to play 300 games.

Teammates and long-time clubmates formed a guard of honor for Jim to take to the ground in the Seconds game on January 25 - fittingly on our own turf at Ormond Park.

The tributes to Jim's milestone on social media showed just how respected and revered he is around our club.

At right: Moonee Valley great Jim Polonidis runs onto the ground through a guard of honor of teammates and clubmates.

A former vice-president, Jim has been selfless in his commitment to Moonee Valley.

An accomplished player with bat and ball, Jim last season brought up 4000 runs for the Valley, and this season became just the fourth player to top 400 wickets.

He joins illustrious company with his 300 games – Darren Nagle, Ian Denny, Mark Gauci, Danny Terzini and Joe Ansaldo.

For a while he was jokingly known as Mr Ha – Jim's wife Tien played 46 games for the Valley, and in 2009/10 won the batting, bowling and fielding awards in our Women's First Eleven – and the MVP medal.

Jim's a three-time Premiership player – including a flag in the Firsts, and a five-time Wisden Cricketer of the Year.

He's won the Second Eleven bowling award the last four seasons in a row, and for good measure won the batting award as well in 2016/17.

At left: Teammates and clubmates gather with Jim in the rooms before the game. L-R: Back - Michael Ozbun, Mark Gauci, Danny Terzini and Tony Gleeson. Front - Daniel Phillips, Dean Lawson, Bob Sciacchitano, Sean O'Kane, Darren Nagle, Dean Jukic, Jim Polonidis, Geoff McKeown, Jesse Nankivell-Sandor, Stephen Ward, Joshua Norsetter and Jaykumar Patel.

He's been in our Moonee Valley Team of the Year four times – three as captain, and won the revered Lindsay Jones Best Clubman award in 2000/01 – is there anything that Jim hasn't done?

Congratulations to a great bloke. And the way Jim's going, 400 games is in his sights.
January 26, 2020

charlie's firewood