Front Page - up to January 28, 2020
by
Pete's Golden moment - he's 200-up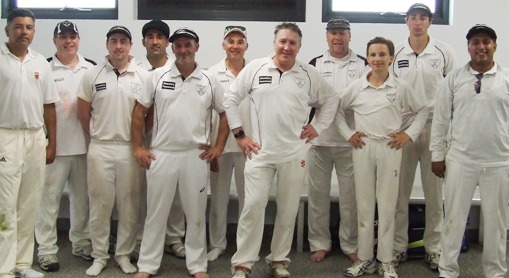 Above: Peter Golding and his milestone team: L-R Sunil Bhandari, Daniel Phillips, Matthew Esmore, Sohail Hussain, Domenic Gibaldi, Dean Jukic, Peter Golding, Ian Denny, Joshua Norsetter, Stephen Esmore and Sagar Bhatia.
Thirds captain Peter Golding has joined a select group at Moonee Valley, bringing up his 200th game on January 19.
Peter has been an integral part of Moonee Valley since 2007/08, when we lured him out of retirement with a call to junior parents for conscripts to bolster our one-day teams. Son Sam was playing juniors at the time, and Peter thought he might give it a go. He hasn't looked back.
Peter's one of our finest glovemen, having won our Wicketkeeper of the Year award four times since 2012/13.
He's also made a telling contribution off the field, as our treasurer for the past six years and as secretary for four years before that.
Peter's played everywhere from the First Eleven down, and is a two-time Premiership keeper – in the Seconds flags in 2009/10 and 2014/15.
He's a dour and gritty batsman, and has been known to offer advice to the opposition fielders and bowlers as they try in vain to blast him out. Peter's happy to play the waiting game at the crease, and has time and again frustrated the opposition as he accumulates a total against all odds.
Peter's 200th game will elevate him to Life Membership at the end of this season, and it was fitting that his milestone game was played with two revered Life Members – Ian Denny and Dean Jukic – in the team.
There's nothing much at Ormond Park that Pete doesn't know about – he's a regular down there with his morning walks with his two dogs, wearing his familiar bucket hat. If you want a pitch report on Saturday morning, phone Peter – he's invariably down there with the dogs, or has already had an inspection.
























Above left: Joshua Norsetter in the Under 16s.

Above right: Tomas Morrissy in the Under 14s

Our young Valley stars play in the reps

Three Moonee Valley juniors took to the field in the North West Metropolitan Cricket Association representative teams over January, and did us proud.
Joshua Norsetter, who's been starring in the Valley senior teams since he was Under 14 and has already accumulated more than 90 senior games, played in the Under 16s.
Tomas Morrissy, who has played two years in the Moonee Valley Under 16s even though he qualifies for a younger age group, represented the NWMCA in the Under 14s, where they made the finals playing against associations from around the State.
Tomas also has plenty of senior experience.
At right: Our Under 12 rep star Katherine Baker with her coach Joshua Gorry.
And Katherine Baker, now in her fourth season at Moonee Valley, showed her skill and ability in the Under 12 girls team. She was watched for most of her games by her Valley coach Joshua Gorry.
Congratulations to the three of you - the whole Moonee Valley Cricket Club is proud of your efforts.
Now it's back to the second half of the season for our three representatives, and they're sure to continue to play a leading role.



BAROOGA 2020 - WE CAME SECOND

Moonee Valley came second in the Barooga Over 35s turf tournament - in the seventh year we contested it. We were the reigning champions, but a costly loss in the first game in the January 6-9 tournament proved costly.
Thanks again to Daniel Phillips for putting together the team and doing all the organising.
Our first game was under lights at the Barooga No. 1 ground, and we let Castle Hill off the hook to make 217 off their 40 overs after having them 5/53. In reply we made 168, on the back of Glen Courts' 75.
We had to fight hard in Game 2, hauling in the 118 target against Grace Landscapes six wickets down but with 12 overs in hand.
In our third and final matchg we let Yarrawonga-Mulwala get away to 182 off their 30 overs, but reeled it in with ease - our top four batsmen, Mark Gauci, Adam Chapple, Tony Gleeson and Sean O'Kane all reached the retirement mark of 30, and we didn't lose our first wicket until we got to 155.
At right: The Moonee Valley team which accounted for Yarrawonga-Mulwala on Day 3. L-R: Back - Daniel Phillips, Craig Pridham, Mark Gauci, Adam Chapple, Sean O'Kane, Brendan Rhodes, Nate Wolland and Tony Gleeson. Front - scorer Charlie Walker, Allan Cumming, Michael Cumbo and Heath Webb-Johnson.
For more pictures from the tournament, click HERE



Half century for our Mickster at Barooga

Moonee Valley's much-loved Michael "Mickster" Cumbo reached a unique milestone when he turned out for our Over 35 team at the Barooga Masters Tournament on January 8.
Mickster earned a record that only one other player in our club's 49-year history has been able to achieve - the legendary Joe Ansaldo.
They are the only two players to notch up 50 ducks for Moonee Valley.
At left: Michael "Mickster" Cumbo holds up a five and a zero to signify 50 - the number of ducks he's now made for Moonee Valley.
Mickster looked destined to avoid the dreaded half-century when he cracked what looked a certain four, only for an opposition slips player to throw up a hand and see it stick.
Mick took the "acknowledgment" of his milestone with his usual good grace.
While he's now joined Joey on 50 ducks, he's got him well covered for runs. Mickster has a century among his 2500 runs, while Joe never quite reached 50 with the bat in his 1495 career runs.
The "milestone" game was Mick's 248th at Moonee Valley. He's playing his cricket this season at Wyndham Vale because it's close to home, but still maintains his ties to Moonee Valley, being part of the team for Barooga.
Next closest to the dreaded 50 ducks is Allan Cumming, who started this season on 40 and added one at Barooga. Then comes Shaun Rayment with 39 at the start of this season, and Danny Terzini with 36.
Mickster - you're a gem!


Moonee Valley - get on board

Moonee Valley Cricket Club has seven senior teams and five junior teams for the 2019/20 season, and can still find places for new players.
If YOU want to be part of it, get on board now!
Coach Tony Gleeson is keen for players to be challenged, so there are plenty of opportunities for more new players to come on board and push for spots.
So anyone keen to come down to - or come back to - Moonee Valley should phone Tony Gleeson on 0427 043 891, Vice President Mark Gauci on 0457 778 335 or President Charlie Walker on 0411 705 381 . You can also email us at mooneev@club.cricketvictoria.com.au



Main Club contact details:

* Charlie Walker - President/Secretary 0411 705 381; 9370 1802
* Peter Golding - Treasurer 0419 009 721
* Mark Gauci - Vice President 0457 778 335
* Peter Pickering - Junior Co-ordinator 0414 800 145 pjp@vicbar.com.au
* Channa DeSilva - Membership Co-ordinator 0402 833 592


Email: mooneev@club.cricketvictoria.com.au


For more contacts, see " Office bearers & Officials " under "Club News & Info" at the top of the page

Last updated : January 21, 2020.
For more of our history, including our Premierships, click HERE


---
Visits: 293,549

January 28, 2020

charlie's firewood