Seconds Premiership 2014/15
by Charlie Walker & Peter Golding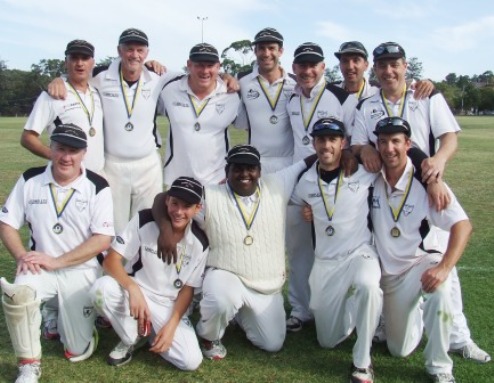 Seconds Best!

Moonee Valley Seconds had been strong all year, and had gone through the season undefeated. We faced down and survived a bit of an acid test in the semi final, and now the day – or days – of reckoning had come.

Above: The Premiership team! From left: Back - Lou Raffaele, Rex Bennett, Simon Thornton, Tom King, Adam Patchell, Jim Polonidis and Daniel Phillips. Front - Peter Golding, Jack Newman, Channa DeSilva, Michael Ozbun and Ben Thomas.



With a home grand final at Ormond Park – to the surprise of a lot of us, but confidently predicted by a few wise heads – we were hoping that knowing the vagaries of curator Spider Beel's pitches would be to our advantage. With the VTCA grand finals being played over four days, we knew that we would have to be at our best for extended periods to beat Maribyrnong Park/St Marys.

Above: Umpire Brian Lazzaro watches intently as Simon Thornton bowls. Peter Golding's behind the stumps, with Jack Newman at cover and Ben Thomas at slip.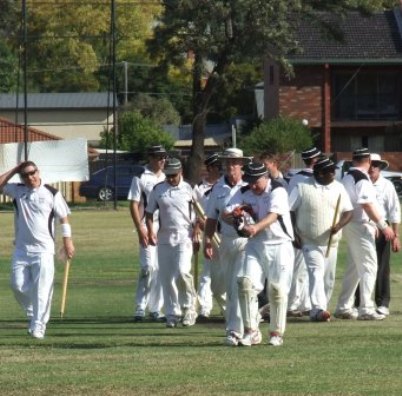 In addition, with past Second XI premiership captain Lou Raffaele and Second XI premiership players Jim Polonidis, Ben Thomas and Peter Golding in the team, we knew how hard four days of Grand Final cricket could be.

Skipper Jim Polonidis won the toss and elected to bat. The decision to bat was correct – the execution of the plan wasn't.

We started brightly enough, with Daniel Phillips and Ben Thomas taking us to 28 without too many risks. Then in the twinkle of an eye we went from 0/28 to 4/28, and soon after to 5/32. All this was accompanied by freely-provided advice from the enthusiastic players from Maribyrnong Park.

Above right: Daniel Phillips (left) finally has his Premiership stump. Coming off with (from left) Tom King, Jim Polonidis, Ben Thomas, Rex Bennett, Peter Golding, Jack Newman, Channa DeSilva, Simon Thornton and umpire Brian Lazzaro.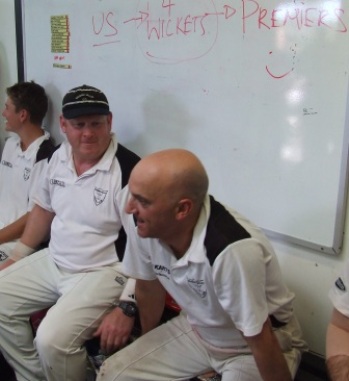 Our innings was in tatters by then, as our top order had been skewered – not by any problems with the pitch, nor by a lethal spell of bowling. The leather-flingers were probing and accurate, but they got plenty of assistance from our bats in handing over their wickets.

At left: The whiteboard message from the tea break on the final day was crystal clear: We carried it out, and we won! L-R Jack Newman, Simon Thornton and Lou Raffaele.

Our middle and lower order batsmen tried to put down the anchor and rebuild the innings, but Maribyrnong pressed home their advantage and we were out for a paltry 73 in 55 overs.

Our better batsmen were Jack Newman and Peter Golding, who toughed out 12 overs for a 14-run partnership, but it was still not enough. Peter batted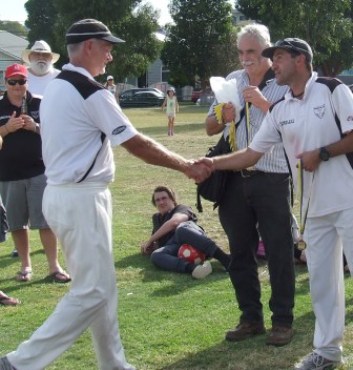 for 33 overs of mind-numbing boredom for the opposition – his plan was to play until it rained, and hope it rained for four days. But this plan was thwarted by the stubborn appearance of the sun against the forecast, and a brilliant one handed catch off a rank half-tracker.

At right: Rex Bennett steps forward to receive his medal from skipper Jim Polonidis, while president Charlie Walker hands over the silverware.

Adam Patchell also batted well for quite a time, weathering a series of short balls designed to take out the Valley's best bowler – or at least that is what Peter overheard at the non-striker's end.

Moonee Valley was staring down the barrel. A meagre 73 runs after winning the toss and electing to bat on our home wicket, with more than three days to go for Maribyrnong Park to build an impregnable lead.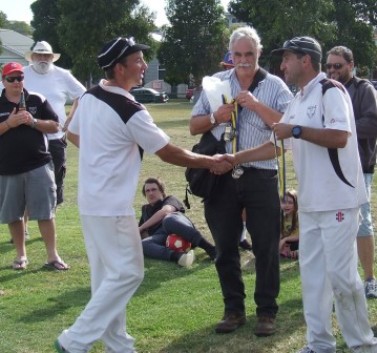 After a quick break for the change of innings, we were in the field.

At left: Ben Thomas steps up to receive his medallion from captain Jim Polonidis. President Charlie Walker has a handful of them.

There was a crucial 25 overs to finish of Day 1, and it's a period where some commentators say we dealt ourselves back into the game. Surely Maribyrnong Park would have wanted to press home the advantage and lead after the first day, but we restricted them to 2/42 by stumps. Just 115 runs in 80 overs on the first day! You can understand Valley putting down the anchor after our horror start, but for Maribyrnong to sit back and play out dot balls was hard to fathom.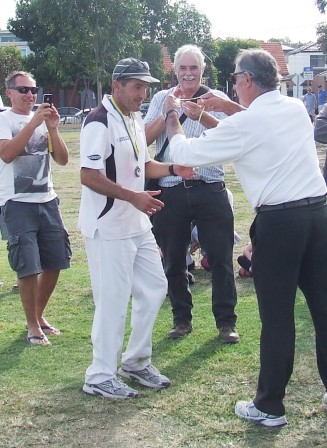 Moonee Valley opened the bowling with Adam Patchell and surprised everyone by using Under 16s all-rounder Jack Newman, and Jack didn't let us down – nailing Marby skipper Chris Grant LBW for one with his first ball of the Grand Final, then getting the No. 3 for eight with a sharp catch to Ben Thomas off his third over. Jack's spell of six overs netted 2/2, with four maidens. He was just too quick for the Marby top order!

At right: Captain Jim Polondis receives his Man of the Match medal from umpire Brian Lazzaro. Picture: MURRAY WALKER

We had them 2/13 early, and they meandered to 42 – with their other opener incredibly still on zero at the end of the 25 overs. Did Maribyrnong Park go conservative too early? Did putting up the shutters on Day 1, with three days still to go, play the Valleys back into the game? They surely hadn't learnt anything from Peter's marathon effort!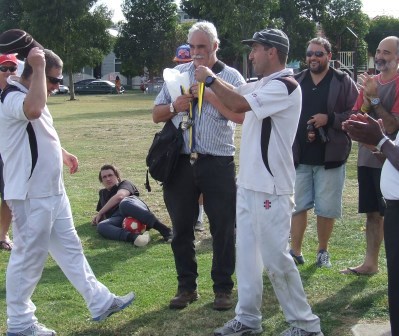 Maribyrnong Park's bats were a bit more positive to open Day 2, but still weren't setting the match alight. Their opener finally got off the mark, then was out for 16 when Patch induced an edge through to keeper Golding – ironically when Marby matched our first innings total of 73. They seemed reluctant to pass us – they played out three maidens then lost a wicket after joining us on 73.

At left: Daniel Phillips walks forward to receive his premiership Medallion from captain Jim Polonidis, watched by the Moonee Valley faithful.

They lost 3 for 4 in the middle order, consolidated and then lost another 3 for 13 before finishing their innings on 166 – what many people would have considered a match-winning lead of 93. They had absorbed a further 36 overs on Day 2, which left Moonee Valley a make-or-break 44 overs left in the day.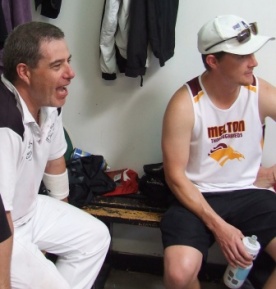 At right: It's just sinking in: Daniel Phillips (left) with Craig Pridham, who knows the feeling from 2009/10.

Our bowling across the innings had been tight and disciplined, with Adam Patchell's 4/39 off 15 overs the pick of the attack. Some of Patch's swing and cut was unplayable on day 2 – the Good Patch turned up to play in the Grand Final! Jack Newman's two crucial Day 1 wickets bankrolled his 3/39 off 15, while Peter Golding took three catches behind the stumps. The skipper chipped in with one wicket and Rex Bennett picked up his customary 'cheap' two wickets (as forecast by the VTCA in its GF preview).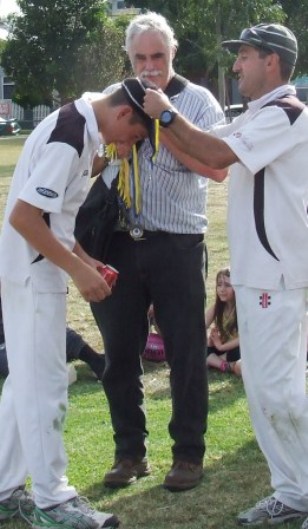 Super sub Michael Ozbun proved he's a hard man to keep out of the action, taking a smart catch.

At left: Our young gun: Jack Newman receives his Premiership medal from captain Jim Polonidis, while President Charlie Walker looks on.

Maybe the Valley players were inspired by seeing their teammates from the Sixths secure their Premiership on the eastern oval mid-afternoon, and determined not to be shown up? Who knows. But the first-innings deficit of 95 runs didn't seem to be too daunting to our openers Daniel Phillips and Ben Thomas, and they set off resolutely to rein in the lead.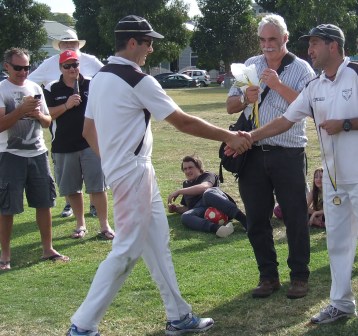 This was in marked contrast to the cautious approach of Marby in its first innings. With the Sixths having their medals around their necks, their players and all the spectators turned their attention to cheering on our Seconds, and perhaps the increased support spurred the Seconds on.

At right: A fitting reward for long and dedicated service: The Valley faithful applaud Tom King as he comes forward to get his Premiership Medal from Jim Polonidis.

We lost Daniel Phillips in the 18th over with the score on 32, and Lou Raffaele in the 23rd over with the score on 51. That brought Channa DeSilva to the crease to join Ben Thomas, in what was to become a match-defining partnership.

Ben was on 26 at the time and he and Channa set about taking it to the Marby bowlers, but only after Channa skied a ball and was dropped on zero by the schoolboy keeper who ran much further than most of our team could ever do, only to fail in the dive!



The umpires pulled stumps four overs early because of bad light, with Channa twice getting hit when he was unable to see the ball in the red bricks of the flats at the southern end – mind you, on Mad Monday he tried to claim he had no trouble seeing the ball that evening. By then we were 31 runs ahead, with Ben on 43 and Channa bringing up his half century to go to bed on 58.

Above: The players are ecstatic at the fall of Maribyrnong Park's final wicket, as umpire Lucky Mendis walks down the pitch.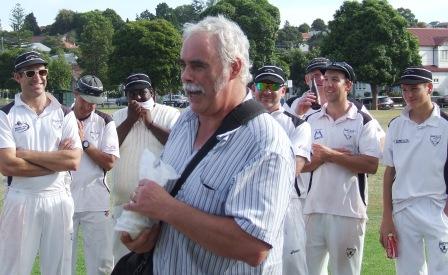 Maribyrnong Park must have spent the week cussing about the one that was slipping away – they pantsed us on the first innings, blew their chance and ended the half-way mark of the Grand Final with Moonee Valley in effect 2/31 with a ball that was 40 overs old. Game on – or better – for us!

Above: President Charlie Walker speaks to Maribyrnong Park on behalf of Moonee Valley, while our players wait for the medal presentation.

The second weekend dawned nice and warm, which promised to have the pitch drying and cracking as the days wore on.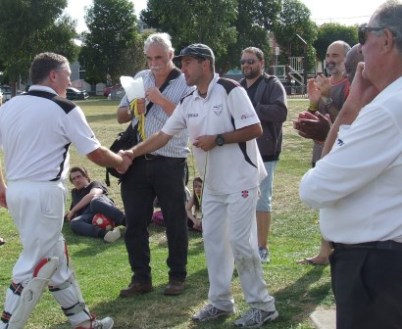 Ben Thomas didn't add to his overnight score and we were immediately 3/132, after what had the hallmarks of a game-breaking 81-run partnership. Tom King came and went quickly – unable to pick out the Marby keeper with a skier, he picked on someone who didn't have to move.

At left: Well kept, young man! Peter Golding is still in his keeper's pads as he walks up to receive his Premiership Medallion from captain Jim Polonidis.

Channa was starting to hit out, hitting three fours in an over off the No. 2 bowler – who also sent a ball high and wide which raced to the boundary for four byes.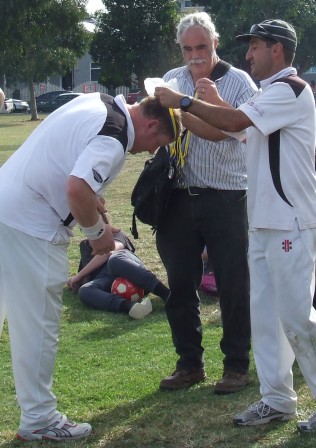 Channa also looked to be losing concentration, and so it proved when he was out two overs later, falling 16 runs short of what would have been a deserved century. We were then five wickets down, with a lead of 73.

At right: Well done, VP! Simon Thornton gets his premiership reward from skipper Jim Polonidis, watched by Prez Charlie Walker.

Skipper Jim Polonidis had come to the crease when Tom King departed, and had put on just two runs while Channa helped himself to 18. With Channa's departure, 15yo Jack Newman strode to the middle.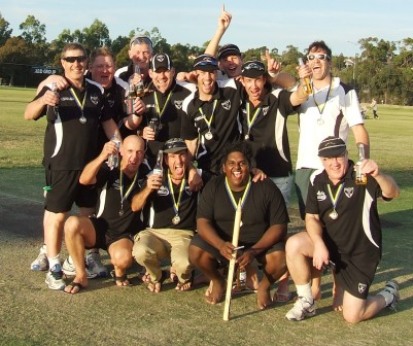 Jack and Jim set about consolidating the innings, and Jack looked well in control before he inexplicably failed to play a shot to a straight ball and was sent on his way for 32. Jim had added just 11 runs in the partnership of 46, but Moonee Valley was building, building. Jack claimed on Mad Monday that the ball had turned viciously from the off ….and we know he was on Coca-Cola.

At left: Hallowed ground: The victorious team assembles on the pitch where they won the flag. L-R: Back - Daniel Phillips, Simon Thornton, Rex Bennett, Adam Patchell, Michael Ozbun, Jack Newman, Ben Thomas and Tom King. Front - Lou Raffaele, Jim Polonidis, Channa DeSilva and Peter Golding.

Peter Golding netted a thoughtful and considered 20 runs in a 45-run partnership, deciding that hanging around was not going to work this time, and our lead was 164 when he departed. Coach Rex Bennett came in and helped push the score on to 327 – a lead of 234 – before Jim was out for a magnificent captain's knock of 81.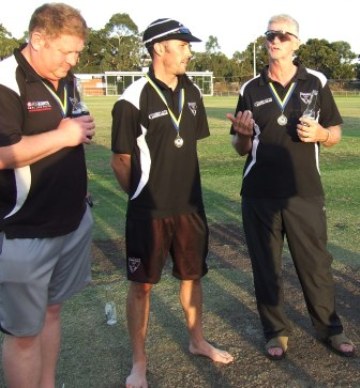 It was the game-breaker. Jim also had to withstand a rib high beamer from the same bowler that targeted Patch with short balls in the first innings, and we were starting to see a pattern.

At right: A reflection: Coach Rex Bennett speaks to the gathering on the pitch, as Simon Thornton (left) and Michael Ozbun listen on.

Adam Patchell came and went, Simon Thornton came and stayed and Rex compiled 34no before Jim put Maribyrnong Park out of its misery by declaring at 9/343 – a lead of 250. We had batted an incredible 114 overs for the loss of nine wickets.

Rex was particularly pleased with his finishing shot – a six into the bus shelter on Pattison St, where the catch was claimed five metres over the boundary by the Marby fielder. Fortunately, umpire Lucky Mendis was having none of that and we entered the change rooms on a high.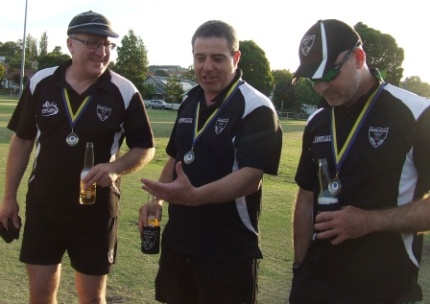 The ball was definitely in Moonee Valley's court – a big lead, six overs at them before stumps, then 80 overs on the final day.

At left: Comrades in arms, on the pitch where it all happened: L-R Peter Golding, Daniel Phillips and Adam Patchell.

The season's statistical record favored us – only one team had scored more than 200 against us all year – East Keilor's 211 in a drawn game. We proved we had the bowling firepower to blast teams out for a low score – and we had the luxury of 250 runs to defend. And the prospect of Maribyrnong Park lasting 86 overs looked bleak – for them. They ended Day 3 on 0/11 and perhaps this was our worst spell of the match.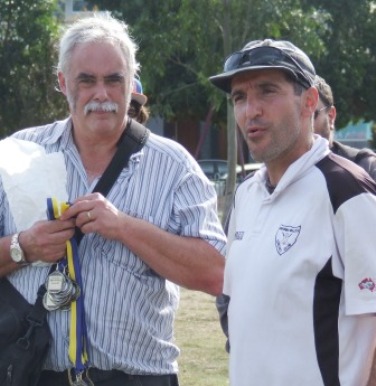 Batting out the 80 overs on Day 4 would have secured the Premiership for Maribyrnong Park, courtesy of their first innings win. So would have running down our 250-run lead.

At right: The winning captain speaks, and everyone, including President Charlie Walker, listens. Wise and humble words from skipper Jim Polonidis.

We had intelligence that they doubted their own ability to last the day, so for Marby it was go for broke and go for the runs. And that's the way they started the final day.

The slow opener, Wilson Fisher was twice dropped in slip off Jack Newman. Marby added 10 to their overnight score before Patch cleaned up the captain, bowled by an absolute demon of a ball that swung in late and straightened, before taking the inside edge onto the stumps.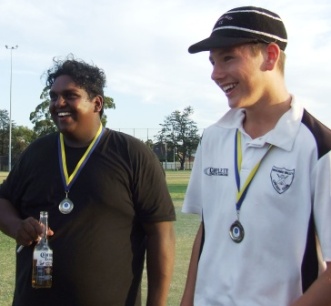 They pushed on for the runs, and reached 99 at drinks with the Marby import, Jakobus Liebenberg, who had played with hard hands and lots of luck, on 53. However, immediately after drinks he was superbly bowled off his pads by 'cheap' Rex ("there's always a wicket straight after drinks", sang Channa and Ben from slips).

At left: Our young guns: And don't they love it! Channa DeSilva and Jack Newman with their Premiership medals.

At this point Simon Thornton was bowling brilliantly and without luck from one end, but the skipper couldn't wait to get to the bowling crease once he saw the Marby bowler who beamed him the day before.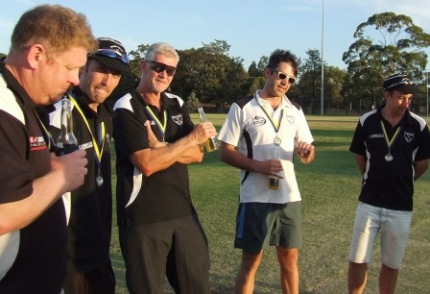 With helpful hints to the batsmen from Channa on gum chewing and advice also stressing the importance of getting your eye in before attempting to go aerial, Jim quickly knocked off Maulden and Bingley to aerial shots. Jim may have even managed a small send-off to compensate for his ribs.

At right: Tom King knows about patience, as he's waited since 1996 for this moment. As he speaks, listening in are (L-R) Simon Thornton, Michael Ozbun, Rex Bennett and Ben Thomas.

Soon after Simon got his man, with Fisher learning that you can only snick the ball into slips so many times without perishing – it was third time unlucky for him as Ben Thomas grasped the chance. Ben may have considered pointing his new-found catching ability to Wilson, but he was too professional for that – as he told us on Mad Monday.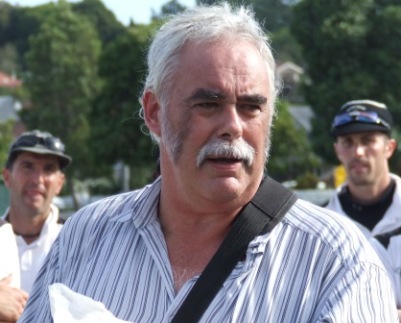 Marby lurched to 6/119 in a twinkle as we broke them open, with an inspired spell from skipper Polonidis being finished off by getting Warrener with a misplaced defensive prod to a half-tracker.

At left: President Charlie Walker congratulates the team, watched intently by skipper Jim Polonidis (left) and 12th man Michael Ozbun.

With a five-wicket collapse for the addition of just 20 runs, the end was nigh. Rex Bennett took two further wickets, and Jack Newman and Adam Patchell chimed in with one each to end the resistance, with Maribyrnong Park/St Marys falling 109 runs short of its target.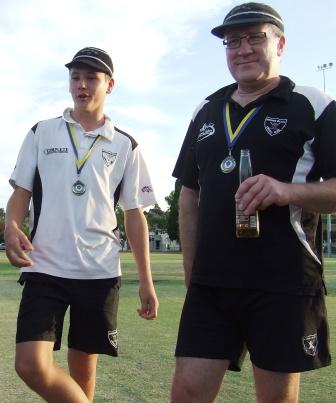 Jack's ball after tea to remove the Marby opening bowler ("there's always a wicket straight after drinks", sang Channa and Ben from slips) was a beauty and straight out of the Dennis Lillee school of bowling. He beat him with pace early in the over, then bounced him and finally bowled a wide slow half tracker, which Furneaux obliged by hitting straight to the skipper at point.

At right: Youth and experience: Jack Newman and Peter Golding out on the pitch to soak up the atmosphere of what they'd just done.

Fittingly, the final wicket was a sharp catch to keeper Golding off the wily Bennett.

It was a great credit to Moonee Valley, after we plumbed the depths on Day 1 with an inadequate 73 in our first dig. It showed the benefits of the four-day Grand Finals played in the VTCA, as our players dug deep and turned a heavy first-innings loss into a reverse outright and a Premiership.

It was also a credit to the team put together by Jim Polonidis and the mix of players which was so crucial to our success, throughout the season and in the ultimate game.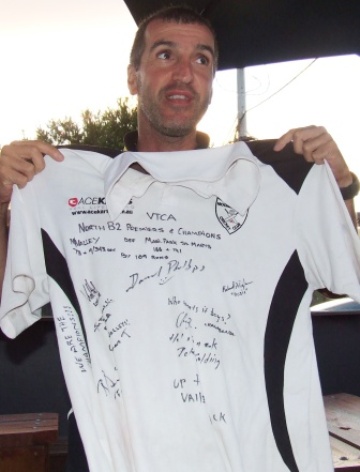 * Daniel Phillips did the hard yards for many years at Moonee Valley, retiring for several seasons after falling short in a semi in 2008/09 – the season before our double flags. Got his reward this time in his 136th game for the club in 20 years!

At left: Skipper Jim Polonidis with a club shirt signed by the victorious players.

* Ben Thomas now has two Premiership medals following on from 2009/10 – a crucial stabilising presence at the top of the order and a handy slips fielder – just ask Wilson!

* The presence of former coach Lou Raffaele in the team adds depth and experience and great strategic advice – especially to nervous opposition batsmen.

* Channa DeSilva is mature beyond his years, and was identified by the VTCA as our key bat. After a first-innings stumble, he took the game to Marby and set up the win. Channa's a key voice in the field, although he lost his voice for a while until he announced to everyone in Moonee Valley, just before the end of the Marby innings "I'm back, I'm back, I'm back…..I've gone again".

* Tom King has toiled for Moonee Valley without success since starting in our inaugural junior year in 1996. The Medal was a fitting reward for a loyal and committed player.

* The precociousness of youth – 15yo Jack Newman is up to every challenge with bat and ball, and is also sharp in the field.

* A third Valley premiership for skipper and Life Member Jim Polonidis, who had a couple of game-breaking moments – his 81 with the bat and then his three wickets in the second innings.

* Premiership No. 2 for Club Treasurer Peter Golding, who never puts a foot wrong behind the stumps and is stubborn, boring and unflustered with the bat.

* "Cheap" Rex Bennett, the ultimate professional just keeps on season after season. He mesmerised the umpires as much as the opposition bats with his immaculate line and also kept to the pre-game predictions of the VTCA.

* Adam Patchell put in another lion-hearted performance with the ball in the moments that mattered. He finished with 39 wickets for the season.

* Simon Thornton – the VP is a VIP when he has the ball in hand. He tied up and frustrated the Marby bats for long periods, then got the vital wicket of their opener in the middle of the quick wickets after drinks on day 4 in the second dig.

* Michael Ozbun – how lucky are we to be able to use the best fielder in the Club as 12th man? Took an important catch, and continually applied pressure in the field.

And thanks to Fifths captain and Life Member Danny Terzini, for spending most of the four days at the scorer's table.

Thanks also to Murray Walker and Phill King for these excellent photos of the celebrations.

*******To see some Mad Monday photos, click HERE


March 26, 2015

charlie's firewood