---
SECONDS BEST - AND THAT'S EXACTLY WHAT WE MEAN!

Champions and Premiers - that's the mantle for Moonee Valley's Second Eleven from season 2014/15.

After going through the regular season undefeated, the team skippered by Jim Polonidis had to dig deep in both finals - withstanding a late charge from Flemington in the semi, and then turning a heavy first innings loss against Maribyrnong Park/St Marys in the Grand Final into a reverse outright and a Premiership.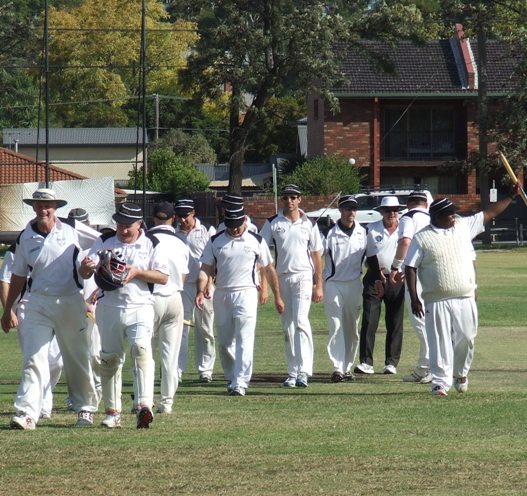 It was Seconds Best - and certainly not second-best!

It's a credit to the guys that they managed such a herculean turnaround across the four days of the VTCA North B2 Grand Final, played at home at Ormond Park on March 14/15 and 21/22. From 73 all out in the first dig to 9/343 declared in the second, the Valley Boys showed what tough cricket is all about.

When Maribyrnong's last wicket fell around 5pm on the final day, caught keeper Peter Golding off the bowling of coach Rex Bennett, the Valley joy was unrestrained.

The players on the field embraced, and the big contingent of Valley supporters on the boundary also leapt with joy and emotion. It's a Grand Old Flag.

Above right: Matchwinning batsman Channa DeSilva waves a stump to the crowd, as the triumphant team comes off with umpire Brian Lazzaro, led by coach Rex Bennett and keeper Peter Golding on the left.

*****For more photos and a match report from the Premiership, CLICK

HERE

.

Jim Polonidis gets the Premiership plaque - click

HERE

March 23, 2015

charlie's firewood