Premiership 2008/09 Under 14 D
by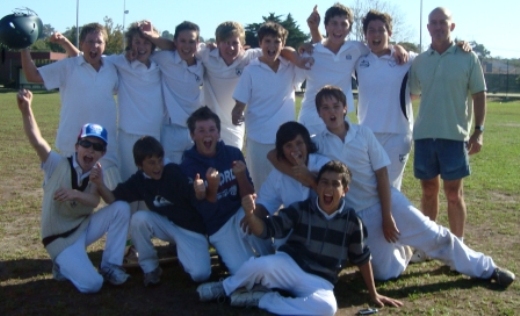 Pictured above is the winning team: L-R: Back - Nick Brelis, Robert Janes, Colin Watson, Brendan Dowd, Nathan Koulouris,
Matthew Digiovine, Adrian Rotunno and coach Glenn Perussich. Front - Nick Seers, Lachlan Perussich, Alex Coote,
Andrew Muratore, James Saragias and Mitchell Evans.
Cool under pressure: 14s win the flag in a thriller
The Moonee Valley White team finished second on the 14D ladder after a terrific 2008/09 season - only losing 2 games.
The semi final was a heart stopper that the Valleys won by 1 run, when Alex Coote bowled Airport West's last batsman. Alex took 4 wickets in the semi, including a screamer of a catch that would have gone for 4.
We looked gone when Airport West needed about half a dozen runs with four wickets in hand – but the Valley players refused to give in, and it was APW that crumbled. It was a fantastic effort by our boys. Mitchell Evans top scored with 40 runs.
We played Taylors Lakes in the March 14 and 15 Grand Final, They finished on top, and went into the game as favorites. Moonee Valley had other ideas.
We bowled first, on a day that finished early due to heavy rain. All the boys bowled well, and fielded well, in poor conditions which continued from Saturday into Sunday.
Colin Watson was particularly good with 2/33 from 11 overs, and 3 catches.
Taylors Lakes was 8/174 after its 50 overs, which carried over into Sunday due to the rain. That meant the reserve day on the following Saturday was likely to come into play – and it did.
We finished the Sunday at 3/70 after 28 overs, and returned the next Saturday to play out the match.
The task set for us was 22 overs to make 105, at just under 5 runs per over.
The boys all batted well, continually running hard between the wickets and pressuring the field.
We didn't have any batting collapses, but we were losing wickets as we went along.
With 2 overs to go we were 9 wickets down. Matty Digiovine and Nick Brelis were in.
At 10 balls to go we needed 10 runs, and our boys were determined to hold on to their wickets.
At the beginning of the last over we needed 3 runs.


The over went 1, dot, 1, dot, then Matty Digiovine whacked a 4 over midwicket – it was almost a 6. It was a thrilling end to a great game, and while Taylors Lakes had been top team all year we put the performance together when it counted.
Our earlier match against them had not been a true indication of the teams, as Moonee Valley had gone into it a couple of players short.
Andrew Muratore top scored with 35.
Brendan Dowd and Colin Watson put together an important partnership that really kept us in the game, and the pressure they exerted had the fielding side rattled. The fielders never really recovered, and so Moonee Valley went through to win a thriller nine wickets down and with just two balls to go.
The boys anxious on the sidelines then ran on to celebrate with their teammates - above.

April 1, 2009

charlie's firewood