Premiership 2007/08 Under 12 G
by
WHO WOULD HAVE THOUGHT?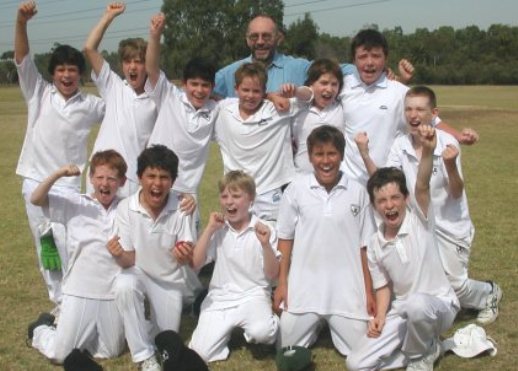 Coach David Carew with his Premiership-winning Under 12 Gold team. L-R: Back - Tariq Gerardi, John Sorrentino, James Krotsis, Alex Gorham, Jim Millman, Geordi Ryan and Liam Van Ingen. Front - Tom White, James Saragias, Alastair Sheils, Aidan Carew and Nick Seers.

Who would have expected a scratch team to come through for a great Grand Final Win?
Moonee Valley Under 12 Gold for 2008 consisted of players who could not play in the Saturday teams, some players in their second year at the age level, some of last year's under 10s, some new starters, and finally two players who came along late in the season. Early in the year, we struggled to field a team, let alone put together a win. We didn't even have a coach.
Come finals time, and Valley had finished a creditable fourth, but had not beaten a team placed higher on the ladder. Some good signs were showing, however. Some of the team had started putting some runs together.
Come finals time, it's do or die. The quarter final was our first game at Moonee Ponds Central School.

Welcome to byes, sixes, and no room for error. St Mary's batted first, and with one score of 26, 26 byes, and 32 no balls in a score of 7/152, things looked grim. Although St Mary's bowled tightly, and avoided the byes trap, some excellent running saw Alex Gorham and Aidan Carew make 25 for the first time ever, and James Saragias only missing because we ran out of score to chase. INTO THE SEMI!!
The Semi final was looking grim, fourth against first.

Again Valley Gold rose to the occasion, this time with the ball. Excellent fielding saw 2 sharp run outs, 3 very sharp catches, and straight bowling yielded 3 clean bowled and a plumb LBW. Strathmore was on the ropes, all out for 91 off only 19 overs. The batting performance followed on from the previous week. This time James Saragias made his 25, Aidan Carew fell short at 19 run out, and 5 others got a start. 3 players had not taken the crease when the game was over. 4/94 off 20 overs, and INTO THE GRAND FINAL.
The players who did not bat on the day were promised a good outing for the grand Final, win or lose.
In the other half of the draw, third placed West Coburg finished off second placed Kensington 7/126 to 8/123 to book their place in the Grand Final.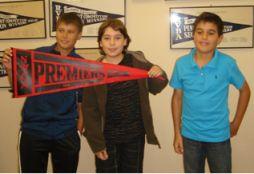 Grand final day saw Moonee Valley Gold walk up to the pitch in a fever of excitement at making the game; the coach (David Carew) was stressing out on 3 cups of coffee and not knowing what was going to happen. Somehow, in the entire fixture we had never played West Coburg!

THE BIG DAY

The key strategy for the Grand Final was not to occupy the crease for no score. Every player went out to bat with instructions to bat aggressively, like there was no tomorrow. For this season, that was exactly where we were.

With the flag: From left - Aidan Carew, Jim Millman and James Saragias.
The first blow of the game was the toss. West Coburg won, and elected to bowl on a ground slowed by heavy dewfall overnight. Undeterred, James Saragias and Alex Gorham opened in fine style, and even though the ball was stopping short of the boundary, plundered the bowling and ran byes to take 25 runs off the first 4 overs, before James was run out attempting another daring dash on 14 in the fifth over.
Alex then shared partnerships of 6 with Alastair Sheils (run out 2) and 4 with Jim Millman (caught 3), before retiring on 9 to make room for his team mates. James Krotsis batted with Jim, then Nick Seers (run out 0), making 5 runs off his bat in 5 overs full of no balls, before making way for Tariq Gerardi and Tom White and carrying his bat for the day.
Tariq attacked the bowling from the start, making a quick fire 8 off the bat and a partnership of 14 before again we had a run out, Tariq out for 8. Tom retired at 3, and was followed by Liam Van Ingen (retired 5), John Sorrentino (retired 3) and Geordi Ryan (retired 4). At the end of over 23, Valley were 5/89, lacking a bit in the total scoring, but all bar one had batted, mostly to as high a score as their average, but much faster.
This left Aidan Carew to come in and bat the last 5 overs, 3 with Geordi Ryan and the last two with Alex Gorham returning from retirement. Reserving a form batsman to the last turned out well, with Aidan making 10 off 5 overs, and Alex adding 6 more in 2 overs, to add 29 runs off 5 and set up a competitive score of 5/118.
How the coach was lamenting the loss of the toss. An easy 20 runs left on the ground due to damp grass, and now the moisture was all gone!
After a quick break, it was on to the field for the West Coburg innings. A deliberate coaching decision was made to mix up the bowling and keep some of our strike bowlers for late in the game, before everyone had bowled their minimum and it was free choice.
James Saragias and Alex Gorham (0/8 off 2)opened the bowling in their usual style, James with blistering pace and Alex with accuracy and movement. West Coburg started well, almost keeping pace with Valley, until the loss of an opener, bowled for 5 by James. After 4 overs, West Coburg 1/13, Valley 0/25.
Geordi Ryan (0/7 off 2) and Jim Millman (0/14 off 1.4) then took up the challenge and conceded 24 in total including extras to have Coburg 1/37 off 8 against Valley 2/37. Jim was hit in the face in a brave fielding attempt and his second over was completed by Liam Van Ingen.
Tom White and Aidan Carew (1/7 off 2) then took over and slowed the scoring, with run outs to James Saragias and Nick Seers, and an LBW to Aidan, bringing the scores to Coburg 4/51 v Valley 3/54 off 12 overs. Nothing in the game at all, and the coach sweating buckets.
James Krotsis (0/8 off 2) and Nick Seers (0/3 off 2) then kept up the pressure, conceding only 11 runs total off their 4 overs to have Coburg trailing slightly 4/62 v Valley's 4/67 off 16 overs.
Alastair Sheils (0/6 off 2) and John Sorrentino (0/15 off 2) then copped the brunt of Coburg's best player on the day. Alastair's looping spin was hard to hit, but John's straight medium pace suited Coburg's Papadakis who powered to 25 retired with three boundaries. After 20 overs, Coburg 5/83 v Valley 5/80. We were falling behind, and had to hope that we had seen off the big hitters and were into the true tail.
Liam Van Ingen (0/13 off 2.2) and Tariq Gerardi then took up the challenge. Tariq took it up beautifully, with a first over wicket maiden, and a brilliant second over to have figures of 1/2 and earn a recall. Liam bowled neatly to finish with 13 runs while bowling at the slog. After 24 overs, Coburg 6/96 against Valley 5/93. We were still behind on the comparison, but this was the point in the game where Valley had started to accelerate the scoring.
The final 4 overs we were able to choose the bowlers with the best form on the day. James Saragias bowled overs 25 and 28, to finish with 1/7 off 4. Tariq Gerardi bowled over 26 to finish with 1/6 off 3. Tom White bowled over 27 to finish with 0/10 off 3.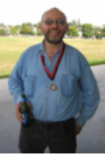 Final Scores: Moonee Valley Gold 5/118 def West Coburg 2 6/113.

Thank you to all the players for putting in the extra effort that brought victory, and finally let the coach celebrate after all that stress.

Thanks also to all the parents for the support during the year, and the deafening cheering on Grand Final Day.

David Carew, very happy coach.


SCOREBOARD:
J. Saragias run out 14.
*A Gorham not out 15
A Sheils run out 2
J Millman c 3
J Krotsis retired not out 5
N Seers b 0
+T Gerardi run out 8
TJ White retired not out 3
L Van Ingen retired not out 5
J Sorrentino retired not out 3
G Ryan retired not out 4
A Carew not out 10
Extras
(32nb,0w,11b,3lb) 46

Total (cc) 5/118
Overs 28


Bowling: O M W R

J Saragias 4 0 1 7
A Gorham 2 0 0 8
G Ryan 2 0 0 7
J Millman 2 0 0 14
L Van Ingen 2 0 0 11
TJ White 3 0 0 10
A Carew 2 0 1 7
J Krotsis 2 0 0 8
N Seers 2 0 0 3
A Sheils 2 0 0 6
J Sorrentino 2 0 0 15
T Gerardi 3 1 1 6





May 7, 2008

charlie's firewood