Rob Lamberti and Darren Nagle prove too much for young guns
Undefeated throughout the season, the Moonee Valley team dominated a gallant Craigieburn to win its second consecutive Luscombe Shield premiership in a competition it continues to dominate.

The Valleys' batting depth and all-round strength were features of its win. In a game that was evenly poised for three days, the young Craigieburn team eventually buckled under the pressure to lose their last six wickets in the opening hour of the final day.

In a game with many memorable contributions, Darren Nagle's 7 wickets for only 34 runs from 27 overs ranks as one of the great Grand Final performances in our club's history.

Moonee Valley captain, Greg Peters won the toss and as expected chose to bat in the fine conditions. Michael Harvey and Sandro Capocchi, fresh from a semi-final opening stand of 181, opened the innings. They were able to negotiate the opening hour before Capocchi edged a lifting delivery with the score on 37.

The experienced Warwick Nolan joined Harvey and this pair took on the Craigieburn fielders with their aggressive running between wickets to add 30 runs in even time before Harvey was beaten by an excellent leg cutter.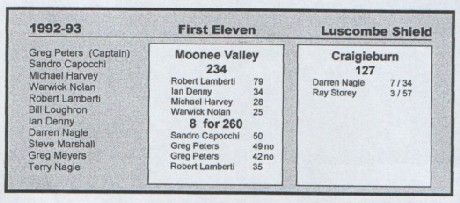 Robert Lamberti came to the wicket with Moonee Valley 2 for 67. Elliott claimed his third victim when Nolan edged to the keeper and in the following over Greg Peters was caught at first slip to a fine delivery from Kurret. The Valleys were in a little bit of trouble at this stage but were optimistic as Ian Denny took guard to join Lamberti in the fray.

The pair batted superbly beyond tea, adding 59 runs in 50 minutes – but again Craigieburn was able to get itself back into the match. Laferve brought himself into the attack and with his gentle mediums removed Denny and Bill Loughron in consecutive deliveries, Denny caught behind and Loughron to a brilliant catch low down at first slip.

Under pressure, Darren Nagle joined Lamberti at a very important time in the match. In fading light the pair was able to pick up an additional 32 runs before Nagle became the sixth batsman to be caught by the 'keeper. His dismissal left Steve Marshall to start his innings 20 minutes from stumps with the new ball due. Lamberti took the initiative in the crisis and, with Marshall's solid support the Valleys brought up the 200 shortly before stumps.

With the game very evenly poised, there was a big crowd to watch events unfold on the Sunday morning. Craigieburn wanted to clean up this stubborn tail and the Valleys needed some stroke play from the brilliant Lamberti and some disciplined support from the three remaining batsmen.

Things went as expected in the opening half hour with Lamberti pushing the singles and Marshall resolute in his role for his team. A scorching pull through mid wicket gave Lamberti his first boundary of the day but in the same over, just as he appeared to be taking control, he was out to the tireless McLean for a wonderful 79.

Further drama was no further than the next ball away when Greg Meyers fell victim to the ball of the innings and the Valleys were destined to make only a moderate total.

For 20 minutes Terry Nagle and Steve Marshall held on before Marshall popped a catch to short leg attempting to pull. It was a fine innings by Marshall, whose 83-minute innings was completed over two days, endured a new ball, fading light, immense pressure and was at the crease while his team added a further 57 runs.

Defending a small total was not common practice for the Valley attack but the team took the field with confidence. For nearly 45 minutes the match was at a standstill. Neither batsmen was able to score freely and neither bowler was able to dislodge the opposition.

After 13 anxious overs Darren Nagle found the edge of Rutledge's bat and the ball flew low and fast to Ian Denny who scooped up a fine grab at second slip. Nagle and Denny bowled the entire 22 overs until tea, with Craigieburn crawling to be 1 for 23.

After tea Denny and Nagle continued the assault and Tumney was the first go, caught by Mick Harvey at slip. Laferve's stubborn innings came to end a short time later when he edged another Darren Nagle leg cutter straight to Denny in the cordon.

Further joy was only one ball away when McNeice tried to drive off the back foot with his first delivery and edged to wicket keeper Greg Meyers. Craigieburn was now in trouble at 4 for 38 after 30 overs.

Grand Finals have a habit of turning fortunes and the two youngsters Kurret and Gaffney held on for the two hours until stumps. The tiring attack of Nagle and Denny was replaced with Terry Nagle and Robert Lamberti but that combination did not trouble the batsmen.

A half an hour before stumps, skipper Greg Peters brought Nagle and Denny back into the attack but both batsmen were able to control the game with relative ease.

At 91 for 4, it was a long week for the Valleys. The following Saturday was fine and sunny and the outfield was quite quick.

Success was not far away for the Valleys, however, as Kurret mistimed an on drive off Denny in the fourth over of the day and lofted a simple catch to a back-pedalling Robert Lamberti. From then on wickets fell like nine pins.

Barton smashed Nagle's second ball to the square leg boundary but was smartly picked up at short leg by Warwick Nolan off his fourth. This delivery was a lot faster than the second. The determined Gaffney fell to the accurate Denny three overs later and Craigieburn was in trouble.

Sandro Capocchi took a neat catch to dismiss Dennis at slip and give Darren Nagle his fifth wicket. The last two Craigieburn wickets both fell to Robert Lamberti catches off Nagle and the opposition had lost its last six wickets in under an hour.

With nearly two days play left, skipper Greg Peters demanded concentration from the team. He had the option of asking Craigieburn to follow on but past experience dictated the course that was necessary. He knew that a steady and courageous batting performance was all that was required now to secure the flag.

Michael Harvey and Sandro Capocchi, who had both enjoyed sensational seasons took little time to put the game beyond doubt. Harvey hooked and cut three boundaries in the opening half hour and the pair took the Valley to tea without loss. His innings came to an end shortly after tea when he was adjudged LBW.

With Harvey's exit, Capocchi was joined by Warwick Nolan and the pair knew exactly what to do. Only quick wickets could let Craigieburn in. Capocchi and Nolan batted sensibly, with Capocchi beginning to punish anything short. His half century innings ended with a top edge. Robert Lamberti, Bill Loughron and Nolan all made valuable contributions as the team passed the safety of a 250 run lead.

With Valley resuming on the final day at 6 for 171, Craigieburn made one last effort to get back into the game. They picked up the wickets of Darren Nagle and Steve Marshall early.

There was a faint chance that the opposition would get a crack at chasing quick runs in an attempt to pinch the flag. This faint chance was as close as they got.

The two Gregs, Peters and Meyers - both first innings non-scorers, lambasted the Craigieburn attack for the hour prior to tea. With Peters chipping off his toes and Meyers hooking everything that came his way, the Valley score soon mounted to such a magnitude that the Craigieburn captain conceded defeat to the Moonee Valley captain 15 minutes before the scheduled tea break.


July 28, 2005

charlie's firewood