Valley Boys Come From Behind to Nail Jacana


A remarkable match, memorable for both the emergence of two 17 year-olds with an outstanding destiny ahead of them and sadly, also memorable as a game that required a police presence.


Despite an exciting scoreline, the game degenerated into a spiteful sledgefest with batsmen skillfully getting their eye in by using their cherished Grey-Nicholls to pound things other than cricket balls.
The Grand Final of 78/79 was a hard fought often spiteful game whereupon police were summoned at one stage "just in case".

It will be most remembered for the emergence of two 17 year olds, one on each side whom in later years would both become absolute legends of Moonee Valley.


Jacana won the toss and duly elected to bat. The game was started on the Sunday as a women's team was playing at the picturesque Progress Reserve on the Saturday and no compromise was forthcoming.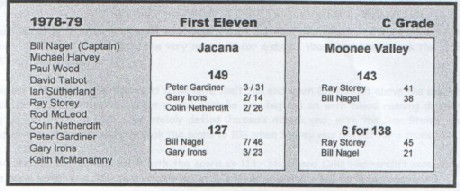 Jacana lost their two openers with

the score on 18 and the wickets continued to fall at a steady rate until

the young Ian Denny entered the fray.

His first ever Grand Final innings ended on 19 belying the greatness that was to follow him in later

years. Jacana's innings never achieved great heights due to the

accurate bowling of Bill Nagel, Peter Gardner, Gary Irons and Colin Netherclift.



The score of 149 seemed a target that would take little effort to pass for our First Eleven team, playing in C Grade.

Mick Harvey was coming off a memorable

150 in the semi-final but went from chocolates to boiled lollies

and was caught for one.

His opening partner

Woodie was out a short time later for 13 and Moonee Valley

were 2 for 24. Dave Talbot (11) and Ian Sutherland

(7) made the situation teeter on the brink at 4 for 37

before the golden nugget Bill Nagel and the stalwart Ray Storey steadied the ship taking the score to 119.

Sadly, Bill and Ray succumbed in consecutive overs. When the young Ian Denny took the final catch, the Valleys had crumbled to be all out for 143, six runs shy of the target.

The destroyer for Jacana was Lloyd taking 8 for 43 off 17 overs. The game had degenerated into a spiteful sledgefest between the two sides, with Paul Wood using his bat for hitting things other than the cricket ball!

Rod McLeod had been labelled "The Mouth" and Bill Nagel's sexual preferences were also brought into question although Bill would soon be able to let his superb bowling answer any and all queries. The following week. Bill bowled the opener Sawyer for 7 and then had Barwick caught for a duck which had Jacana on the back foot at 2 for 9.

Carroll made a half century and along with Denny they retrieved their composure with a near-century third wicket partnership.

When Gary Irons chimed in to take Kearney's wicket, and Denny fell soon after for 30, Jacana were in trouble. Enter Bill Nagel. He tore out the heart of the Jacana middle order and finished with the fantastic figures of 10 overs, 7 for 46.

The target was 133 runs. Harvey and Wood got Moonee Valley off to a steady start, but disaster struck on 25 with Wood running out Harvey for 14 and Sutherland going the very next ball for a duck.

Wood and Nagel took the score to 39 before Woody was caught for 17. The game was see-sawing once again and could have spelt the end when Bill was hit above the eye by a rising ball which cut him open but the great player that he was battled on with blood running down his face, obviously no blood rule in 1979.

He stoically defied Jacana's attack and, with Ray Storey stubbornly defending at the other end, the pair took the score to 104 when Storey was run out for a crucial 21.

When Rod McLeod was bowled for 9 with the score on 114. Nagel and Colin Netherclift came together to bring the game tantalisingly close to a victory but at 123 Nagel was finally out for a courageous 45.

It was left to Colin Netherclift and Dave Talbot to gather the remaining runs so Moonee Valley could celebrate a true stand 'em up, knock 'em down and drag 'em out Grand Final.

It is folklore now how at the conclusion

of this game, a youthful Ian Denny approached a bleeding Bill Nagel

announcing that the best batsman and bowler in the EBKCA was coming to play for Moonee Valley next season.

Bewildered but intrigued. Bill asked the young man who the player in question was. The simple reply was "Me".

And, as they say in the classics... the rest "is history".

July 26, 2005

charlie's firewood