Our Christmas break-up
by

---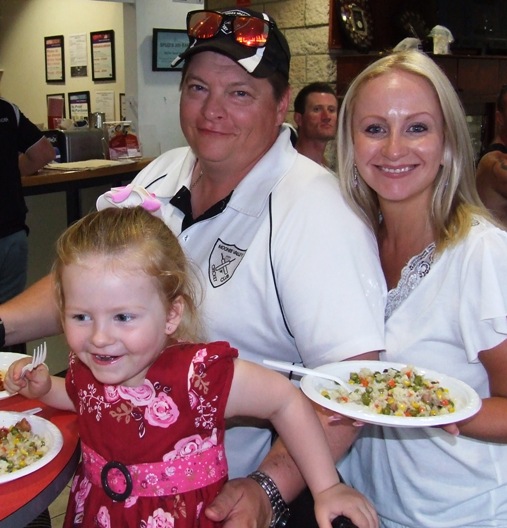 OUR

CHRISTMAS

BREAK-UP

Moonee Valley Cricket Club marked the half-way mark of the season with our annual Christmas party on Saturday, December 16.

While our afternoon entertainers - the Firsts and the Sixths - didn't perform up to expectations, we will enter the Christmas break fairly well placed on the ladders of all seven senior grades.

At right: Enjoying the Christmas meal: Mark and Vanessa Gauci with Marley.

More than 50 players, family, friends and supporters gathered at the Ormond Park clubrooms for what could well be the last hurrah for the old pavilion before we vacate for the $2 million redevelopment.

The pavilion has seen some pretty wild celebrations over the two decades it has been around, so we were pleased to see that the revellers treated it reverently and gently for the Christmas bash.

Simon Thornton won the $500 cash prize in the big raffle, while Daniel Comande took second prize of $250.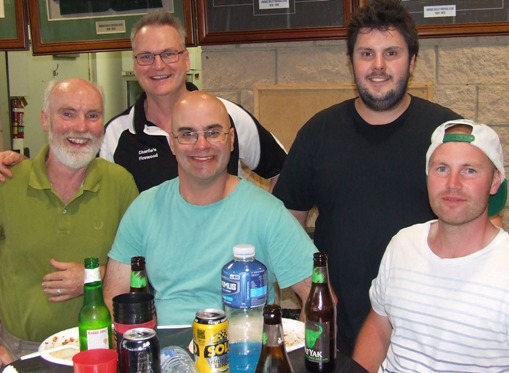 Our thanks go to the members who worked so hard on organising the Christmas party and helping it run smoothly through the afternoon and night, including Danny Terzini, Michael Ozbun, Jesse Nankivell-Sandor, Kevin Gardiner, Simon Thornton, Matt Thomas, Channa DeSilva and Andreas Skiotis.

At left: After a hard day... L-R Allan Cumming, Doug Cumming, Michael Cumbo, Shane Chalmers and Dominic Rettino.

Thanks to the members and players who sold raffle tickets, and we're happy that the ticket sales and bar and canteen proceeds will provide a good boost to our budget.


**FOR MORE PICTURES, CLICK HERE



December 18, 2017

charlie's firewood