Night of Stars: Moonee Valley Presentation 2009/10
by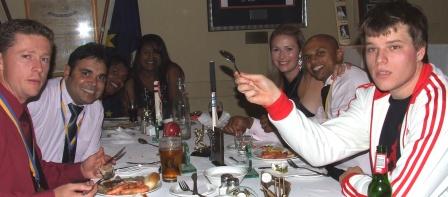 Night of nights for the Valley
Moonee Valley celebrated a great season of cricket when more than 110 players, partners and supporters came together for our 2009/10 presentation night on Saturday, April 17.

The table in the photo above included some of our Grand Final stars: L-R: Craig Pridham, Amit Chaudhary, Arosha
and Ishani Perera, Shontel and Raj Aiyappan and Tim Fisher.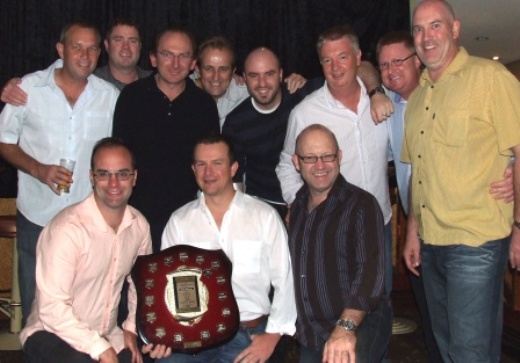 We celebrated our on-field and off-field achievements, with presentations of batting, bowling and fielding awards to each of our 11 senior teams, plus a number of individual achievement awards.


The 24 players from our flag-winning First and Second Elevens were presented with trophies.

Tony Sherer was announced as the winner of Moonee Valley's most prestigious award, the Lindsay Jones Trophy, while Jim Polonidis was inducted into our Club's pantheon of legends as a much-deserved Life Member.

Tony Sherer (front centre) is shown here with his Lindsay Jones Trophy while joined by his Fourth Eleven team-mates. L-R: Back - John Roberts, Norm Wright, Mark Madden,
Brett Curran, Steve Herbert, Steve Radford, Dean Lawson and Alan Harry. Front - Michael Cumbo,
Tony Sherer and Paul Hobbs.


Presentation Night was hosted by one of our major sponsors, the North Suburban Club.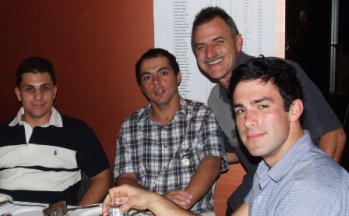 Rajan Aiyappan was the Club Champion for the third time in the past four seasons, while the stellar season of coach Lou Raffaele was rewarded with the Moonee Valley Award, which is determined on a points system for games in all our Elevens other than the Firsts.

Enjoying themselves on the night at left are (L-R) Club
Treasurer Chris Micallef, Dan Terzini, Phill King and Tom King.


James Thorneycroft was awarded the ResCom Most Improved Player trophy, which is judged by coach Lou Raffaele.


President Charlie Walker did the citation and announcement of the Lindsay Jones Award, which is named for the efforts of a selfless clubman.

Lindsay was not Moonee Valley Cricket Club's greatest player, but he was our greatest clubman before dying tragically at the end of the '85 season. His stats of 22 games, 78 runs and 2 wickets do not do justice to the effect he had on our Club.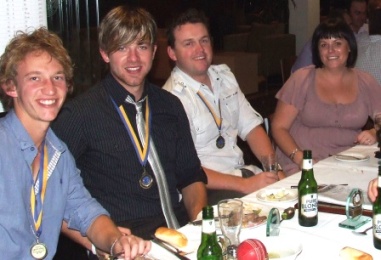 Tony Sherer has had a growing impact on Moonee Valley since making his debut in 2007/08, after we fought off overtures from Ascot Vale for his services.


In his 38 games – mostly with the Fourths – he has taken 60 wickets, while Tony has also proved at home on turf and played in our top grade in Moonee Valley's premiership-winning Twenty20 team this season.

Plenty of Premiership medals: L-R: Josh Maginness,
Matt Thomas, Kane Harding and partner Lara.


As well as a player, Tony and his family business, Ascot Vale's Prince of Wales Hotel is a major sponsor of our Club, and he has for three seasons sponsored our Junior Club Champion award.


This season Tony took on the role as coach of our women's team.

The Prince of Wales Hotel experienced a major fire just before Christmas.

Tony could easily have taken a back step while he needed to get the business back on track but he did the opposite – we've probably seen him at the Club even more than ever.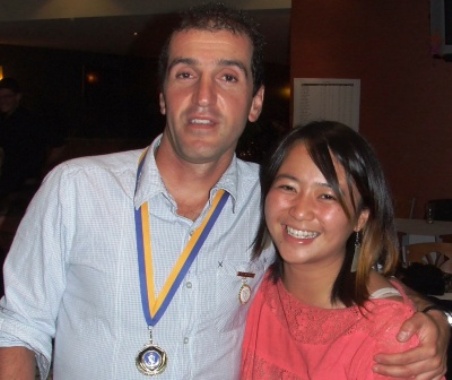 As Charlie said, he is a deserving winner of our Club's highest honor.

Vice President Sandro Capocchi delivered the citation and announced the Life Membership for Jim Polonidis. He told how he and Jim played street cricket together as kids in Moonee Ponds.

Sandro got all the MVCC Life Members at the function to join him on stage - John Talone, Darren Nagle, Peter Gardiner, Jim McKenzie, Dan Terzini, Joe Ansaldo, Charlie Walker and Sandro himself - as he went through the citation. They were all then able to congratulate Jim when his name was announced and he came to the stage.

New Life Member Jim Polonidis is shown
here with his partner Tien Ha, who took
out a number of awards on the night.

Responding, Jim, who has been MVCC Vice President and a long-standing committee member, spoke of the honor of representing the Club and the future ahead.

It was appropriate that Life Member Peter Gardiner was at the presentation night - as he pointed out that he was Lou Raffaele had just taken over the mantle from him as the last premiership captain of our Second Eleven.

The Seconds last tasted the ultimate success under PG in 1983/84.

A number of our milestone trophies were presented at our Most Valuable Player vote count night, which we held at Ormond Park on March 7.

>>>>>>>>>>>>>>>>>>>>>>>>>>>>> For more photos and detail, click HERE



April 19, 2010

charlie's firewood