Kris Garland's antipodes adventure
by Charlie Walker

---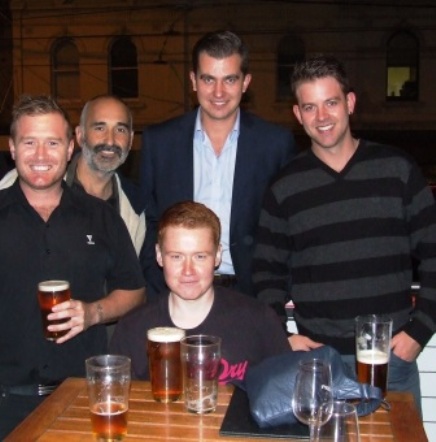 KRIS' ANTIPODES ADVENTURE

Our English import Kris Garland was at pains to assure his teammates that his parents didn't come out to Australia just to round him up and return him to the Old Dart - but that didn't stop us from giving him a ribbing.
But seriously, John and Janette Garland took the opportunity to have a short holiday in Australia and meet the teammates who have made their son feel so welcome on his two stints at Moonee Valley.
And they didn't miss out on the hearty Australian welcome themselves - nor the warmth of the farewell at the Union Hotel in Ascot Vale on April 3 as they prepared to head back home.
But Kris will be back next season for his third term at Moonee Valley, and is negotiating with a couple of other UK young guns to come back and join us as well for a year in the colonies.
When Kris was here last, in 2010/11, he was studying at Victoria University,
came across Moonee Valley via our
website, and went straight into our First Eleven when we were up in North Division VTCA.
He enjoyed himself so much that he came back for 2013/14 to play cricket with us again - after being in Australia mid-year in 2013 following the British Lions on their rugby tour.
His return next September is for another season of cricket. So it won't be long - and we'll be welcoming Kris and his mates back to teach us how to drink pints again.
Above: What's with the pints? This man from England is trying to teach us Aussies to switch from pots to pints - with some success. L-R Peter O'Kane,
Joe Ansaldo, Kris Garland, Jesse Nankivell-Sandor and Matt Thomas.

***Click here for more photos from the farewell dinner and drinks.


---
April 5, 2014

charlie's firewood