Ken McLeod - we celebrate a fine innings
by Charlie Walker
---

Ken McLeod: We celebrate a fine innings
Past greats from Moonee Valley Cricket Club gathered at the bowls rooms recently for a memorial to celebrate the life of Ken McLeod, who was one of our Club's inaugural players.Ken was one of the Eleven to take to the field in our first game in the 1971/72 season, and is sadly the first of those pioneers to end his innings.Kenneth Alexander McLeod, 65, was killed in a farm accident on June 2.
He was the brother of Rod McLeod, who founded our Great Club with Ray Storey, and the son of Alex McLeod, who was our first President.
Four of the players who took to the field for Moonee Valley on that first Saturday in 1971 were at the memorial - Rod McLeod, Ray Storey, Colin Netherclift and Peter Dawkins.
In our foundation year we had a single team playing under the name of Moonee Ponds, and from these beginnings came the club that would grow into the Moonee Valley Cricket Club.
Others who played with Ken in those early years - Peter and Kevin Gardiner, and Brian Moore were also at the June 14 memorial at the Moonee Valley Bowls Club, along with past players Brian O'Reilly, Warwick Knill, Scott McLeod and Stewart Storey, and Life Member present players Darren Nagle, John Talone and Charlie Walker.
Ken McLeod 70 games for Moonee Valley for 1122 runs @ 14.38, and took 92 wickets @ 17.53. He was an important player in our first two Premierships.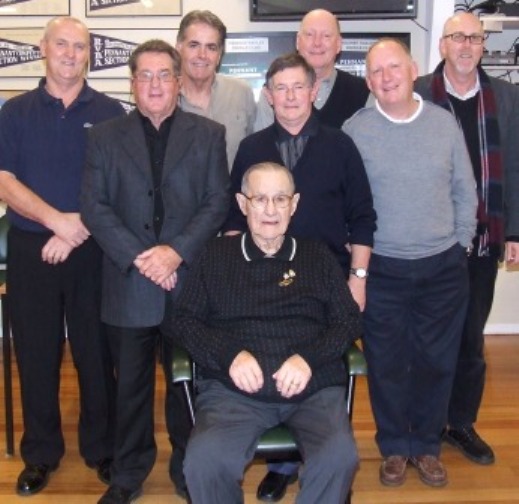 Peter Gardiner advises that Ken made a valued contribution of 2 for 11 during our second flag, the 1974-75 victory in a heated confrontation against Oak Park. He recalls Ken as a skilled all-rounder, good fieldsman and cunning competitor. His spirit, attitude and humour were an integral part of those early days.


The gathering was significant for our Club in that it brought together our first President, Alex McLeod, with our current President, Charlie Walker, and three past presidents in between - Darren Nagle, Ray Storey and Peter Gardiner.
It also saw the gathering of seven Life Members - Ray Storey, Rod McLeod, Kevin Gardiner, John Talone, Darren Nagle, Peter Gardiner and Charlie Walker.
And let's not forget the wives who were at the memorial, as in our earlier days - more than ever - our partners played an integral part in the fabric of the Moonee Valley Cricket Club, and ensured we became a vibrant and viable organisation.
Vale Ken McLeod!


Above: Moonee Valley pioneers gather. Standing behind inaugural president Alex McLeod are L-R Peter Dawkins, Ray Storey, Colin Netherclift, Rod McLeod, Peter Gardiner, Brian Moore and Kevin Gardiner.




June 21, 2013

charlie's firewood