Grand Finals 2009: Page 2
by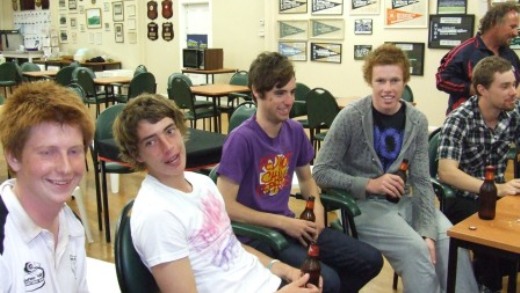 Our Thirds

Our Thirds also battled manfully, with a team comprising six players who had come through our junior program - five of them aged 21 or under. Captain Dino Sapuppo lost the toss, and St Francis gratefully took the chance to bat.

Some of our young guns! L-R Bede Gannon, Chris Stafford, James Rawlinson and John O'Brien, with Pat Felmingham and Paul Comino.

Chris Stafford got the early breakthroughs, then we shared the wickets around with Peter O'Kane, John O'Brien and Bede Gannon getting two apiece as St Francis went in at the end of the day at 8/203. Chris got a third wicket with his third ball on Day 2, then the last wicket in his next over - snapping middle stump in half.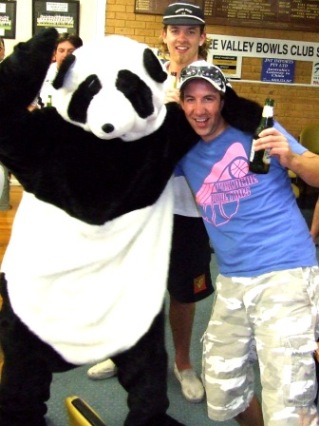 Then it was run chase on. Young guns Bede Gannon and Sam Coventry-Poole pushed the score to 48 before Bede was run out, then tragedy struck on 66 when Sam fell the same way. We were travelling cautiously to 2/92 before we lost our third wicket - which was the start of a collapse of 8/33. Game over.

After the game

It was back to the Ormond Park bowling clubrooms at the end of the Firsts and Thirds. Due to Sunday liquor licensing provisions we weren't able to celebrate in our pavilion, but the bowling club is also part of our home territory.

Murray Walker dons the Panda suit, with
support from Matt and Ben Thomas.

There were match reports and analysis, and a determination to go one better next time around.

Thirds skipper Dino Sapuppo had to leave early for an interstate trip, but delivered an excellent match report before he went, with Chris Stafford named as man of the match.

Firsts captain Mark Gauci also delivered a detailed report, with Kane Harding man of the match in his game.

President Charlie Walker told the gathering how proud we all were of the players that represented our Club in the two games, and that he was sure we would take the results in to next season as 'unfinished business'.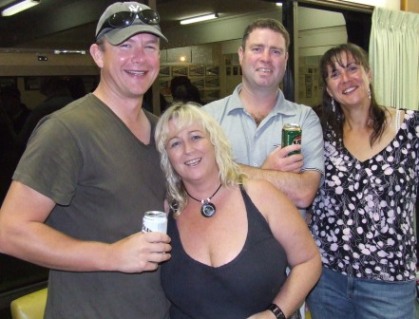 Having all three turf teams in the finals, and six senior teams overall, was testament to the stability and processes which had been put in place over the past year. Charlie said this has enabled our players and coaches to concentrate on what we want them to - onfield performance.

The next day

We held our traditional Mad Monday wind-down this season at Antony Sherer's Prince of Wales Hotel in Mt Alexander Rd, Ascot Vale.

Back at the bowls club on the Sunday: L-R: Antony Sherer and Norm Wright from the Sixths, and Kim Johnston and Victoria Thorneycroft from the Women's Black team.

We had probably 70 or more players turn up during the course of the day (which became night), and it was an ideal venue to wind down. Host Antony - one of the fast bowling mainstays of our Sixths - put on a barbecue, and the consensus among our players was that we will "adopt" the POW as our home base next season.

More pictures: Click here


March 31, 2009

charlie's firewood