Grand Finals 2009: Page 1
by
Valley beaten but unbowed: We're still proud!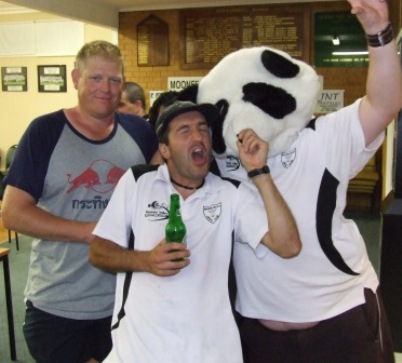 Moonee Valley may have lost the two senior grand finals we contested in 2008/09, but we're still proud of the teams who represented the club and the players who wore our colors.

We were behind the eight-ball from the start, as the first weekend of the March 14/15 and 21/22 grand finals was washed out. When they became two-day games, the matches reverted to what is known as ordinary conditions - which meant the teams which finished higher on the ladder had to be beaten to lose.

Right: Back at the bowling club: Darren Nagle, Jim Polonidis and Ryan Fairclough in his Panda suit.

And given that our Firsts and Thirds both finished second in their grades, the choice we faced was win or nothing. Under ordinary conditions, there is no compulsory closure - and so the team which finished highest on the ladder was able to bat out unlimited overs if they were good enough. And it's what both tried to do to us.

In both grades, our opposition batted first and batted on into the second day - which meant that we had a run chase with fewer overs that we'd bowled.

Under 14 flag

But while our senior teams lost their grand finals, we had an excellent outcome with Tenths player Glenn Perussich's Under 14 White team. Their premiership was the sixth season in a row when MVCC juniors have won one or more flags.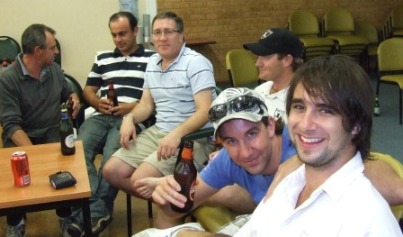 Our Under 14 boys won their premiership when they passed Taylors Lakes nine wickets down, and with just two balls to go in the match.

At the club: L-R: Phill King, Mark Cini, Peter Golding, Ben Thomas, Peter O'Kane and Murray Walker.

It means that Glenn is now our first multiple premiership-winning junior coach. A number of his young charges have already played senior cricket for Moonee Valley, so the future looks bright.



Our Firsts

Our Firsts had ventured out to East Keilor to take on Werribee Centrals, and it was hard going as skipper Mark Gauci won the toss and sent them in to bat. He reasoned correctly that we had to take 10 wickets before we had any chance of winning, such is the way of ordinary conditions.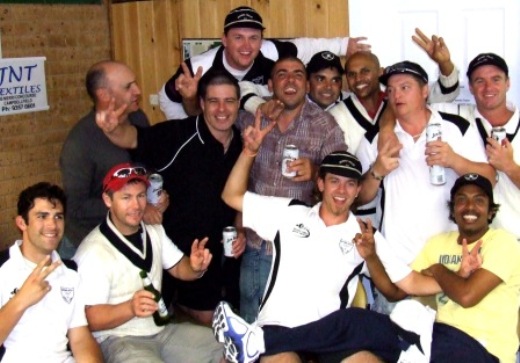 We were hoping that the players would be inspired by the sight of Sevenths co-captain cum official scorer Ryan Fairclough wearing a panda suit as the result of a dare - but despite that the Werribee players clung to their wickets.

Right: Our Firsts team L-R Back - Lou Raffaele, Daniel Phillips, Kane Harding, Steve Gentilin, Amit Chaudhary, Raj Aiyappan, Mark Gauci and Sean O'Kane. Front - Tom King, Geoff McKeown, Matt Thomas and Arosha Perera.

We seemed to take wickets in pairs, but there were good partnerships in between. After a breakthrough on 28, we had to battle before Daniel Phillips took two wickets with the score on 113.

Another good partnership developed before Mark Gauci removed both the coach and the captain after the score reached 162, then Kane Harding picked up a couple of late wickets to leave Werribee on 7/185.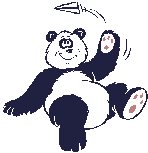 Kane got the final three wickets on Day 2 to have them all out for 205, but Werribee used up another 12 overs.

That left us 68 overs to chase the runs. It didn't go well. We lost quick wickets to be 3/18 and 5/42, before Matt Thomas and Amit Chaudhary put on a 73 run stand to give us some hope. Matt went for 46 with the score on 115, then we lost more wickets before Amit was last man out for 53 with the score on 136. Wasted opportunities!

**For more words and photos, click here



March 30, 2009

charlie's firewood