Front Page - up to January 23, 2017
by
---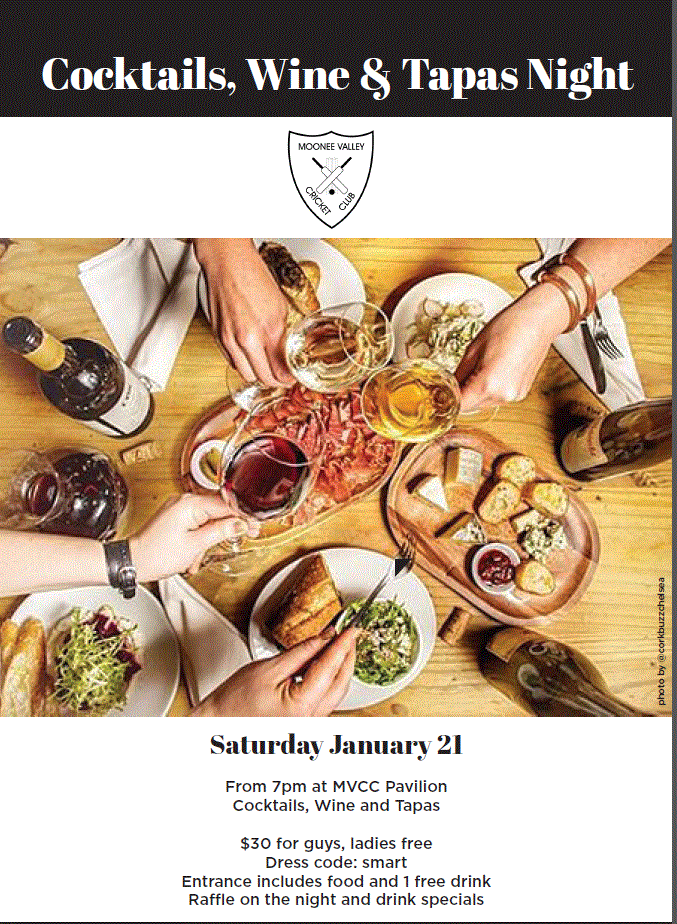 ---
Our boys in Green put on a show in Barooga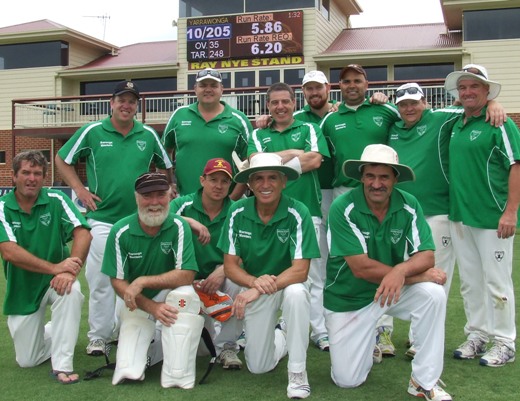 Moonee Valley sent a team to the Barooga Over 35s tournament for the fourth year in a row in January, and again they did the Valley proud.
We were initially restricted for numbers when four members of the touring party pulled out in the last week, and we took to the field with just eight players in the first of our three games.
Despite this, we put up a tough showing and it was our only loss for the tournament after we called in reinforcements and conscripted a couple of Barooga players for our remaining two games.
At right: Our team for Game 2: L-R. Back - Travis Gow, Dale Hadfield. Daniel Phillips, Nate Wolland, Amit Chaudhary, Mark Gauci, Sean O'Kane. Front - Wes Sutton, Allan Cumming, Matt Dimble, Neil King, Tony Gleeson.

We finished second overall, and Tony Gleeson - a past Valley premiership coach and long-time senior player - won the bowling award across the whole tournament.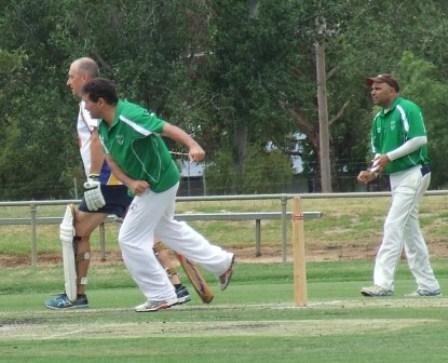 With temperatures in Barooga - a NSW town across the Murray from Cobram - at high to extreme in January, we have exchanged our traditional Valley black strip for cooler green shirts.
At right: Tony Gleeson sends one down, with Amit Chaudhary in the field.

In fact, we played in 41 degrees in the first game of the January 16-19 tournament, and despite being short on numbers our resolve never wilted.
Veteran Neil King held the opposition in the field for 18 long overs to finish undefeated on 77 when he was the last man in - under tournament rules which allow the final batsman to bat on until he loses his wicket or the overs run out.
The scoreboard from our second game shows Yarrawonga Mulwala all out chasing Moonee Valley's
Our squad of present and past Moonee Valley players was: Allan Cumming, Mark Gauci, Dale Hadfield, Daniel Phillips, Neil King, Charlie Walker, Tony Gleeson, Nate Wolland, Sean O'Kane and Amit Chaudhary. Our Barooga signings were Travis Gow, Matt Dimble, Wes Sutton and Vince Iannucci.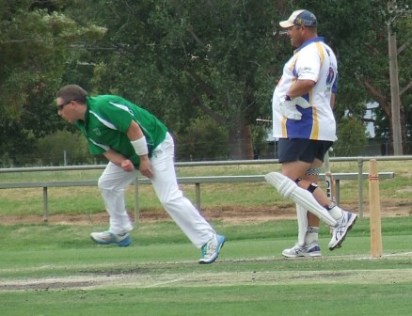 Moonee Valley's highlights included Tony Gleeson's nine wickets @ 7.66, Mark Gauci's three wickets @ 16; Mark's 132 runs @ 132.0, Neil King's 79 runs @ 79.0 captain Daniel Phillips' 59 runs @ 29.5 and Amit Chaudhary's unbeaten 43 runs.
At right: Captain Daniel Phillips bowls in Game 2.

Our thanks go to Mick O'Dwyer of the Barooga Sports Club and the Barooga Cricket Club for organising the excellent event, which is an annual part of the Moonee Valley calendar.
Thanks also to Sean O'Kane who interrupted his Western Australia working holiday to come back and play for the Valleys and organise some of his old Barooga cricket teammates when our numbers needed bolstering.
Five Valley players have played in all four of our trips to Barooga - Mark Gauci, Neil King, Daniel Phillips, Sean O'Kane and Charlie Walker. We're already planning for our return next January.


---
Ton up twice for our Liam Shaw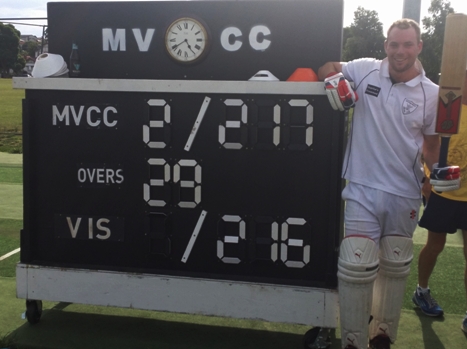 Moonee Valley batsman/wicketkeeper Liam Shaw has joined rare company, with centuries in successive matches.
Liam's whirlwind 128no in the Fifths on January 7 was followed by 100no in the Sixths the following week - and Liam becomes just the ninth player in Club history to ton-up in successive games.
He opened the batting in the Sixths, against Pascoe Vale United, and the team was three down for 144 when he reached the three figures and was forced to retire under grade rules.
Liam has a batting average of 315 over his past three knocks, as the last round before Christmas saw him stroke a brutal 87 as the Valley Sixths fell 15 runs short in a big chase against Strathmore Heights.
Above: The scoreboard could still only tell half the story of Liam Shaw's whirlwind innings of 128 not out - the first of his two centuries.
Our partnership for the fourth wicket - comprising the innings of Liam, Liam Farrell and Graeme Bloom - was 104.
While he scored at a cracking pace, Liam's innings against Pascoe Vale United was a little more subdued than the previous week, when he had:
* Five sixes off what became the last over of the game - just six runs short of the Moonee Valley all-time record.
* A 122-run unbeaten partnership with skipper Dan Terzini.
* 12 sixes and 9 fours for the match.
* Three catches as keeper - all of his good mate Dom Rettino.
Liam's successive centuries are the first at Moonee Valley since Trent Milne tonned up in the Fifths and Eighths in 2011/12. Other players to achieve the feat are Warwick Nolan in 1988/89, Ian Denny in 1990/91, Sandro Capocchi in 1991/92, Shane Golds in 2001/02, Matt Thomas in 2006/07, Arosha Perera in 2008/09 and Dean Lawson in 2008/09.
Liam played his junior cricket at Old Students Cricket Club in the Shepparton district, but dropped out of the game for about seven years before he was enticed to play with mates at Moonee Valley.


---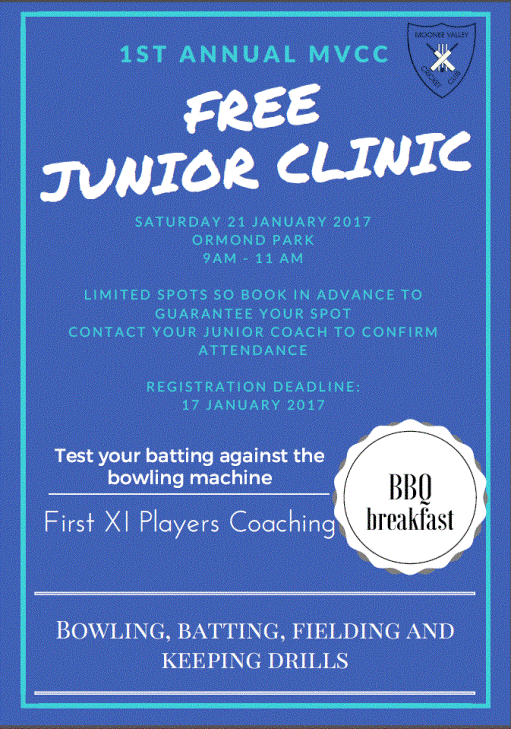 ---

---
SENIOR TRAINING - TUESDAYS & THURSDAYS from 5.15pm - Details - ph 0409 237 543
---
Main Club contact details:
* Charlie Walker - President 0409 237 543; 9370 1802
* Peter Golding - Club Treasurer 0419 009 721
* Simon Thornton - Vice President 0417 570 779
* Leigh Holder - Joint Junior Co-ordinator 0423 226 532 allleigh@bigpond.net.au
* Peter Pickering - Joint Junior Co-ordinator 0414 800 145 pjp@vicbar.com.au
* Channa DeSilva - Director of Junior Cricket 0402 833 592

Email: mooneev@club.cricketvictoria.com.au


For more contacts, see " Office bearers & Officials " under "Club News & Info" at the top of the page

Last updated: January 20, 2017.

For more of our history, including our Premierships, click HERE


| | |
| --- | --- |
| Our Sponsors | Number of visits to this site |
January 23, 2017

charlie's firewood