Cricketers hit Mick's footballers for six for the Denny Shield
by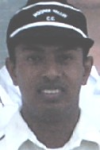 Cricketers hit Mick's footballers for six for the Denny Shield
Moonee Valley's cricketers have won back-to-back challenge matches against the footballers, prevailing by some 16 runs in a Twenty20 match on March 12.
Setting a challenging target of 199 after their 20 overs, the cricketers had some anxious moments before the footballers fell just short in the chase.
The cricket club cast a keen eye over a couple of likely footballers, and coach Lou Raffaele and others were seen in lively discussions with a couple of potential recruits for 2008/09 after the Wednesday evening match, on the Ormond East pitch.
The cricket and football sections of our Club were playing for the Ian Denny Shield, to honor one of the greats of our club. The Shield was donated by the Aloi family – and significantly Dom Aloi came out of retirement for one game this season to play in the Ninths with Ian Denny. Dom's son Anthony made his Moonee Valley debut in the same game.
While the cricketers made it back-to-back wins for the Ian Denny Shield, it was a long time between drinks – the last game was held in 2001.
Football Club president Mick Intagliata, a past cricket premiership player, revived the concept this year and the organisation of the event was a credit to him.

There was some active bidding for some of the players who play both football and cricket for Moonee Valley – Matt Thomas and Tom King ended up playing for the cricketers and Jacob Lumsden (right) with the footballers. Former Valley cricketer and now Greenvale cricket premiership coach Glen 'Buddha' Courts pulled on the whites for the footballers.

Mick Intags' attempt to nobble the cricketers by having our star import Arosha Perera declared ineligible didn't work, and Yoshi duly whacked up an impressive 30-odd runs and showed his skills in the field.

Our cricket team covered most of the grades at the club, from the Firsts down to a couple of regulars from the Sixths in Dean Lawson and Anthony Sherer, And three of our Women's team players, Jenny O'Brien, Kim Johnston and Victoria Thorneycroft were part of our winning team.

March 13, 2008

charlie's firewood