Brett's team goes Fourth
by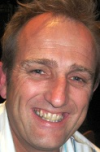 Brett's team goes Fourth
Moonee Valley has recognised consistency of performance over three seasons by promoting our NWCA two-day team to carry the mantle as our Fourth Eleven.
Club coach Lou Raffaele said the performances, which include finals each year, merited the promotion.

The team will continue to play in the NWCA Barron Shield, but will carry the badge of being regarded as our top matting team.
Our MMVCA B Mats team will now be designated our Fifths, while our C Mats team will be known as the Sixths.
Team captain Brett Curran (left) said he and his regular core group of players were proud that the Club's decision recognised their commitment and determination.
"This group of players has been performing at a consistently high level for a number of years now," Lou said.
"Last season they set a new Club record across all grades of 3/475. It is only proper that they be rewarded in the order of our teams."
---
November 10, 2009

charlie's firewood