AGM 2018/19 and new Committee
by
Our AGM - and our 2019/20 committee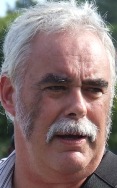 Graeme "Charlie" Walker (right) has commenced his 13th year as President of the Moonee Valley Cricket Club, being returned unopposed at the Annual General Meeting on August 5.
There's stability at the top, with Peter Golding, Mark Gauci and Michael Ozbun also being returned unopposed on the club executive.
For Treasurer Peter Golding it's a decade on the executive, including time as our Secretary.
Mark Gauci was returned for his second year as Vice President, but has previously served on the committee over the past decade and more.
Michael Ozbun was returned for his second year as Secretary, and has been on the committee for six years.
Allan Cumming was returned for his eighth year on the committee, and Channa DeSilva for his sixth.
Our other returned committee members are Brendan Rhodes (third year), Daniel Phillips (second year) and Junior Co-ordinator Peter Pickering (fifth year).
Our newly-elected committee members are Joshua Gorry and Liam Shaw.
Here's a

link to our Annual Report. The financial report is for members only, and has been removed from the web version. Any member wanting to see the full version can email Charlie Walker at charlie.walker@optusnet.com.au

August 22, 2019

charlie's firewood