The Great Man Spud sets our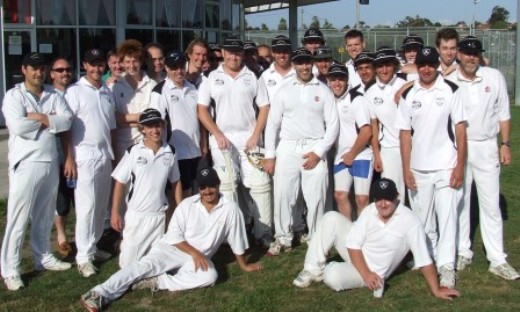 new games record
Our own Great Man, Darren "Spud" Nagle, is charting new territory at Moonee Valley from this weekend, as our Club's games record holder.

Spud's 268th Club game, in the January 10 Second Eleven fixture against Jacana, took him past the games record previously held by the incomparable Ian Denny.

Spud is shown here (left centre, standing) with many of the Moonee Valley mates with
whom he has played over the years.

Our top-of-the-ladder Seconds 5/140 beat Jacana all out 107, and fittingly Spud his the winning run as we chased down their total. His 35no highlighted his immense value as a batsman, and Spud's work in the field and encouragement for his team-mates is invaluable. Fittingly, Seconds captain Daniel Phillips played his 100th game in Darren's milestone match.

Spud is shown here (at left) with his brother Terry on the occasion of Spud's 250th game at the start of the 2007/08 season.

**To read more about Spud and his impact on our Club, turn to the news page link at the top of this page.
---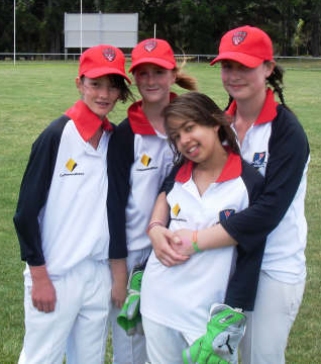 Our Valley Girls play in the State titles
Four of our Moonee Valley girls played in the Victorian Under 14 championships at the start of January.

Pictured here are (from left) Amelia Radford, Rose Harrington, Jacinta de Niese and Olivia Broadhurst.

They were part of the North West Cricket Association team at the Commonwealth Bank State championships.

Amelia was named player of the championship.

The girls all learned their craft playing Moonee Valley juniors, and Amelia, Jacinta and Rose have already played senior cricket with us.

***For more information on our girls and the State titles, go to the news link at the top of this page.
---
Our 2007/08 Senior Wisden!!! Out Now!!! To see it, click here!
---
Christmas came early for Valley cricket

Christmas came early for Moonee Valley when we held our big break-up function down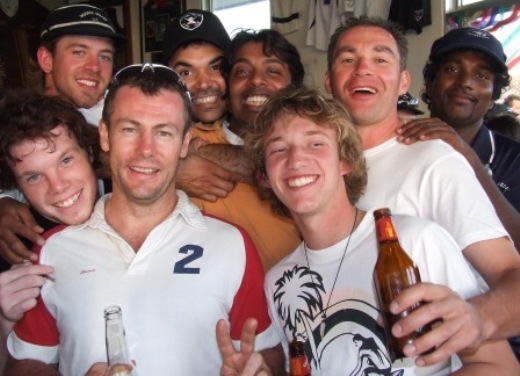 at Ormond Park on December 20.
We had strong wins over the weekend for our Seconds, Thirds, Fourths, Sixths and Ninths, some good wins in the junior grades - including our Under 16 A and Under 14 A teams both beating Doutta Stars - and teams well-placed on the ladder - including our Firsts well established in second spot.
And the break-up and monster Christmas raffle was a raging success.
Moonee Valley certainly puts on a function like no other club.
We had 25 prizes in our raffle - with the $500 first prize won by 100-gamer Geoff McKeown, and the $300 won by Steven Ball.
We had a live band - Dave & Friends - who played all night, and a well-catered meal.
The oval lights were on for the kids, and the music and the atmosphere suited players, parents, partners and supporters down to the ground.
We may have had a number of our teams still having to play on the Sunday - but that was a minor inconvenience.
When you're a Club with 25 teams, sometimes you can't find a date that fits with every side.
Celebrating here on the night are (L-R) Back - Matt Thomas, Amit Chaudhary, Arosha Perera, Dean Jukic and Aberfeldie Park friend Mohan Wickramasinghe. Front - Evan Blythe, 100-gamer Geoff McKeown and Josh Maginness.
For more photos from our big night, go to the

"New"

section on the bar at the top of the page.
---
Room for improvement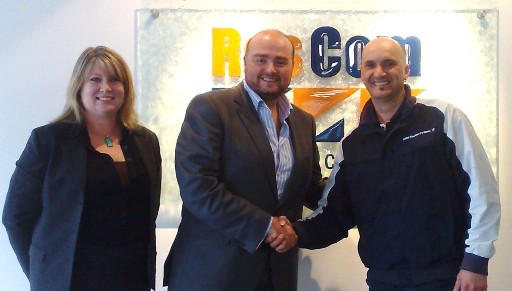 with sponsor's new award

ResCom offers real estate, home and financial loans, lawyers and insurance.
The company has an association with MVCC senior coach Lou Raffaele, and is also sponsoring a new trophy this year – the ResCom Most Improved Player Award, as selected by Lou.
"ResCom likes to encourage growth and achievement in a supportive and proactive environment and as such we award a trophy to the most improved player," said
ResCom Managing Director Chris Batsios,

shown here finalising award details with ResCom Marketing Manager Dee Houlihan and our coach Lou Raffaele.

"The ResCom Most Improved Player Award recognises the up and coming players and like our philosophy, focuses on identifying skill and nurturing people to their full potential."
The ResCom Group now has 43 Property & Finance Centres statewide and you can benefit from one or all of their services.
If you're looking for property, a home loan, lawyers or insurance, log onto www.rescom.com.au. Need a car loan? Contact (03) 8699 8000.
---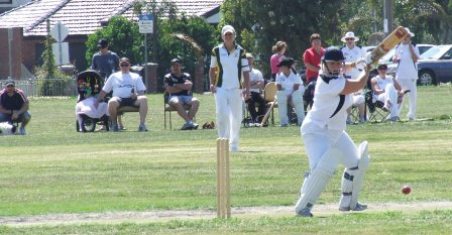 Action aplenty in
the women's game
There was no shortage of action when Moonee Valley White took on Spotswood at Ormond Park on Sunday, January 11.


Kim Johnston

, shown here playing a cut shot while Moonee Valley spectators watch in the background, had an excellent game with three catches and a runout.
The Derby is on again on Sunday, January 18, when Moonee Valley Black plays Moonee Valley White at Ormond Park. There will be no shortage of action at Ormond Park - our

Firsts

are taking on Flemington in a vital match in a Sunday one-dayer.
So be there or be square - there will be plenty of Moonee Valley action!
---
Moonee Valley's own Carlton Connection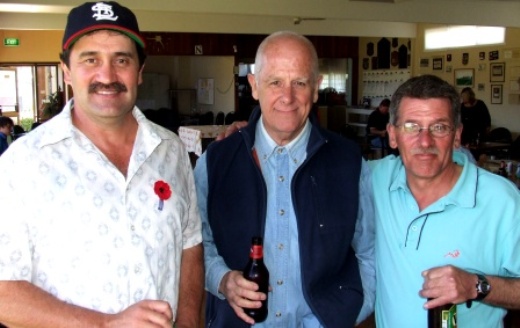 Our "Carlton Connection" was well to the fore at the Moonee Valley Cricket Club Melbourne Cup day function.



Three key administrators from the Carlton Cricket Club were at the function, and enjoyed themselves among the 100-odd players, family and supporters.





It's a bonus

for our Club to have these connections wth a major Premier club, and ensures that any of our young guns who do well have the opportunity to further themselves.

Left to right: Tony Gleeson, Gary Schickerling and Phil "Gerry" Horner are part of the administrative group at Carlton - and also have links to Moonee Valley.

Tony is team manager of the Carlton Second Eleven. A Moonee Valley senior premiership coach, he has played around 80 games with us. Even though he's in his third season at Carlton he's still a regular visitor at Ormond Park, and played two games with us last season. Tony also coaches our Women's teams.

Phil is team manager of the Carlton Firsts. He's a past team-mate of Tony Gleeson and Paul Comino at the now-defunct Princes Hill Cricket Club, and came out of retirement last season when he joined Tony and Paul for a nostalgia game together, playing in the Moonee Valley Ninths. He's primed to add to his Valley tally this season.

Gary, a past president, secretary and committee member at Carlton and current Second Eleven scorer, takes a keen interest in what's happening at Ormond Park as he travels to and from Princes Park - and he makes sure his Premier club knows what we're doing right.

M

oonee

Val

ley is proud to have the friendship and

involvement of these

influential three

.
---
M .
Main Club contact details:
Richard Cooney - Club secretary 0411 034 707

Charlie Walker - President 0409 237 543; 9370 1802
Kevin Gardiner - Junior Co-ordinator 0417 536 896

For more contacts, see "Office bearers & Officials" under "Club News & Info" at the top of the page.


(email: -
mooneev@club.cricketvictoria.com.au
)
Our website:
http://archive.mooneevalleycricket.com.au
---
The Moonee Valley Cricket Club is a section of the Moonee Valley Sporting Club .

Last updated: January 12, 2009

For more history on our Cricket Club, including Premiership match reports, click here

January 19, 2009

charlie's firewood